No human and property losses related to Vietnamese students and citizens in Hong Kong have been reported so far via the hotline of the Vietnamese Consulate General in Hong Kong and Macau (China).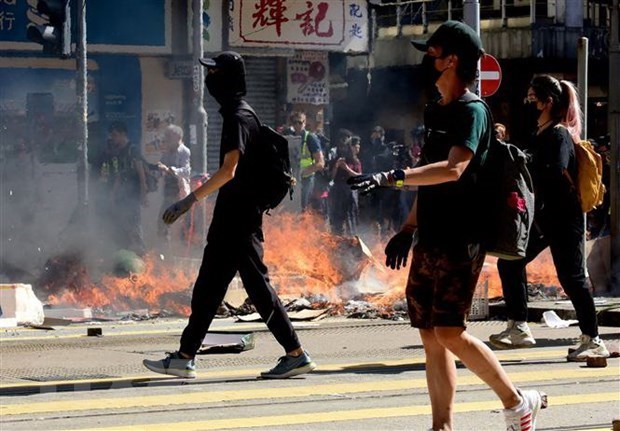 Protesters in Hong Kong (China) on November 11
The affirmation was made by Ministry of Foreign Affairs spokesperson Le Thi Thu Hang in response to reporters' queries regarding Vietnam's citizen protection in Hong Kong at the ministry's regular press conference in Hanoi on November 21.
Over the past days, Vietnam's Consulate General in Hong Kong and Macau has kept a close watch on developments in Hong Kong and taken citizen protection measures, including the establishment of the hotline to help Vietnamese citizens when necessary. The Consulate General has assisted 40 Vietnamese students who are pursuing university, doctoral and master's degrees to return home safely at their request, she said.
According to the spokesperson, the Consulate General will continue to keep itself updated about Vietnamese citizens and students in Hong Kong, and stands ready to support them and employ citizen protection measures when necessary and being requested.
Those who travel to Hong Kong should follow guidelines of competent local agencies, and stay away from large public gatherings in order to avoid regrettable risks, Hang warned.
Vietnamese citizens can call the consulate's hotline 85 225 914 510 or the citizen protection switchboard 84 981 84 84 84 if they need assistance.
Vietnam has also asked Hong Kong authority to take measure to ensure security and safety for Vietnamese citizens studying, living, working and travelling there, Hang stressed.
Regarding the six Vietnamese fishermen missing in a boat fire off the Republic of Korea (RoK)'s Jeju Island, Hang said the Vietnamese Embassy in the country has promptly coordinated with competent local agencies to get updated information and appealed to the RoK side to actively implement search and rescue operations.
According to the spokesperson, the RoK side said its Government is concerned about the incident and has instructed the highest mobilization of resources to serve search and rescue operations, and pledged to team up with Vietnam in citizen protection.
The embassy has also closely coordinated with labour export enterprises to collect information, and updated families of the victims on the situation, she said, adding that the embassy is ready to take citizen protection measures when necessary./.VNA

After a fiery overnight stand-off, some protesters tried to leave - but were met with tear gas.

Vietnamese nationals who are pursuing study at the Chinese University of Hong Kong (CUHK) on November 16 received support from the Consulate General of Vietnam to return home.