The Ministry of Health confirmed four more people positive for SARS-CoV-2 on late April 6, adding up to 245 cases of COVID-19 in Vietnam so far.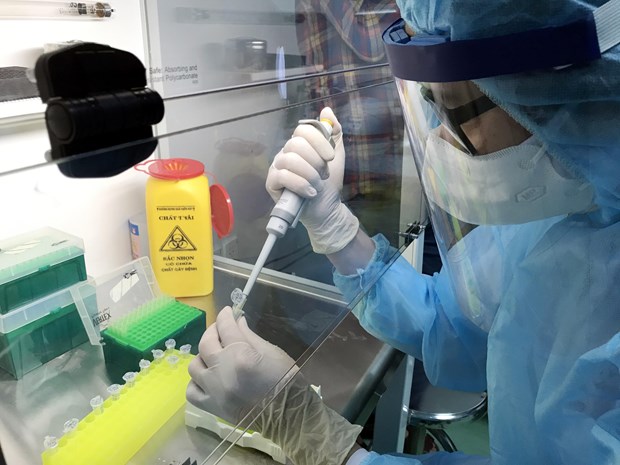 A health worker tests samples at the Cancer Hospital of Nghe An province 
Among the new cases who are all Vietnamese, one is linked with the Hanoi-based Bach Mai Hospital while the three others returned from other countries and have been quarantined upon their arrival.
Case 242 is a 47-year-old man living in Me Linh commune of Hanoi's Me Linh district. He accompanied his wife to Bach Mai Hospital for check-up on March 12.
Case 243, a 34-year-old woman, lived and worked in Russia. On March 25, she returned to Vietnam on Flight SU290 and entered the country via Noi Bai International Airport in Hanoi.
Case 244, a 44-year-old woman, is an employee of a fast food restaurant in Germany. She went from Germany to Russia on Flight SU2313 and then continued her trip from Russia to Vietnam on Flight SU290 to arrive at Noi Bai airport on March 25.
The 245th patient, a 21-year-old woman, is a nail salon worker in Spain. She landed at Noi Bai airport on March 25 after moving from Spain to Russia on Flight SU250 and from Russia to Vietnam on Flight SU290.
All the four are receiving treatment at the National Hospital for Tropical Diseases in Hanoi.
Four more COVID-19 patients fully recover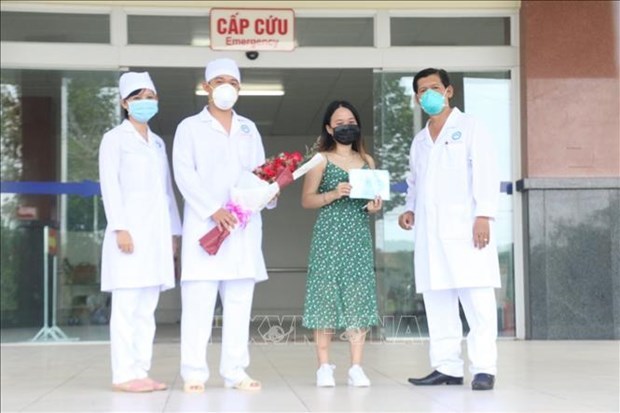 The 154th COVID-19 patient (second from right) poses for a photo with doctors of the Can Tho-based hospital
Four more COVID-19 patients in Vietnam were declared on April 6 to have fully recovered, bringing the total number of such cases to 95.
They were the 117th, 118th, 122nd, and 154th cases detected and all are Vietnamese nationals, with three being women aged 23 or 24 together with a 30-year-old man.
They tested negative for COVID-19 at least twice and will be given follow-up health checks two weeks from now.
As at the morning of April 6, Vietnam had 241 COVID-19 cases, with 150 returning from abroad, accounting for 62 percent. Of these, 109 were sent to quarantine facilities nationwide upon arrival.
VN must keep close watch on COVID-19 despite few new cases: health experts
Healthcare experts on Monday warned against complacence and negligence as the number of new COVID-19 infections dropped.
At a meeting of the steering committee on COVID-19 control and prevention, Ministry of Health leaders said the drastic measures Việt Nam had taken had started to show progress, reflected by the number of new cases.
However, as the disease was unpredictable and risks of infection remained, complete focus was needed to control the situation, experts stressed.
Deputy Health Minister Đỗ Xuân Tuyên requested all localities to continue following the Government's directions, especially Prime Minister Nguyễn Xuân Phúc's order to implement a 14-day national scale social distancing as well as enhance screening, identifying and monitoring of suspected infections to contain outbreaks.
Sharing the opinion, Lieutenant-General Nguyễn Văn Sơn, deputy minister of public security, urged law enforcement forces, local authorities and people to continue taking preventive measures.
The number of Vietnamese people returning from Laos and Cambodia fell by half in the last week, according to Lieutenant-General Trần Duy Giang, head of General Department of Logistics under the Ministry of Defence (MoD).
However, as the disease worsens with new cases reported daily in countries in the Southeast Asian region, more Vietnamese overseas citizens may choose to return home in the near future, Giang said.
Preparing for the situation, the MoD directed the Border Defence Force to tighten its management over the border and tasked southern military districts to arrange quarantine camps for the returning Vietnamese.
Việt Nam is now able to produce medical face masks and protective suits using domestically sourced materials, and is undertaking research into invasive and non-invasive ventilators to ease the dependence on imported ones.
"Medical supplies, ventilators and hazmat suits are sufficient to treat 10,000 COVID-19 patients at the same time. Our department of logistics is planning on preparing medical supplies and facilities for contingency plans should the situation worsen," said Deputy Health Minister Trương Quốc Cường.
All patients with symptoms related to COVID-19 or an unclear history of epidemiology would be tested or quarantined after being admitted to hospital, Deputy Health Minister Nguyễn Trường Sơn said.
The measure aims to protect patients and medical workers during examination and treatment.
The ministry encouraged medical facilities to house health check-up units separate from their main buildings to prevent cross-infection.
Tertiary referral hospitals will prioritise patients with severe medical conditions and emergencies. Health consultations will also be provided online or via phone to limit people from visiting hospitals and surgeries.
"Except for emergencies, people should contact medical facilities for instructions and appointments to ensure social distancing," said Sơn.
Deputy Prime Minister Vũ Đức Đam at the meeting has thanked Vietnamese all around the country for their support and efforts in fighting the COVID-19 pandemic and lauded the many good deeds of organisations, businesses, and individuals during this challenging time.
Deputy PM Đam reiterated that Việt Nam is one of only three countries worldwide where cases surpass 200 but no fatalities have been recorded.
On Monday, Việt Nam entered its sixth day of social distancing.
As of the moment, 245 infection cases have been reported nationwide, 95 recovered. More than 67,000 are being quarantined at different levels.VNA/VNS/VNN

For the second morning in a row, no new cases of COVID-19 have been detected in Vietnam.