More than 380 Chinese nationals were held in police custody on Saturday for their involvement in Vietnam's largest-ever underground online gambling ring run by foreigners.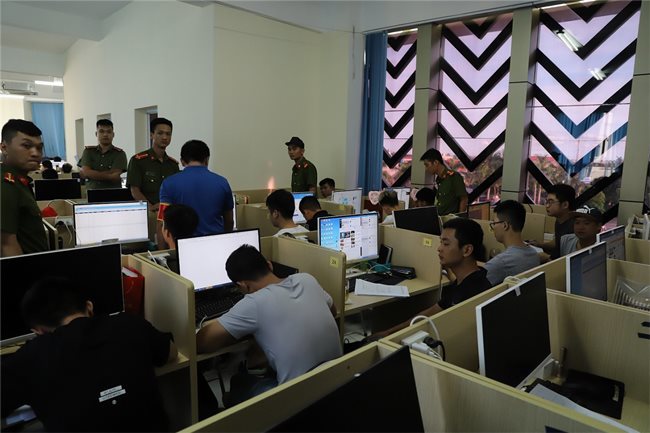 More than 380 Chinese nationals are detained during a raid on a gambling ring in the northern port city of Haiphong on July 27 – PHOTO: MPS
The individuals, aged between 18 and 24, were caught operating online gambling websites from a complex of more than 100 rooms in a tightly guarded urban area called "Our City" in the northern port city of Haiphong, some 100 kilometers east of Hanoi.
The ministry remarked that the ring had hosted online platforms for mainland Chinese gamblers to bet on sports and lotteries, with the total value of transactions estimated at more than three billion yuan (US$435 million).
Some 500 police officers staged the raid, which led to the arrest of the Chinese workers who reportedly operated in shifts to ensure around-the-clock service. Several Vietnamese people were also found on the premises but were released after interrogation.
The ring is a criminal organization using new, sophisticated methods and is listed as a foreign firm investing in Vietnam, according to the ministry.
The ministry claims the gambling ring is the largest ever seen in the country in terms of both the number of foreigners involved and the amount of money changing hands.
Investigators also seized 533 computers, nearly 2,000 smartphones, multiple bank cards and an undisclosed amount of cash, along with other evidence.
Developed by Hong Kong's Qiafeng Company, work on the Our City urban area started in 2010 and finished some five years ago at a cost of US$85 million.
The venue covers 43 hectares and includes premium apartments, villas, five-star hotels, commercial centers, entertainment areas, schools and hospitals, in line with international standards. The gated community has been predominantly occupied by Chinese nationals.
Gambling is generally illegal in Vietnam, but foreigners are allowed to gamble at local designated casinos. Last year, the Government said it would allow some local citizens to take risks at select casinos on a trial basis.
Last November, more than 90 people were convicted for their involvement in a multimillion-dollar online gambling ring covered up by two former senior cops in charge of policing internet betting. SGT
Thanh Thom

The Ministry of Public Security and Hai Phòng City police raided an urban area on Saturday and busted an illegal gambling ring operated by foreigners.
Ho Chi Minh City's police have busted an illegal poker gambling house led by Lee Seong-jin, a Korean citizen.