The COVD-19 pandemic has sparked the imaginations of thousands in their efforts to fight the disease, and a Vietnamese academic is the latest example of impressive creativity.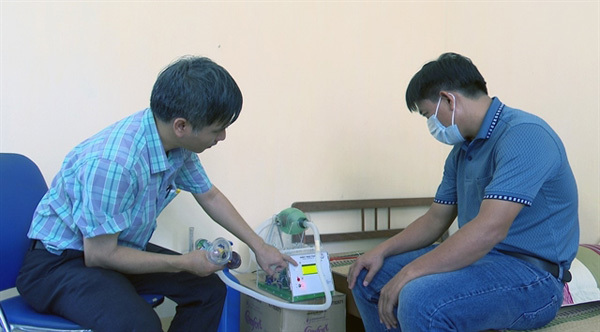 A non-invasive ventilator made by lecturer Van Sy Nghi is placed at the healthcare room of Phu Yen Vocational College for use as well as a teaching tool. — VNA/VNS Photo Xuan Trieu
A lecturer in Phu Yen Vocational College in the central province of Phu Yen used his engineering knowledge to make non-invasive ventilators to treat breathing difficulties.
The 45-year-old Van Sy Nghi said he and his colleagues spent a month studying and completing the ventilator.
Sy said they were improving their work to make invasive ventilators that can be used to treat COVID-19 patients.
"During the COVID-19 pandemic, health care centres face a shortage of ventilators and staff to take care of patients, which made me think of making a ventilator myself," Sy said.
Non-invasive ventilation offers breathing support via a face mask, nasal mask, or a helmet, with a mask tightly fitted to the face or around the head, without the need for a tube through the mouth into the windpipe.
Sy decribed his invention as a small machine weighing only 4kg. It has an electrical motor with a 12 volt power supply inside that pulls gears so two "hands" above squeeze an Ambu bag - a bag valve mask or "self-inflating bag" - a hand-held device used to provide positive pressure ventilation.
"As the power supply is low, the machine can be used on an ambulance or it can run with batteries," Sy said, adding that the squeezing speed ranges from 17 to 23 times per minute depending on how much oxygen the patients need.
Each machine costs VND2-2.5 million (US$86-107) depending on the material the cover is made of, hard plastic or transparent plastic.
Doctor Doan Van Chung, vice director of Phu Yen's 115 Emergency Centre, said Sy's ventilators were very useful in out-of-hospital emergencies.
For example, if a person had an accident when exercising or playing sports, health care workers could use the ventilator and deliver a cardiac massage. In other cases, when a patient has a stroke and does not have an invasive ventilator, the non-invasive ventilator can replace manual Ambu bag.
In addition to supporting breathing, this machine can also be used to suffocate people who stop breathing due to asphyxiation, Chung said, noting that it was very helpful when amid the COVID-19 pandemic as mouth-to-mouth resuscitation is potentially risky.
Vice principal of Phu Yen Vocational College Nguyen Van Nhat said the college is working with the provincial departments of Health and Sciences and Technologies to assess the effectiveness of Sy's ventilators.
He also said that they were calling for financial and technical assistance so Nghi can improve his breathing machines so they can be used widely.
"During the COVID-19 pandemic, the college lecturers made initiatives for the disease prevention and control, for examples, they made dry hand sanitiser and automatic hand sanitiser dispensers," Nhat said, proudly adding the dispensers were used in offices and schools in the province thanks to supports by Directorate of Vocational Education under Labour Ministry and German Development Cooperation organisation (GIZ). VNS

The Electric Power University (EPU), Vingroup, and the Information Technology Center of the Eastern People Military Hospital are just three of many universities, businesses and organizations that have promised to manufacture robots and ventilators.

A locally-made non-invasive ventilator has been introduced by Da Nang-based private Duy Tan College to help the fight against COVID-19.