Prime Minister Pham Minh Chinh is set to officially launch a COVID-19 vaccine fund on Saturday in Hanoi.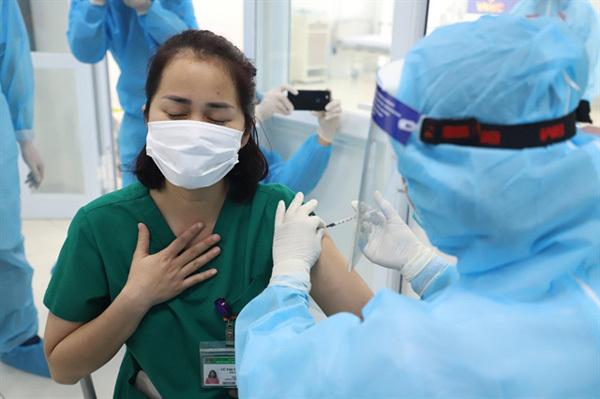 A health worker receives a dose of a COVID-19 vaccine. The country has set a target to bring home 120 million doses within the year.  — Photo baochinhphu.vn
The fund aims to call on support from all of society, businesses, people inside and outside of the country and international organisations. The money will be used to purchase vaccines and to develop Vietnamese vaccines. 
Health minister Nguyen Thanh Long said Vietnam, to achieve herd immunity (having at least 75 per cent of the population inoculated against COVID-19) in a near 100 million-strong population, would require 150 million vaccine doses this year, which may cost more than US$1 billion.
So far, on top of 30 million from AstraZeneca, the country has secured an order of 20 million Russian Sputnik V vaccines and is in negotiation to buy 5 million doses from Moderna, as well as 31 million from Pfizer.
Under the COVAX Facility, a global procurement of COVID-19 vaccines which provides governments with the opportunity to benefit from a large portfolio of COVID-19 candidate vaccines, Vietnam is set to receive 38.9 million doses for free. So far, COVAX has delivered nearly 2.5 million doses of AstraZeneca to Vietnam. 
The country has also registered with COVAX to buy an additional 10 million under a cost-sharing mechanism
The country has also reached an agreement with Pfizer on May 20 to buy 31 million doses, which will be delivered within the year - 15.5 million doses in the third quarter and the rest in the fourth quarter.
Of the 30 million doses in a commercial order with AstraZeneca, Vietnam has received more than 400,000 doses to date.
On Wednesday, the health ministry announced it has secured 20 million doses of Sputnik V vaccine which is to be delivered within 2021, and that a vaccine company under the health ministry is in talks with Russian partners to bottle and package Sputnik V vaccines in Vietnam as early as July.
All in all, the country has set a target to bring home 120 million doses within the year.  

* Individuals and organisations may send their donations to: 
State Treasury 
Account name:  Quỹ vaccine phòng COVID-19
Number: : 3761.0.9098866.91999 (VND); 3761.0.9098869.91999 (USD) và 3761.0.9098786.91999 (EUR)
Bank of Investment and Development of Việt Nam 
Account name:  Quỹ vaccine phòng COVID-19
Account number: 21110009116868 (VND); 21110371116868 (USD) và 21110142996868 (EUR)
* For donations from overseas:
Bank for Investment and Development of Vietnam JSC, Hà Nội branch - 4B Lê Thánh Tông Street, Phan Chu Trinh Ward, Hoàn Kiếm District, Hà Nội City, Việt nam
Account name: Fund for Vaccination Prevention of Coronavirus Disease 2019
Account number: 21110009116868 (VNĐ), 21110371116868 (USD) and 21110142996868 (EUR)
Swift code: BIDVVNVX
VNS

The Ministry of Finance said that it has submitted to relevant agencies the financial plan to buy vaccines for mass vaccinations as proposed by the Ministry of Health.  

Secretary of the Hanoi Party Committee Dinh Tien Dung said that with a population of about 10 million, Hanoi needs more than VND1 trillion to realize the goal of giving free Covid-19 vaccinations (the first dose) for its people.