Police in HCM City have started legal proceedings against 14 people allegedly involved in fraud at Alibaba Real Estate Joint Stock Company.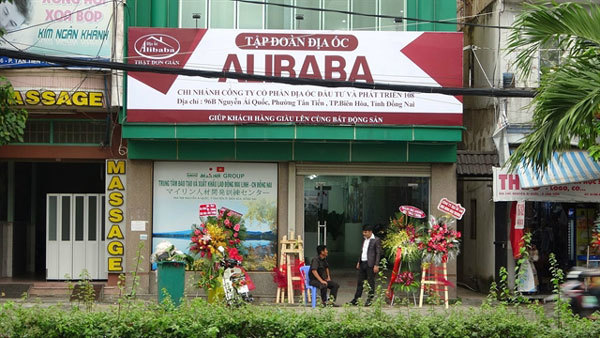 A subsidiary of Alibaba Real Estate JS Company in Bien Hoa City, southern Dong Nai Province. The subsidiary was penalised and asked to halt operations last September. 
The suspects were charged with fraudulent appropriation of property, the police reported last week.
Trang Chi Linh, legal director of Alibaba Company; Huynh Thi Kim Thang, Alibaba's chief accountant and directors of Alibaba's subsidiaries were put into temporary custody for four months.
Among the 14 suspects is Nguyen Thai Luc, director of Alibaba Tan Thanh Company.
In September last year, the city's police started criminal proceedings against Nguyen Thai Linh, Alibaba's general director and Nguyen Thai Luyen, Chairman of the Board and Chief Executive Officer of Alibaba to investigate allegations of fraudulent appropriation of property.
A criminal case was also opened against Alibaba for money laundering.
Nguyen Thai Luyen and Nguyen Thai Linh established Alibaba Real Estate Joint Stock Company in 2016 with charter capital of VND100 million (US$4,300). The company has more than 20 subsidiaries.
Luyen owns an 80 per cent stake at the company, while Linh and Luc, Luyen's younger brothers, are major stakeholders.
The company and its subsidiaries were accused of fraudulently offering for sale thousands of land plots in 48 phantom projects in HCM City and southern provinces. These land lots were agricultural land and land owned by residents.
They sold housing plots illegally and collected deposits from customers, appropriating thousands of billions of dong.
HCM City's investigative police have so far received reports of more than 3,300 victims of fraud with appropriated money totalling up to VND1.8 trillion ($78.2 million).
According to the ministry, violations of the law on planning, management and usage of land as well as fraudulently selling bogus projects are reportedly taking place in many localities, causing public concern.
The police are expanding the investigation. — VNS

Police in Ho Chi Minh City on September 18 arrested chairman and director of Alibaba real estate company for fraud.