A man who allegedly gunned down and killed four people in HCM City remains at large nearly 36 hours after police carried out a raid to hunt him down.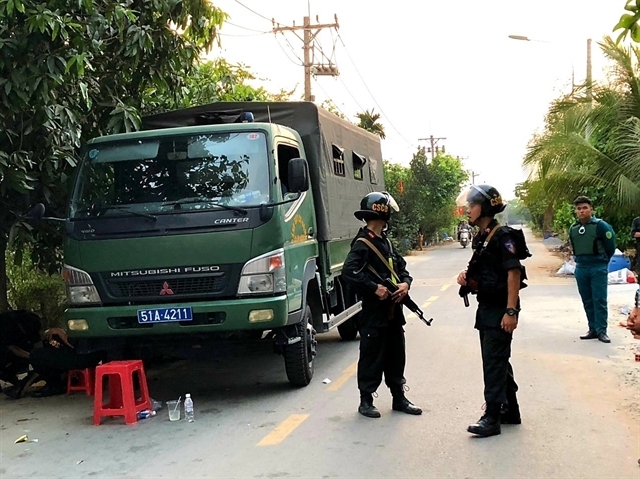 Police at a checkpoint to block off traffic into the area where Lê Quốc Tuấn was believed to be hiding in Trung An Commune, Củ Chi District, HCM City, on Thursday.
The unprecedented mass shooting occurred on Wednesday afternoon – the last festive day of the Tết (Lunar New Year) holiday – when Lê Quốc Tuấn, 33, reportedly shot five people with an AK-47 at an illegal gambling site in Tân Thạnh Đông Commune in suburban Củ Chi District, about 30km northwest of the city centre.
Tuấn, a lieutenant of the District 11 police division, was said to be one of the gamblers. He fled the scene soon after killing four and injuring one.
Police managed to track him down to Bốn Phú Hamlet in the neighbouring Trung An Commune where he was believed to be hiding in a forested area stretching dozens of hectares which was also crisscrossed with canals.
According to the police, about 500 armed officers, several police dogs and amoured vehicles were dispatched to the area in question in a raid that began just before dawn on Thursday. Public Security deputy minister, Major General Nguyễn Duy Ngọc was at the scene directing the raid.
On Friday morning, more than 24 hours since the raid, Tuấn remained on the loose.
"By now there's a chance that the suspect is no longer in the area. Our next move is to co-operate with the police forces in neighbouring provinces to go after him," HCM City police department director, Lieutenant General Lê Đông Phong, told Tuổi Trẻ (Youth).
As of Friday morning, more than half of the police officers had withdrawn from their positions, leaving a smaller number of officers and canines at the site, Tuổi Trẻ reported.
Tuấn's whereabouts were so far unclear, but many believed he could have escaped to Bình Dương or Tây Ninh provinces which were adjacent to his hiding place in Trung An Commune.
Second murder?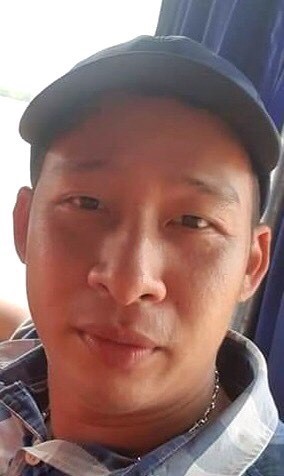 Mass shooting suspect Lê Quốc Tuấn.
HCM City police on Thursday night issued a nationwide warrant for Tuấn for murder, robbery and illegal use of military weapons.
He had to face murder allegations for killing four fellow gamblers including Vương Ngọc Hưng, 30, Lê Tấn Long, 46, and Lê Thành Trung 28, all from Củ Chi, and Huỳnh Ngọc Minh Tùng, 35, from Bà Rịa-Vũng Tàu Province.
The one injured in the mass shooting was 33-year-old Trần Văn Thạnh from Củ Chi who was receiving treatment at HCM City Hospital for Traumatology and Orthopaedics.
According to Trung An Commune police, Tuấn left the crime scene on a motorbike owned by one of the victims, riding to a house nearby and threatening a woman there with his rifle to take away her black and red Nouvo V motorbike.
Police did not elaborate on where Tuấn went and what he did after that, but another armed robbery was reported in Củ Chi the next day which many believe was in connection to Tuấn.
Around midnight on Thursday, a 40-year-old man was riding his motorbike on the Provincial Highway 15 when he was shot dead and had his vehicle – a green Honda Wave – taken.
Witnesses said that the gunman had tried to shoot another motorcyclist but he managed to escape and survive. The suspect had also attempted to shoot a van driver who was luckily saved by the windshield. He, however, was injured when pieces of glass from the broken windshield hit his head and chest.
Police are yet to publicly confirm if Tuấn was the suspect for the second fatal robbery, but information about both the Nouvo and the Wave motorbikes was included in the man's arrest warrant. — VNS