To improve security and safety of social network environments for students, especially secondary students, Hanoi's Bac Tu Liem district has implemented the pilot model "For a healthy environment on social networks".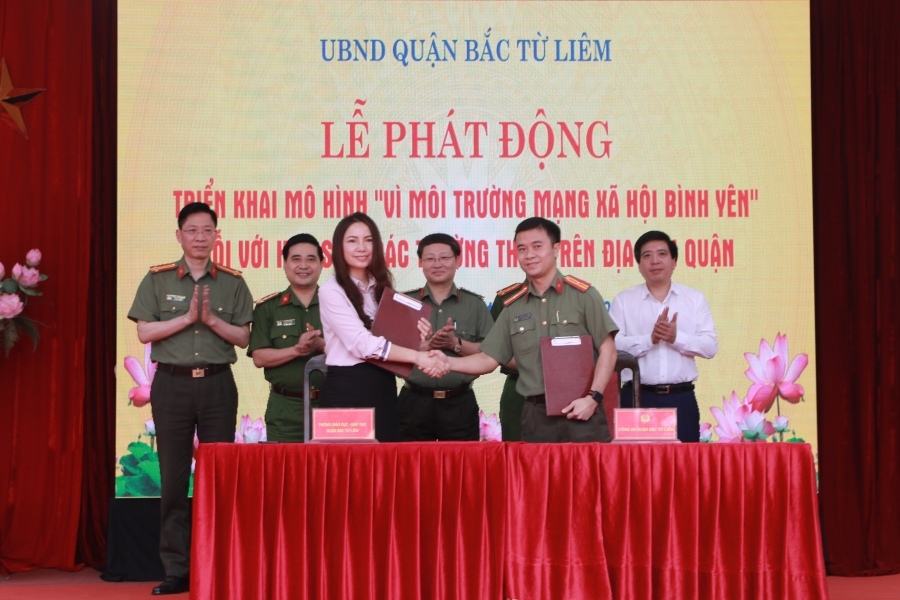 The signing ceremony on the pilot model "For a healthy environment on social networks" between Bac Tu Liem District's Education and Training Department and the local police agency.
Teenagers are more vulnerable to unhealthy information on social networks and can make misperceptions and take regrettable actions, said Major Phuong Minh Thang, Deputy Chief of Bac Tu Liem District Police Agency. There are 16 secondary schools with a total of nearly 13,000 students in Bac Tu Liem District.
According to Thang, the local police agency solved 16 cases of abuse of children under 14 years old, including children being seduced by people that they befriended on the internet and then were sexually harassed by these individuals.
Some 14-year-old students even committed suicide, leaving a note saying they were suffering from depression and pressure in life but were unable to share this with family members. This behavior is partly due to the frequent use of social networks.
Police in Bac Tu Liem District advised the local People's Committee to implement the pilot model at Phuc Dien Secondary School.
The police will coordinate with the Faculty of Mathematics, Informatics and Applied Science and Technology in Crime Prevention and Fighting of the People's Police Academy to plan electronic lessons with appropriate content.
This model will then be applied to the remaining 15 schools in the district.
Ms. Do Thi Kim Loan, Principal of Phuc Dien Secondary School, said that for many years, the school has regularly held seminars about laws and regulations, including educating students to use social networks properly. These seminars are usually in forms of on-stage performances, games, questions and answers, among others. Thanks to such activities, students have made positive changes in perception and behavior.
When there is coordination between the district police, school and parents, it can help teenagers learn how to use social networks more safely, Loan said.
"Our school is trying to ensure that all of our students have basic knowledge about the Law on Cyber Security and use social networks safely and effectively, as well as know how to stay away from criminals and society's vices in cyberspace," said Loan.
PV

A cybersecurity powerhouse is like a military power in the real world. Vietnam must be a power in cybersecurity.