Eight years ago, Tra Linh Commune suffered extreme poverty, with many locals unable to buy or build decent homes.
Ngoc Linh ginseng gets to the root of expansion
Local woman proud owner of Ngoc Linh ginseng garden
Quang Nam man digs up 100-year-old Ngoc Linh ginseng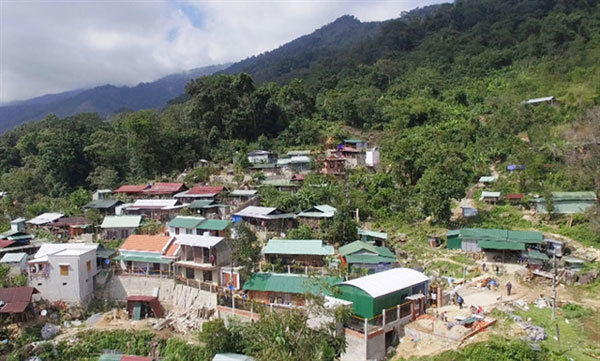 A view of the Tắk Lang billionaire village. Photo thanhnien.vn
Thanks to Ngoc Linh ginseng, farmers have seen profits explode and the area is now covered with new residential developments.
By the end of last year, members of the commune's Sedang ethnic minority had saved hundreds of billions of dong.
Tắk Lang Village is a hub for growing Ngoc Linh ginseng.
Several years ago, it took half a day to travel from the centre of Nam Tra My District to the village. Now, wide roads have been built.
Local residents consider Tắk Lang Village to be the first billionaire village of the Sedang people, Thanh Niên newspaper reports.
Ho Van Du is a village patriarch in Tra Linh Commune.
Three years ago, local residents were surprised when he spent VND200 million ($8,600) to build a toilet.
"At first, they did not believe it, because few people had big houses in the village at that time, so did not think about good toilets. But for me, it's a normal price," he said.
Sedang people wanting to build proper houses had to pay more, because it cost a lot to transport construction materials up the mountain.
At that time, it took three hours to bring a bag of cement from the centre of the commune to the village.
Now, many new roads have been built, thus transport costs have dropped.
"Local residents suffered for many generations, but now thanks to the forest, their offspring can enjoy what their forefathers only dreamed of," said Du.
"Young people can see great profits from Ngoc Linh ginseng, thus they will maintain and develop it," he said.
Billionaire village
Ho Van Hình's house is considered the biggest in the area and it cost more than VND10 billion ($434,700).
Hình exchanged more than a quintal of Ngoc Linh ginseng to build the house.
"Exchanging ginseng for a house is normal here. When they finish the building, I give them ginseng, and they convert it into cash," he said.
Ho Van The, chairman of the Tra Linh Commune People's Committee, happily said that the commune was changing day by day.
But houses and automobiles are not all.
"The biggest property of local residents is the extensive ginseng fields on Ngoc Linh Mountain," said The.
He said that Ngoc Linh ginseng had become a national product.
People planting ginseng also cannot believe that one day they can enrich themselves with the plant.
Nearly 10 years ago, Ngọc Linh ginseng leaves were even used them as pig food. Now they cost more than VND10 million ($430) per kilo.
Dried leaves are much more expensive, at about VND35-40 million ($1,500-1,700) per kilo.
VNS