The representatives of many private schools in Hanoi have expressed their concern that they may go bankrupt if they are not allowed to start teaching before September 5, the official opening day of the academic year.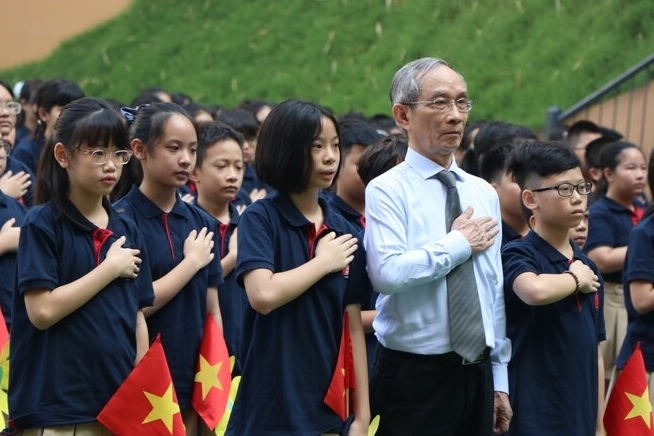 Private schools fear they are not allowed to start teaching before September 5
When the 2020-2021 academic year was about to begin, the Ministry of Educational and Training (MOET) said that public school students would gather on September 1 and schools must not begin teaching before September 5. As for private schools, the ministry will consider amending Circular No 13/2011 on organizing and operating private schools to fit their conditions.
To date, the ministry still has not opened the draft document amending Circular 13 for public opinion.

The headmaster of a private school said the circular needs to be amended to create better conditions for private schools to develop their missions and not operate in the same way as public schools.
Nguyen Thi Hien, chair of the board of directors of Doan Thi Diem School, said in general, private schools design a 10-month academic year instead of nine months like public schools. This is because private schools organize a lot of extracurricular activities, special training programs, foreign language intensive teaching programs, life skill courses and international cooperation programs.
"My school, for example, in addition to the frame program set by MOET, also runs our specific program which is the typical characteristic of our school," she said.
If MOET doesn't allow private schools to start new academic year before September 5, they won't be able to run the programs.
"And if private schools run the same education program like public schools, parents will find it unnecessary to spend big money to send their children to private schools," Hien said.
She warned that if the watchdog agency doesn't give private schools the right of self-determination, they won't be able to exist.
If so, schools will have to circumvent the regulations by organizing clubs, summer camps, or something similar to gather students. The activities will help them avoid bankruptcy.
Nguyen Tung Lam, headmaster of Dinh Tien Hoang High School, said private schools all want to build their brands and their special characteristics, and in order to do this, they need time.
"Private schools not only strive for the goals set by MOET, but also set specific goals for themselves. We want to develop students into citizens who are not only good at knowledge but also certain skills," Lam said.
For compulsory learning subjects, the schools also run specific programs, and won't be able to do this if they cannot gather students before September 5. 
Thuy Nga

The demand for doctors and medical workers is high, but the workforce for the healthcare sector is produced only by several public schools. This has prompted private schools to jump on the bandwagon.

A number of universities in the country will launch new majors for the 2021-2022 academic year to meet labour market demand.