The coronavirus outbreak at Hanoi-based Bach Mai Hospital was one of the most concerning outbreaks in Vietnam since the pandemic began.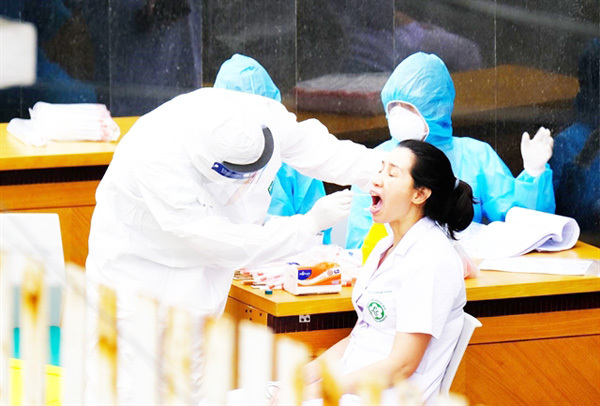 Medical staff of Bach Mai Hospital get tested for COVID-19 on April 2. — VNA/VNS Photo Pham Hung
However, rapid screening of cases, aggressive testing and tracing, and robust quarantine protocols put the outbreak under control in less than a month, concluded a new report titled 'Nosocomial Coronavirus Disease Outbreak Containment, Hanoi, Vietnam, March–April 2020' to be released in the 2021 January issue of the US CDC's Emerging Infectious Diseases journal.
The report, created with documents, patient records and public data collected during March 17-April 15, was authored by medical staff at Bach Mai Hospital, led by Do Duy Cuong, Director of the Centre for Tropical Diseases, with the support of two scientists from Sweden's Karolinska Institutet.
"On March 18, a total of three distinct clusters of COVID-19 cases were identified at BMH (Bach Mai Hospital). Diagnosis of the initial three COVID-19 cases led to contact tracing, symptom screening, and testing of 495 persons and limited quarantine of affected institutes or departments. When 27 staff members in the catering company tested positive for SARS-CoV-2, the entire BMH staff (7,664 persons) was put under quarantine," the authors wrote.
The outbreak at Bach Mai Hospital, with an unclear source of the original infection, was part of why the Government implemented a social distancing campaign throughout Vietnam from April 1 to mid-April (and an extended week for Hanoi) with people urged to stay at home and all gatherings larger than two forbidden, and only essential shops and services and businesses allowed to open.
At that point in time, Vietnam had logged about 200 COVID-19 patients, mostly from abroad, since it detected the first case in late January. 
Quarantine
Throughout the pandemic, the Ministry of Health has used a detailed hierarchy of contacts to trace potential carriers of the virus.
A suspected/probable case is a person who displays one or more typical symptom associated with COVID-19 and had travelled to virus-hit regions, returned from overseas or had direct contact with another suspected/probable case.
These people are placed under 14-day centralised quarantine and are tested.
Their contacts to be monitored are divided into three levels – F1 for close contacts of people with a definite COVID-19 case (confirmed by RT-PCR tests), F2 for close contacts of F1 people, and F3 for close contacts of F2 people. F1 people are also placed in centralised quarantine and tested, whereas F2 and F3 people are isolated and monitored at home.
However, the approach to the Bach Mai outbreak was different as every single person who visited the hospital during March 10-20 was treated as F1, no matter their exposure to confirmed cases, and the follow-up tracing went to F4, one level higher than the health ministry's guideline.
F1 and F2 persons were quarantined in a centralised area, and F3 and F4 persons isolated at home. Affected departments at the BMH area were isolated as soon as cases were detected, and a lockdown of the entire hospital was implemented after the confirmation of eight cases and four affected departments, the report reads.
The hospital – which has 34 clinical centres, institutes, and departments, with more than 6,000 healthcare workers and non-medical staff, with 3000 inpatient beds and 5,000 outpatients a day – stopped new admissions on March 20, except for critical patients and more than 5,100 inpatients were transferred to other hospitals in Hanoi or neighbouring provinces.
"A total of 793 patients with non–COVID-19-related illnesses required treatment at BMH because of the severity of their illness. These patients were managed with a high level of infection control, including spacing beds over two metres apart," the paper reads.
Family caregivers were not allowed to have direct contact with these patients, while body temperature scanning was used for all people entering the hospital.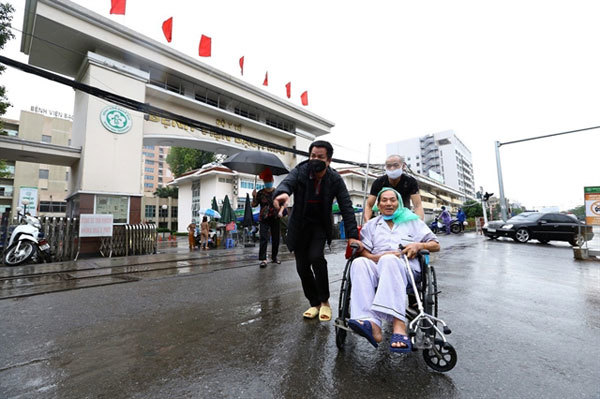 An elderly patient and his relatives leave Bach Mai Hospital on April 12 after the hospital exited the 14-day quarantine over a COVID-19 outbreak. — VNA/VNS Photo Minh Quyet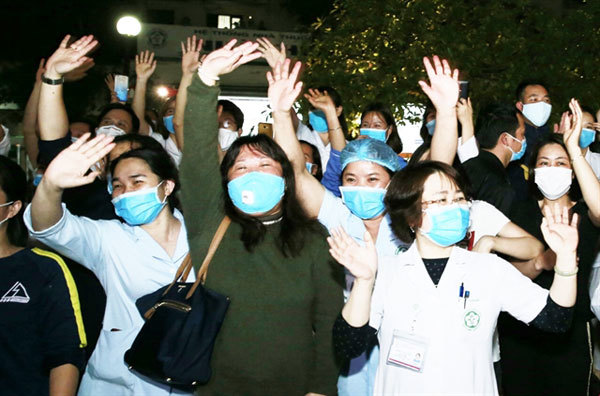 Doctors and nurses of Bach Mai Hospital waved in joy as lockdown over the hospital was lifted on April 12 night as the COVID-19 outbreak at the hospital was deemed to be contained. — VNA/VNS Photo Doan Tan
Testing
In total, an estimated 15,000 tests were analysed for quarantined people at Bach Mai Hospital, as guidelines dictate more than two negative tests are required for discharge from hospital/quarantine.
"Modelling suggested that active case tracing and early testing had a major effect on reducing the community transmission of COVID-19, up to 80 per cent, and the outcomes from outbreak containment at Bach Mai Hospital could provide good empirical evidence for this result," the authors argued.
All test kits were provided by the WHO or domestically made by Việt Á Corporation, with each test costing around US$30. The availability of the tests, together with the fact that Bach Mai Hospital was capable of analysing half of the tests, helped seriously cut waiting time and enhance case detection capacity and speed.
A total of 52,239 people were followed up in the community and nearly 30,000 RT-PCR tests were performed on F1 and F2 people in the community, who were required to quarantine.
During March 18–April 14, a total of 46 laboratory-confirmed COVID-19 cases were detected at Bach Mai, 27 from Truong Sinh company, a catering company that worked in the hospital.
The authors suggested the low number of medical staff infected with the disease during this outbreak might be attributable to sufficient use of protective gear and low usage of air conditioning in the wards.
The swift containment of the COVID-19 outbreak in Bach Mai was also said to have been aided by experience dealing with the SARS outbreak in 2003, which also took place at Bach Mai Hospital.
"Many frontline healthcare workers who were present during the SARS outbreak 2003 were still working at Bach Mai Hospital and contributed to the management, planning, and processing of the COVID-19 outbreak containment," the report reads.
Dr Ali Nouri, President of the Federation of American Scientists, on Twitter applauded "the incredible tracing/quarantine program," especially the quarantining of even secondhand contacts, to contain the outbreak at Bach Mai Hospital.  VNS 

About 9,000 people connected to Bach Mai Hospital, a COVID-19 hotspot in Hanoi, will be tested for the SARS-CoV-2 virus by Monday, adding to the more than 17,200 people that have been tested in the last 10 days.

Personnel from the Vietnam Army's chemical division disinfected Hanoi's Bach Mai Hospital on March 28 night after COVID-19 infections were linked to it.