The Vietnam Maritime Search and Rescue Centre on Wednesday declared that it had rescued 16 fishermen aboard two ships that suffered mechanical problems.
52 fishermen rescued off Da Bac Island
Crew of capsized fishing boat rescued at sea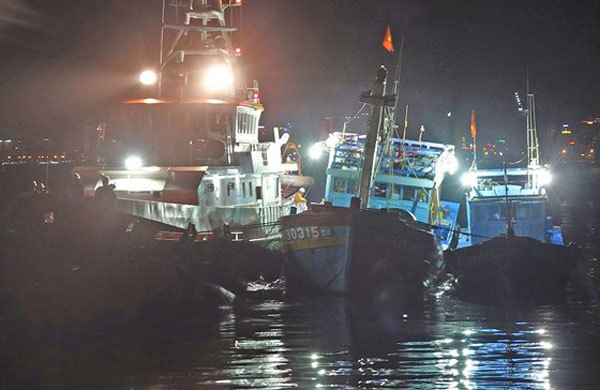 The rescue in progress for the two fishing ships that suffered breakdowns. — Photo sggp.org.vn
Last Friday, the ship numbered QNa 90315 TS from the central province of Quang Nam had a breakdown while fishing on the sea of the Hoang Sa (Paracel) Archipelago. The ship had 11 crew members. They were about 30 miles off Tri Ton Island, Sai Gon Giai Phong newspaper reported.
Captain Pham Xuan Le, 50, informed the centre and asked for help. The centre immediately informed nearby ships and local authorities.
Ngo Tan Lai, 46, captain of another fishing ship with a crew of five working nearby, agreed to help. However, bad weather and strong waves made a rescue difficult.
By 4pm on Monday, Lai's ship also had a breakdown. The crew sent an emergency message to the rescue centre.
The centre assigned a ship to the scene. It reached the two fishing ships shortly before dawn on Tuesday. All of the stranded fishermen reached Da Nang safely on Tuesday night.
VNS