Hanoi has been named the most expensive city in Vietnam in terms of the cost of living, but for residents it's still a good choice.
A report published by the General Statistics Office last week shows the capital has the highest spatial cost of living index (SCOLI) in 2020 among 63 localities.
The index compares the cost of living in different regions, to which the cost of living in Hanoi was kept at 100 per cent.
HCM City came second at 99.05 per cent, and Hai Phong third at 97.38 per cent.
To some people life in the capital is comfortable despite the high living cost.
Hugh Ellis from the UK said: "As a UK citizen living here, I would say it's a pretty good value for money in the coffee shops, the restaurants, bars, it's very good value."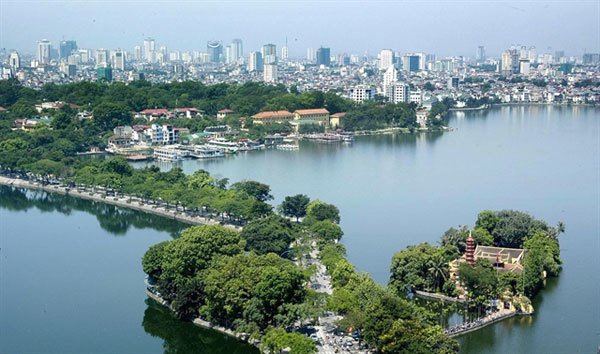 West Lake (right) and Truc Bach Lake (left) separated by Thanh Nien Street in Hanoi. The capital city has the highest spatial cost of living index in the country in 2020. VNA/VNS Photo Minh Dong 
He added: "I travel on a local bus. I think VND7,000 (30 US cents) is very good to go from one starting point to the other. I am very happy with the frequency of the bus. If I go on Grab or Be, I think it's very good price and it's easy to get either one."
Pham Thi Thu Huyen was born and raised in the capital. She said: "I travel a lot to other provinces for work, and I don't think Hanoi is the most expensive.
"The report must be talking about the cost of leisure activities. In terms of the cost of living, I think Lai Chau would be the most expensive. It's so far away, so expensive. Or Quang Ninh is also expensive."
But some do find goods are more costly in Hanoi than in their hometowns.
"In my country, you can have breakfast for VND10,000," said Kiran Thapa from Nepal. "If you spend VND10,000, you can have a good breakfast. But here for a cheap breakfast you at least need to spend VND30,000 or more."
Nghiem Thu Ha from Bac Giang Province agrees. "The cost of living in Hanoi is higher than rural areas," she said. "For example, vegetables' price doubles in Hanoi compared to rural areas."
In 2019 the capital also surpassed HCM City, Vietnam's largest city, to become the costliest place to live.
But despite the statistics everyone has their own way of making it in the big city.
"Food supply is plentiful here. Rice is transferred from all places to Hanoi, all types of rice. We can choose what to buy in accordance with what we earn," said Hanoi resident Pham Thi Thu Huyen.
"We also have lots of supermarkets and local markets," she added. "For people with average incomes the local markets are very affordable. Food at supermarkets would be of higher quality so it can be more expensive, and not everyone can afford to shop there."
Nghiem Thu Ha from Bac Giang said: "I share the room with another friend, so it costs me nearly VND1 million a month for rent, electricity and water bills. For students, Hanoi is totally affordable for those who can manage their money well."
And for expats the capital also seems to be a good place to live.
Hugh Ellis said: "I don't know a lot of English teachers here but I would imagine a lot of English teachers here would have a more comfortable life teaching English here rather than back in the UK, because I think the dong would go further to the pound or the dollar. So I think it's a good place to live."  
VNS

The capital was the most costliest city nationwide last year, according to the Spatial Cost of Living Index (SCOLI) as compiled by the General Statistics Office (GSO).

The International Living Magazine has recently unveiled 'The World's Best Places to Retire in 2021', which ranked Vietnam in tenth place. Here are the reasons why.