Facing water shortages, farmers in the Cuu Long (Mekong) Delta province of Tien Giang have grown corn on nearly 2,000ha of rice fields for the 2018-19 winter-spring crop.
Second thought for rice dominant farming
Mekong Delta farmers rush to plant Thai jackfruit despite risks
Thung grapefruit farmers expect good profits during Tet season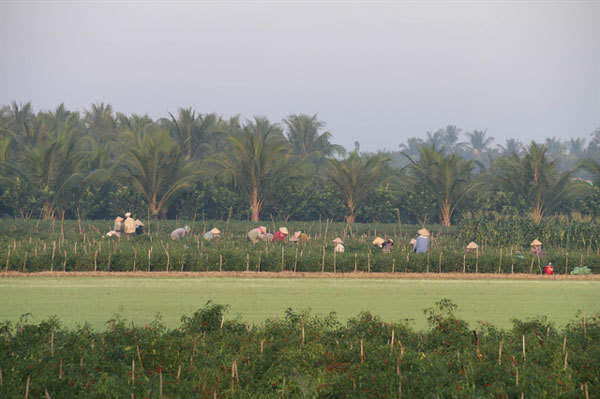 Farmers in Tien Giang Province in recent years have rotated other crops with rice in their rice fields, earning higher incomes. – VNA/VNS Photo Minh Tri
Farmers have harvested 2.6 tonnes of corn per ha and earned a profit of more than VND56 million (US$2,400) per ha for the winter-spring crop, 3.1 times higher than the profit from rice, according to the province's Department of Agriculture and Rural Development.
Most of the rice fields that switched to corn are located in drought-prone and saltwater-affected areas, including the coastal area of Go Cong and islets.
Hai Cau, who rotated rice and corn on his 2,500 sq.m rice field in Go Cong Town, said he had previously planted three rice crops a year and faced disease outbreaks, high production costs and declining profits.
Under the encouragement of local authorities, Cau began rotating growing rice and corn and made high profits from corn.
In the 2018-19 winter-spring crop, he earned a profit of nearly VND15 million ($646) from corn, he said.
He plans to completely switch to corn on his rice field.
The maturing period of corn is shorter than rice, so farmers can grow up to four corn crops a year. In addition, corn is resistant to drought and can be grown in areas that lack water.
In recent years, the department has encouraged rice farmers in areas that face water shortages to switch to drought-resistant crops, especially corn.
To encourage the switch, the department has organised agriculture extension activities, providing farming techniques and establishing effective corn-farming models for farmers to visit.
The province's Agriculture Extension Centre has set up rice-corn model field in Go Cong Town to teach farmers intensive corn farming techniques that result in high yields.
The switch to corn has occurred mostly in the coastal area of Go Cong, which includes Go Cong Town, Go Cong Dong and Go Cong Tay districts and a part of Cho Gao District.
In the province, farmers grow two corn crops and one rice crop a year, or one corn crop and two rice crops a year.
Farmers grow many corn varieties, including waxy corn and American corn. The province's corn is used for eating and for making animal feed.
Cho Gao, Go Cong Tay and Chau Thanh districts have the largest area of corn in the province.
Besides harvesting corns, farmers earn additional income from using corn by-products like trunks and leaves to feed oxen, cows, goats and other grass-eating animals.
VNS