Santa Claus delivery services are becoming extremely busy over the last few days.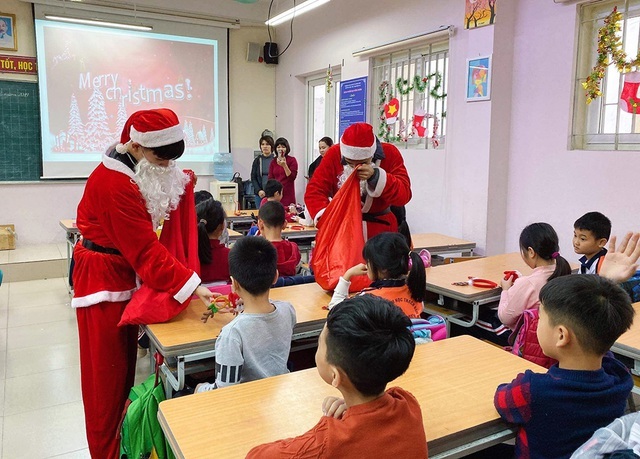 Santa Claus delivery service in Hanoi
Tran Hieu from Hanoi's Mai Dich District said he was flooded with work in the past two days. He has also asked his sister for help during such times.
Compared to previous years, schools and offices have welcomed Christmas four to five days earlier so his work is busier than usual. He stopped taking more orders since December 21. Each day, he will dress as the Santa Claus to give 10-15 gifts to individual orders and only one to two group orders. Hieu offers his service for VND100,000 (USD4.30) to VND300,000, including gifts.
"I feel disappointed that I can't take any more orders on. There are many orders that I couldn't accept because of time issues and lack of personnel. Next year, I may ask more people to join with me," Hieu said.
There are many companies offer Santa Claus delivery service thanks to lucrative profits. Truong Linh from Hanoi said his company started accepting orders since early December. He hired 10 Santas to work full time and 10 to 20 part-time employees.
"During peak days, our Santas have to work from 3 pm to 10 pm. Each Santa receives 15-20 orders a day," he said.
The cost for an individual gift before December 22 is VND100,000 and VND250,000 per 20-30 minutes for the group gifts. After December 22, the service cost will increase by VND20,000 to VND30,000 each day, depending on the route and hour. For example, customers will have to pay an extra VND20,000 if Santa Claus has to travel more than 5 km.
A package includes giving gifts, taking photos and talking with the children for 5-10 minutes. Customers have to pay more if they want Santa to stay longer. An extra VND20,000 is required for the children to sing with Santa and getting the video uploaded to YouTube. Another VND20,000 is needed for Santa to teach the children to write best wishes to their family members.
In order to attract customers, Tran Manh, a service provider in Hanoi, said he spent VND5m (USD215) to VND7m on promotion programme and to buy 10 Santa Claus outfits, accessories and tools for the employees. Everything has to be prepared since two months ago. The Santas must be trained on how to communicate with the children before going to work.
According to Manh, he may be able to earn VND40m (USD1,700) to VND50m from Santa Claus service this year. Dtinews
An Chi

1. Celebrate the season at The Reverie Saigon

From the beginning of December, Hanoi's streets are all decorated with Christmas patterns that create a festive environment helping any expats off being homesick in the night of Christmas.