A scientist in southern Vietnam has used her unique skills to help enrich local farmers.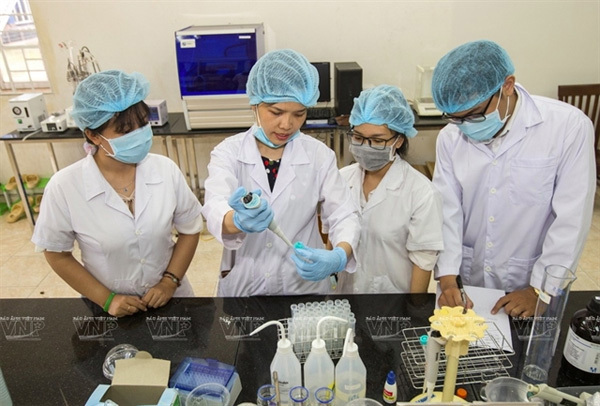 Nguyen Thi Lien Thuong (second from left) instructing her colleagues in the laboratory. — VNA/VNS Photo
Nguyen Thi Lien Thuong, director of Application Development Institute of Thu Dau Mot University in southern Binh Duong Province, has provided many inventions and initiatives for agricultural production, goods consumption and clean technology transfer.
Her research has helped increase the value of the agricultural product chain for farmers.
Born and raised in Binh Duong, Dr Thuong cherished a dream of becoming a scientist when she was a schoolgirl.
In 2012, she got a doctorate degree in bio-technology from South Korea's Ulsan University. Then, she came back home and worked as a lecturer in Thu Dau Mot University.
She took the position of vice head of the environment resources faculty and biotechnology faculty from 2016 to 2017. In 2018, she was assigned to be the director of the Application Development Institute.
Thuong and her research team have made highly applicable research into agricultural production, clean technologies and agro-product processing techniques to increase the value of the agricultural production chain.
The transfer of technology to the community has brought about clean production, post-harvest processing and refining and making healthcare products from agricultural and medicinal products.
She has successfully developed the process of growing cordyceps militaris mushrooms from the results of the scientific research projects 'Research on cultivating process of cordyceps militaris mushroom' and 'Red Ganoderma Lucidum growing process' which were carried out from 2012 to 2019.
According to the scientist, Ganoderma is a precious mushroom, used for processing into medicine and healthcare products.
The mushroom grows naturally on tree trunks. If produced on small scale, the quality is not stable.
To produce on an industrial scale, technology was needed to increase productivity, reduce production costs and damage caused by insects, she said.
In response to that need, Thuong researched and transferred clean technology to local farmers such as the process of growing red Ganoderma Lucidum in organic standards on an industrial scale and automatic fogging technology to help farmers reduce time and labour and ensure uniformity of moisture and ventilation in the mushroom houses.
The Ganoderma Lucidum farmers participating in the project were helped to control and measure the quality so their products meet the demands of businesses and bring stable incomes.
The result of this was to help farmers apply high-value medicinal mushroom farming technology to increase the quality of mushrooms, as well as automation technology in mushroom cultivation to reduce labour costs and boost quality control.
Thuong said: "I researched clean medicinal mushroom growing technologies to apply in Binh Duong and other southern provinces. Cordyceps mushrooms and Ganoderma Lucidum were the two subjects I prioritised to guide, advise and transfer technology to farmers due to their high economic values and high purchasing demand from food and pharmaceutical companies to produce healthcare products."
"I realised that the demand for clean medicinal herbs in pharmaceutical plants was very high. The application of clean medicinal mushroom growing technology played a very important role in increasing the reputation, quality and consumption of farmers," she said.
"Clean technology created clean and high-quality medicinal mushrooms. That increased the trust of mushroom collectors and incomes for growers," the doctor said.
Since 2012, Thuong's team has researched improving the quality by using biotechnology for cordyceps mushrooms.
The organic farming process uses automatic technology when using organic nutrients and input materials meeting food safety standards, and optimising the cycle of temperature, humidity, and light, Thuong said.
This technology has been transferred to farmers and production facilities in provinces and cities nationwide.
"With the expectation that the consumers would have good products from the domestic medicinal sources and processing technologies, my team developed a refining technology, agro-products and medicinal materials processing recipes," she said.
Thuong has also studied creating products that add value to farmers' product chains such as tea, essential oils, soap and alcohol from grapefruits.  VNS

Tran Phi Vu, PhD in UAV, and Pham Thanh Toan, MA in Deep Learning, are two of the 14 names nominated by VietNamNet as Inspiring Characters in 2020.

In the past, two or three workers were needed to grow lingzhi mushrooms. But today, one person can undertake the work with just one smartphone.