Six plants with nearly 3,000 workers in industrial parks in Binh Tan, Binh Chanh and Cu Chi districts in HCM City have been locked down after several workers tested positive for coronavirus,
according to a source at the Management Board of HCM City Export Processing Zones - Industrial Parks.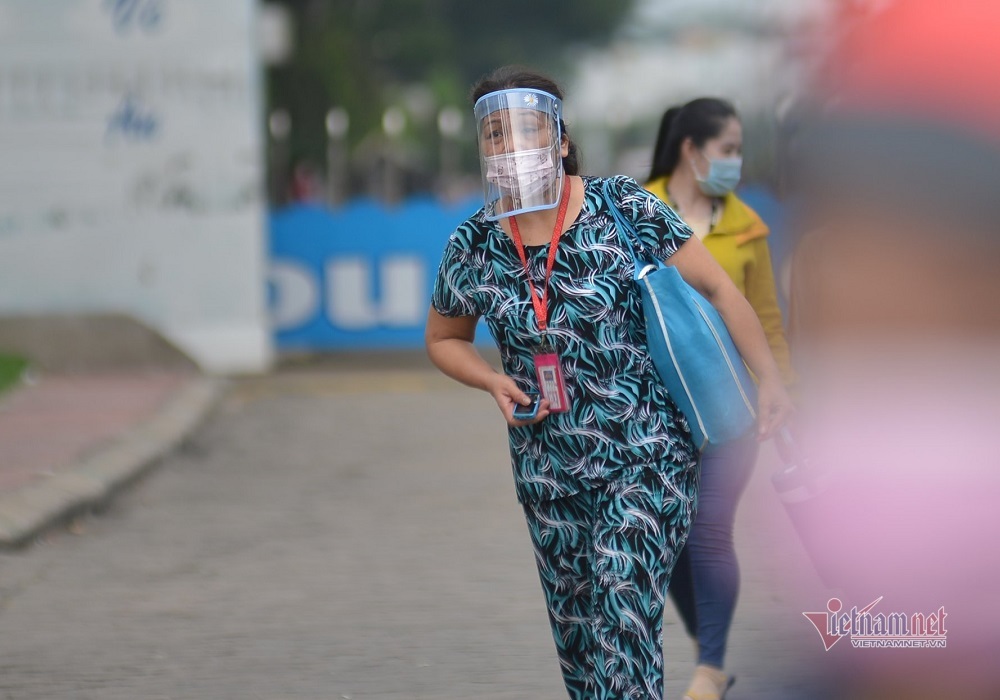 Workers at industrial zones strictly comply with regulations on Covid-19 epidemic prevention.
According to this source, the factory of Trung Son Food Joint Stock Company in Tan Tao Industrial Park in Binh Tan District was locked down after two workers tested positive for coronavirus. More than 140 workers who had contact with patients were sent to concentrated quarantine zones, while nearly 800 workers will be isolated at the factory for 14 days.
A garment factory and a plant at Van Duc Food Company, both located in Vinh Loc A industrial zone in Binh Chanh district, with about 1,000 workers, have both been isolated. According to authorities, the infection case at the garment factory is related to the infection chain at a mechanical workshop in Hoc Mon district, which has had 51 cases so far. More than 1,000 workers at these two factories have been quarantined at a dormitory at Vietnam National University in Ho Chi Minh City.
In addition, a garment factory in Tan Phu Trung Industrial Park in Cu Chi district with 550 workers has been locked down since June 15.
Previously, on June 12, two factories in Tan Tao Industrial Park, Duy Tan Precision Mold Co., Ltd and Cloth & People Vina Co., Ltd. were locked down after three cases of Covid-19 infection were detected. The total number of workers at the two factories is nearly 500 people.
Ho Chi Minh City has conducted extensive Covid-19 testing for 23,000 workers at 121 companies in Vinh Loc industrial park. Health workers worked from the morning of June 15 through the morning of the next day to collect 23,000 samples to send to laboratories.
Ho Chi Minh City has 1.6 million workers, including more than 320,000 people working in 17 industrial parks, export processing zones and high-tech zones.
Ho Chi Minh City is set to begin its COVID-19 vaccination campaign on June 19, with priority groups to get injected with about 800,000 AstraZeneca vaccine doses donated by the Japanese Government.
The largest-ever vaccination campaign in HCM City is scheduled to last for about five to seven days, targeting the priority groups identified in the Government's Resolution No 21.
About 1,000 sites across the city have been ready for the vaccination, he noted, adding that local authorities will mobilise the entire medical workers, including those deployed from central establishments, for the drive.
Ho Van

The electronics, textile and garment, footwear, wooden furniture and dairy sectors have proposed that the Government allow them to seek vaccine sources and pay for vaccinations at their enterprises so they can maintain production.

The government has approved a proposal by Ho Chi Minh City to allow companies to directly negotiate with suppliers to purchase vaccines for their employees amid the largest COVID-19 outbreak in the city.