Facing two weeks in quarantine is a tough task at the best of times.
Many people returning to Vietnam have endured a painstaking fortnight behind closed doors waiting to return home.
Nguyen Phuong Linh was one such traveller. She had been studying in Australia and came home to Hanoi last July.
But life in quarantine was far more rewarding for this girl.
During her stay at a medical centre in Binh Duong Province, Linh met the man of her dreams, Le Hoang Hai, a health worker based at the facility.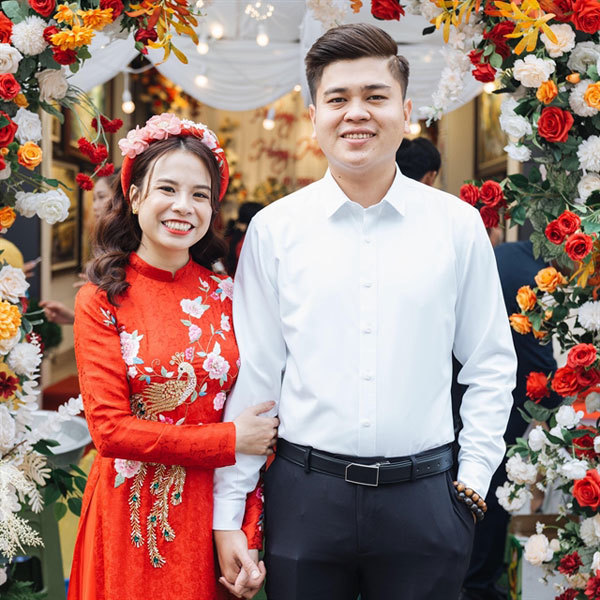 During her quarantine, Linh met the man of her dreams, a health worker based at the facility. — Photo courtesy of Nguyen Phuong Linh
And now after a whirlwind romance, the couple have tied the knot, proving beyond doubt, that some COVID clouds do have a silver lining.
"Day by day, I could see that Hai was a nice person," Linh said.
"He was always caring for people in quarantine and tried to help them if they had any problems with meals or daily activities.
"I started to want to know him more, but I was really shy and didn't know how to strike up a conversation with him because staff there cannot have close contact with people in quarantine."
Eventually, Cupid fired his arrow, and the couple struck up a conversation.
Hai, 26, said: "I remembered the day she asked me to borrow a knife to peel mangoes. When I asked to have it back, she joked that she had already swallowed it.
"It was just a joke but it surprised me and I thought it was really cute. To me, Linh is a sincere and enthusiastic person.
"After that, we started to chat with each other more."
Those chats continued after Linh finished her stint in quarantine. And despite her living in the north, and Hải in the south, their connection quickly blossomed.
"One person lives in the south and the other lives in the north, so we could only talk on the phone all of the time to get to know each other," Linh said.
"After we met, he continued to work in the quarantine zone. Whenever he went to work, I always felt worried about him.
"However the more I knew about him and his job, the more I loved him and I am very proud of what he is doing now."
The couple decided to get married in April, having a wedding ceremony in Hanoi and Binh Duong so both their families could enjoy their happy day.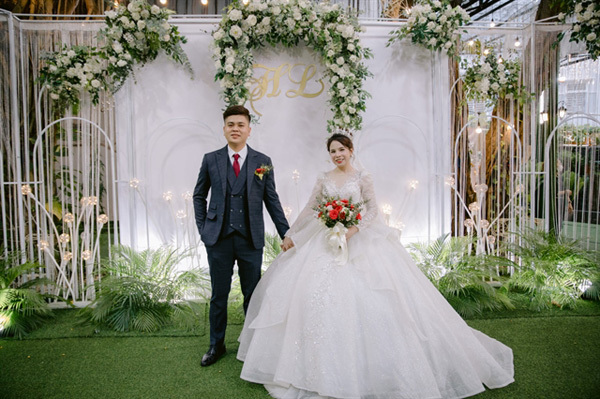 The couple had a happy ending with a wedding ceremony in Hanoi and Binh Duong in April. — Photo courtesy of Nguyen Phuong Linh
So while COVID-19 may be causing heartache and pain for millions around the world, here in Vietnam, it brought cheer to the lives of Linh and Hai.
"Until now, I don't know whether I should hate COVID-19 or feel thankful for it," said Hai.
"Thanks to COVID-19, I met my wife. However, the pandemic has had a really bad impact on people's lives.
"I'm really grateful to have a partner who can understand and feel sympathy for me and my job," he added.
Linh spent years in Australia, and went to college in Sydney. She then began to work in the hospitality sector and by the time her contract came to an end, the pandemic had begun to take its grip.  
She added: "I lived in Australia for 11 years. Due to the COVID-19 pandemic, I decided to come back home following my parents' wishes.
"At the time when I submitted a request to go back home, the restrictions were already imposed in Sydney, where I lived. All the restaurants are closed and people were told not to go outside if not necessary. 
"With people living in quarantine like us, we are all worried and afraid of cross infection. We rarely had close interactions with others, our activities only occurred in the room.
"So at first, I really wanted to pass those 14 days and come back home to see my family in Hanoi."
Little did she know at the time, but those two weeks in quarantine would change her life, even though it wasn't exactly love at first sight.
"At first, I really didn't like him," Linh admitted.
"I think that he was fastidious and had too many rules. I thought he is not really my type."
But her initial thoughts were very wrong indeed.
Now, after two months of marriage, the couple are head over heels in love. And Linh couldn't be more proud.
She said: "Having a husband working on the front-line, I can profoundly understand how hard they work, and how good Vietnam has done in the effort to fight against the pandemic.
"I hope that every Vietnamese citizen strictly follows the Government's regulations to ensure the efficiency of the pandemic prevention strategy.
"Maybe you could have an unforgettable experience or find your soulmate unpredictably, just like me."
VNS
VietNamNet's Pham Cong visited Field Hospital No.1 in Chi Linh city of Hai Duong province, Vietnam's Covid-19 hotspot, where 164 Covid-19 patients are treated. 

Several days before the Lunar New Year (Tet), the quarantine center based at the 58 Artillery Regiment in Quoc Oai district, Hanoi was in a quiet atmosphere.