Some steel mills have converted a part of their production lines into 'oxygen ATMs'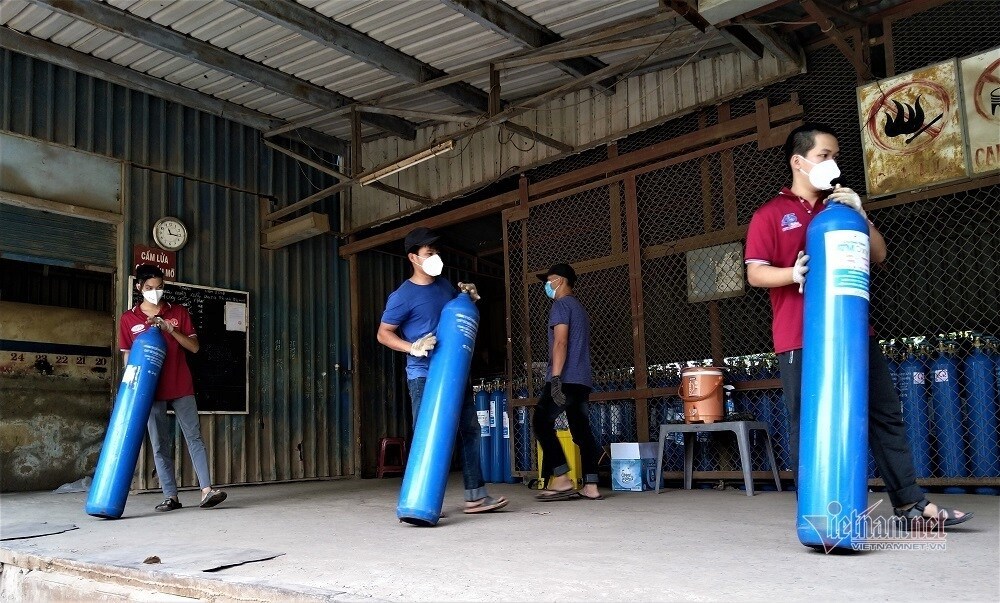 .
In April, Manoj Gupta from India became a hero when opening his steel mill and provide oxygen to people for 1 rupee per oxygen tank.
General Director of Tan Thuan Steel Mill Nguyen Khac Son remembered the news about the conversion of a steel workshop in India into an oxygen filling station. He thought that if the pandemic got worse, medical oxygen would be useful.
By the time the Ministry of Health sent a dispatch to local healthcare departments asking to prepare oxygen sources, Tan Thuan Steel Mill was ready to provide oxygen for free. It took the enterprise half a month to try equipment, adjust the oxygen concentration to create medical oxygen, and have medical oxygen samples tested before officially providing it to patients.
On August 29, the enterprise's warehouse and yard covering thousands of square meters officially became an oxygen ATM. Every day, the oxygen ATM station in district 7 provides 500 oxygen tanks (40, 15 and 8 liter).
Lam Quoc Yen, the manager of the oxygen station, said oxygen tanks are provided to districts 1, 3, 4, 5, 7, 8 and Nha Be, from which they are forwarded to people who have demand.
VNSteel has also converted a part of its production line into an oxygen ATM, which provides medical oxygen to Thu Duc City and Binh Thanh District, about 300 40-liter tanks a day.
Huynh Van Ngai from VNSteel said oxygen is bought by the company from Ba Ria – Vung Tau to serve the steelmaking process. Responding to the oxygen ATM movement, the enterprise had oxygen tested and was certified as meeting requirements on medical oxygen. It buys oxygen and covers all expenses to run the oxygen charging workshop.
The Oxygen ATM Program was created by among enterprises, the Vietnam Young Entrepreneurs' Association and the HCMC Youth Union. The program provides oxygen, free of charge, to more than 400 mobile clinics, or about 4,000 patients each day.
On September 12, OxyMap system officially opened its oxygen filling stations at 32 mobile medical units in 32 wards of Thu Duc City.
Tgecproject has been running since August 26. After 15 days, 2,500 tanks were available at 124 oxygen stations in all wards and communes of districts 5, 6, 8, 10, 12, Binh Tan, Go Vap, Binh Thanh and Binh Chanh.
OxyMap uses technology to operate and manage oxygen tanks. Each oxygen tank is attached with one QR Code which allows medical staff and volunteers at stations to update the situation of the tanks. 
Tran Chung

Oxygen plants in the south are stepping up production to meet domestic demand.

Scientists from Hanoi University of Science and Technology (HUST) have designed and built a mobile oxygen and medical compressed air generator station to help the country fight COVID-19.