Storm Vamco, the 13th storm to enter the East Sea this year, has caused 19 people in the central region to suffer injuries, according to the latest report from the Central Steering Committee for Natural Disaster Prevention and Control.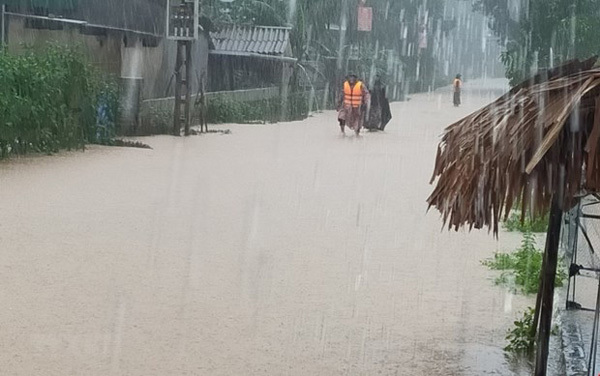 Heavy rains flood roads in Cam My Commune, Ha Tinh Province's Cam Xuyen District.
Of the injured, eight were in Quang Binh, seven in Quang Tri Province, three in Quang Nam and one in Da Nang.
The storm made landfall in the central region on Sunday morning and weakened into a tropical depression after hitting Thua Thien-Hue Province.
Six houses in Thua Thien-Hue Province were collapsed while the roofs of more than 5,700 houses were blown off, including 4,687 in Thua Thien-Hue and 809 in Quang Tri. 
The storm also damaged embankments and caused landslides along them at many rivers and beaches, including 13.3km in Quang Tri. 
Ministries, sectors and localities were asked to continue keeping a close watch, and stand ready to respond to natural disasters, especially flooding and landslides.
Cities and provinces hit by the tropical depression must ensure the safety of reservoirs and sea dykes.
The storm has also destroyed electrical wires and poles, causing power outages in 177,000 households in Quang Binh. More than 110ha of perennial trees in Bo Trach District were also destroyed.
Local authorities and other forces are helping people overcome the impact of the storm.
Households who were relocated to avoid the storm have also returned home and those in the area at risk of landslides have been relocated to temporary houses. 
In the Sunday morning (Nov 15), heavy rains battered provinces from Thanh Hoa to Ha Tinh.
Rainfall of 40-100mm is predicted to continue hitting Thanh Hoa and Nghe An provinces, according to the National Centre for Hydro-meteorological Forecasting.
The centre also warned that floods and landslides could occur from Thanh Hoa to Ha Tinh provinces.
Due to the influence of cold air, the northern and central region will continue seeing heavy rains, according to the centre.
Some areas from Thanh Hoa to Ha Tinh provinces, the northern delta, Hoa Binh, Son La, Bac Giang, Cao Bang, Bac Kan, Lang Son, Thai Nguyen, Tuyen Quang and Ha Giang provinces are expected to have heavier rains.
Cold weather will hit northern and northern central regions with the temperature dropping to 17-20 degrees Celsius and below 12 degrees Celsius in mountainous areas.
Hanoi will continue experiencing rains and cold air with a temperature of 18-20 degrees Celsius.  VNS
The eye of storm Vamco, the 13th to hit Vietnam this year, was spotted in the waters of the central provinces from Quang Binh to Thua Thien-Hue by 8 a.m. on November 15.

Typhoon Vamco gained strength early on November 14 on its way towards the central coast and is forecast to batter the region early on November 15, according to the National Centre of Hydro-meteorological Forecasting.