Three years ago, Tran Thi Hoang Anh from Central Highlands' Gia Lai Province decided to give up a job as an accountant to establish her own business.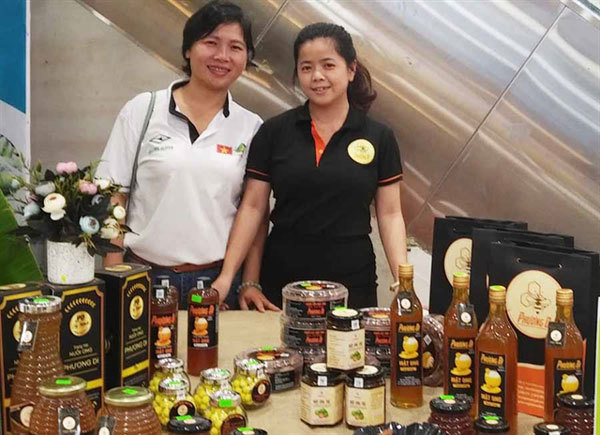 Tran Thi Hoang Anh (right) introduces her honey products at a trade fair. — Photo gialai.gov.vn
This was a hard decision for 32-year-old Anh as she had to leave her familiar job to start a new business – producing honey products.
"My father and uncles have raised bees for 20 years. However, they often sell all raw materials to wholesalers for low prices," she said.
"After learning that the price of honey products in the market was much higher, it prompted me to do something to help my family members earn better profit," she said.
"So the Ia Grai Phuong Di Honey Cooperative was set up in the province's Ia Grai District in early 2017," Anh said.
"It was named after my daughter," she added.
However, it was not easy at first, according to Anh.
"I started my business from zero. The lack of knowledge and experience caused many difficulties at first," she said.
"However, I was lucky to find a local start-up club where I had opportunities to meet, share and learn from many other start-ups," she said.
After two years, her business gradually developed and the honey sources from her family and relatives could not meet her company's demand for processing.
"To expand our production, I mobilised the participation of local beekeepers in order to create a stable area of raw materials for honey production," she said.
"But it took a lot of time to encourage locals to join the cooperative as most of them were used to do business with wholesalers," Anh recalled.
"Another challenge was to ask the cooperative members to improve the bee-raising process to create honey sources with higher quality," she added.
"It was a long and hard process and sometimes I felt tired but I have never thought of giving up," Anh said.
Busy as a bee, Anh did not hesitate to do everything, from raising the bees, harvesting honey to designing brands and diversifying products.
Her products range from honey and royal jelly to medical and cosmetic products made from honey.
In order to promote the products, Anh has tried different methods, from introducing them on social platforms to attending trade fairs.
For Anh, product quality is the main factor that distinguishes her products from others.
"The most important factor is the quality of the product. Every step must be done following quality standards," she said.
"When introducing our products at trade fairs, I realised that the most common concern from customers and partners is about the products' quality, so I had to make them different from products of other businesses," she said.
"That prompts us to strictly follow standards to ensure product quality in order to compete and expand in the market," she added.
Her cooperative was the province's pioneer in raising bees and exploiting honey following VietGap standards.
Lam Quoc Son, a member of the cooperative, said joining the cooperative he was trained and carefully guided on how to raise bees following VietGap standards, from regulations about tools, raising process, storage and honey harvesting.
"All are done more professionally and scientifically, helping to improve the products' quality and value," he said.
The cooperative products are not only sold in the domestic market but are also now exported to other countries, helping to promote made-in-Vietnam honey products around the world.
Anh's cooperative had an initial investment capital of VND200 million (US$8,600) and now its charter capital is VND1.5 billion ($65,000) after three years.
Vice Chairman of the province's Young Entrepreneur Association Tran Van Trong said Hoang Anh is a young businesswoman with great passion and creativeness. She has proactively taken part in many start-up activities held by the local start-up club.
And with her passion and hardwork, Anh hopes to taste sweet success by developing more honey products and expanding her market, bringing Vietnamese honey to more foreign customers. — VNS
Khanh Van

Rice harvest season just ended, but many farmers in the Central Highlands' provinces are still hard at work.

Ho Van Phuoc is absolutely buzzing about bees. That's because the Phuoc Loc Commune, Phuoc Son District, Quang Nam Province resident has hundreds of nest boxes on tree trunks that provide the main source of income for his family.
At the end of spring, when longan trees start to flower, it's honey collecting season.