Tan Son Nhat International Airport in HCM City will add flights, check-in counters and enhance airport security during the upcoming Tet holiday (Lunar New Year), which falls on January 25.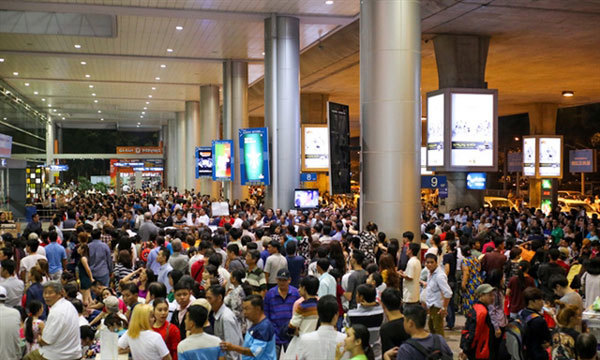 Crowds at Tan Son Nhat international airport in HCM City during the Lunar New Year holiday last year. — Photo: VNE
National flag carrier Vietnam Airlines along with Jetstar Pacific and Air Services Company (VASCO) will provide nearly 2.23 million seats equivalent to 12,000 flights on domestic routes during the holiday period, a rise of 20 per cent over the previous Lunar New Year holiday period.
Low-cost carrier Vietjet Air will provide nearly 2.5 million seats for both domestic and international flights, an equivalent increase of nearly 1,200 flights during the holiday peak period.
Bamboo Airways will provide nearly 1 million seats on domestic flights, an increase of nearly 700,000 seats or 3,600 flights compared to the previous holiday.
To meet passenger demand, the airport will lengthen baggage conveyor belts and add more check-in counters at the domestic terminal.
Airlines began selling tickets for the Tet holiday earlier than in previous years, resulting in significantly reduced ticket prices compared to last year's holiday.
During the peak Tet holiday (from January 15 to February 10), there will be about 820 flights departing and arriving at Tan Son Nhat every day, according to the Airports Corporation of Vietnam (ACV).
To deal with the overload, the Civil Aviation of Authority of Vietnam (CAAV) has recommended that airlines operate more flights at night (late at night or midnight) to meet the increased travel demand during peak days.
Lai Xuan Thanh, chairman of ACV's board of directors, said that ACV is ready to operate late flights at night at the request of CAAV at almost all airports (except for Con Dao, Dien Bien, Ca Mau and Rach Gia airports due to a lack of runway lighting systems).
"The biggest issue is a lack of human resources, because airline staff must be on duty 24/7," he said.
According to Thanh, the pressure on Tan Son Nhat airport is to increase the slots for flights. The current capacity has reached 44 flights per hour during peak periods, and the figure is expected to rise to 46 under the direction from CAAV.
Dinh Viet Thang, director of CAAV, said along with the increase in the slots of flights, the capacity of the ground operation should be improved to quickly release departing and arriving passengers.
By the end of this month, both Tan Son Nhat and Noi Bai airports will establish airport control centres which will work closely with airport service providers and State management agencies to improve operational capacity at the airports, according to Thang.
According to ACV, Tan Son Nhat Airport has managed to increase the number of aprons to a total of 86 (including six military aprons), during the peak period, a rise of 14 aprons compared to the holiday period last year.
In addition, the airport will use software for automatic parking allocation of aircraft to maximise the use of parking positions.
It also plans to enhance security at the airport and improve the maintenance of baggage conveyors, communication systems, aircraft bridge systems, and security screening systems.
The Inspector of the Department of Transport said that from December 27 to February 8 it would work with the airport authority and traffic police as well as Tan Binh and Go Vap authorities to regulate traffic and handle traffic violations at the airport area during the peak time.
Tan Son Nhat is expected to handle more than four million passengers during the pre and post Tet periods. — VNS

Prices of air tickets for the upcoming Tet (Lunar New year) will be tightly controlled by the Civil Aviation Administration of Vietnam (CAAV).