Thien Long Group Corporation and FPT Corporation have signed a memorandum of understanding (MoU) to support children who have lost their parents who died from Covid-19.
Under this MoU, Thien Long Group will offer 5,000 gift sets worth VND400,000 each to students of the FPT Boarding School over the course of five years (2021-2025).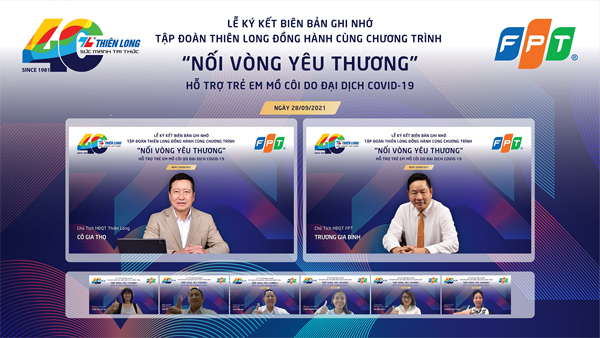 The signing ceremony was held online.
Thousands of Vietnamese children have lost their parents due to the Covid-19 pandemic. Therefore, the Chairman of FPT Corporation - Mr. Truong Gia Binh – on September 16 initiated the idea of establishing the FPT Boarding School for the orphans by pandemic.
The school will serve as a space for 1,000 children to grow up and study. They will be cared for and trained at FPT high schools, with scholarships available to continue their education at FPT education establishments at their demand.
With the desire to accompany with this meaningful and humane program, Thien Long Group will offer 5,000 gift sets (notebooks, pens, rulers, antibacterial erasers, crayons, DIY products…) for students of the FPT Boarding School over the next 5 school years.
Mr. Co Gia Tho, Chairman of the Board of Directors of Thien Long Group, said: "Thien Long has constantly accompanied the Vietnamese education sector for the past 40 years. In this challenging time for the entire society, we are delighted to partner with a significant corporation like FPT to help disadvantaged kids accomplish their academic goals."
Mr. Truong Gia Binh said: "The FPT Boarding School was founded out of a desire to care for, love, and encourage students as they grow up, cultivate their ambitions, and become valuable citizens who can contribute to the country in practical ways. This is also a place where youngsters can learn, practice, transform their pain into strength to conquer the heights of life. FPT appreciates great friends like Thien Long Group working together to support the children in this program."
Thien Long Group will provide rapid assistance based on the program's implementation status.
The FPT Boarding School, located in FPT City Danang Urban area, will welcome children from 6-18 years old, who have unfortunately lost their parents due to Covid-19, are in difficult circumstances and wish to engage in the program (approved by their legal guardian).
The preparation of facilities, human resources and training programs is being urgently implemented by FPT, the Hope Foundation, and other units and organizations.
FPT is willing to receive all community efforts, ideas, and solutions in order to work together to create the greatest possible environment for the children, based on the principle that "love is the power of energy and success" through the "Gate of Love."
PV