Almost all of the Trung Luong-My Thuan Expressway route has been cleared, according to Pham Anh Tuan, deputy chairman of the provincial People's Committee.
Eleven investors interested in My Thuan-Can Tho expressway project
Owner of Trung Luong-My Thuan expressway wants developer to be replaced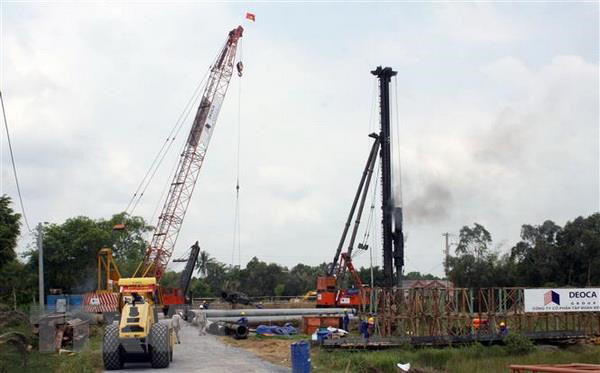 Workers on the Trung Luong-My Thuan Expressway project. The expressway is highly significant as it will connect the Mekong Delta with HCM City and the southern key economic region. — VNA/VNS Photo Tien Luc
He said almost 99 per cent of the land needed for the new road is ready and he hopes the project could be up and running by the end of next year.
The provincial authority has asked districts make sure households receive adequate compensation if they are moved to make way for the project.
To ensure the project's schedule, Tuan said, the provincial People's Committee was completing legal procedures to re-sign contracts between the province, investors and enterprises.
The province is also reviewing material prices and construction design which has been appraised by the Ministry of Transport (MoT) as a ground for adjusting the total investment of projects in line with State regulations.
Earlier, the provincial authority asked Prime Minister Nguyen Xuan Phuc's permission to use the State budget to fund for the expressway with a capital of nearly VND2.2 trillion (US$93.8 million) in accordance with the MoT's suggestion. However, due to its urgency, advance payment was necessary to guarantee the financial resources for the project, it said.
Under the Prime Minister's directive, the People's Committee of Tien Giang Province has assumed the authority to approve the adjustment for the project.
The Trung Luong-My Thuan Expressway project was started in February 2015 and was expected to be completed in 2018.
However, it has suffered a number of problems including mobilising capital and amendment of regulations.
December 2020 is the new deadline for work to be finished.
The four-lane expressway will be 51km long and cost VND9.6 trillion ($412.4 million). It is carried out under build-operate-transfer model.
It starts at the intersection of Than Cuu Nghia (Chau Thanh District) and end at the intersection with National Highway 30 (Cai Be District).
Once completed, the expressway will shorten the travel time between HCM City and the Mekong Delta provinces, bolster the socio-economic development of Mekong Delta region and reduce traffic congestion on National Highway 1.
VNS