Turmeric is usually used in cooking to add a spicy flavour to food, but it can also be used to treat gastric problems and to heal scars as well as a natural dye for traditional textiles in Vietnam.
Nacumin and the 'industrialization of turmeric'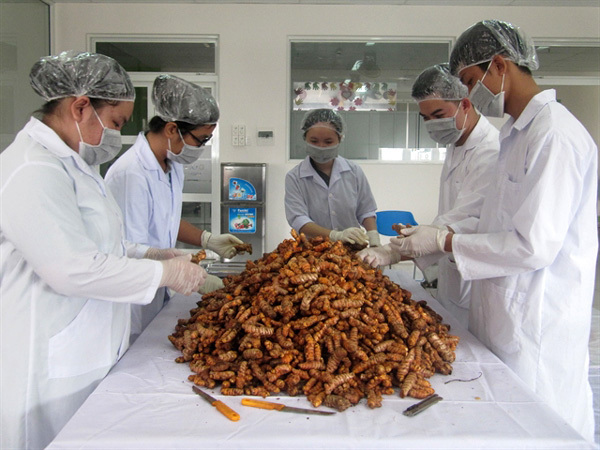 Students select fresh turmeric for starch production in a lab at the Da Nang-based Dong A College. Students and lecturers at the college have been researching and applying curcumin extraction from turmeric in pharmaceutical production. VNS Photo Cong Thanh

Recent research has also found that curcumin – a component extracted from turmeric - can be used to cure cancer and prevent other serious diseases.
Lecturers and students at the food technology and biology faculty at Dong A College have successfully developed a cold-drying process for turmeric and a method to extract oil from the peel.
The results help ease high-blood pressure, gastritis, wounds, cancer and improve skincare.
"Turmeric is usually processed after being ground down and heated, but we use a fridge set to 20-25 degrees Celsius. This process retains 1.39 per cent of the natural curcumin content in turmeric powder," said lecturer Nguyen Thi Viet Hai.
"Turmeric powder can be easily used as daily drink to prevent tumours and ulcers, reducing gastritis and helping women recover after giving birth," she said.
Practical education
Lecturer Nguyen Phuoc Minh said the cool dried turmeric would help boost business start-up among young students, and further scientific studies and research into turmeric and other spices.
Minh said students could learn from their innovations to find different methods to produce medicine or functional food from spices after leaving college.
"We offer young students the chance to take part in research at the lab from their first year, and they can develop based on their initial projects. It means that students can put what they learn on paper into practice," he said.
Following the project, farmers in Quang Nam Province – a major supplier of turmeric – can double from sales.
"They used to earn VND11,000 (US$0.5) from one kilo of fresh turmeric for cooking, but now they make more from their crops that are used for functional food or traditional medicine," Hai said.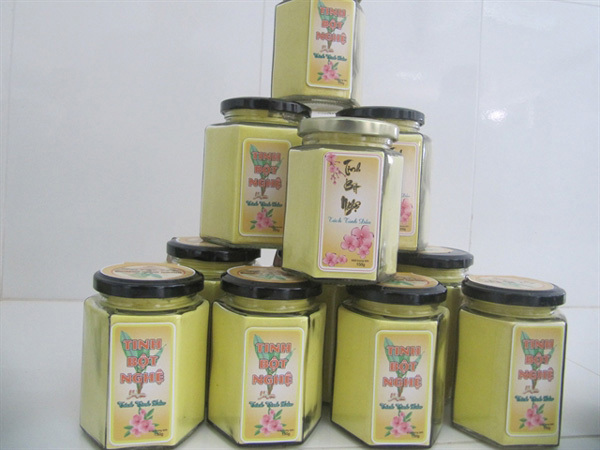 Turmeric starch produced from a research project involving lecturers and students at Dong A College in Da Nang.

"Every 100kg of fresh turmeric is processed into 3kg of cold-dried turmeric starch, while a bottle of 250ml is sold for VND180,000 ($7.8)," Hai said.
She said farmers could earn more from essential oils oil and compost from turmeric peel.
Nano-curcumin
Associate Professor Nguyen Minh Chinh, dean of the pharmacy faculty at Dong A College, said curcumin extracted from turmeric was a crucial part of the research project at the college.

He said curcumin was widely used in pharmaceutical production, and cost VND100 million ($4,300) per kilo.
"It's expensive. Every three tonnes of turmeric only provides 1.5kg of curcumin and 30 litres of essential oils. Meanwhile, turmeric grown in the central and Central Highlands regions has a high rate of curcumin (about 98 per cent)," Chinh said.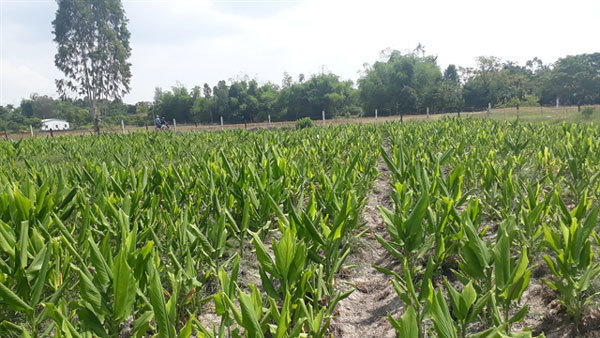 A spice farm in Hoa Vang District, Da Nang. VNS Photo Cong Thanh
"Nano-curcumin pharmaceutical production could bring huge revenue of VND150 million ($6,500), five times as much as cooking ingredients," he speculated.
"I mean that turmeric can be extracted from the flesh, peel and essential oil. Nothing becomes waste," he said.
Chinh, 65, said nano-curcumin pharmaceutical production would help develop a large farming industry in central Vietnam.
Chairman of Dong A College Nguyen Thi Anh Dao said research into turmeric and nano-curcumin production had set a positive science-based curriculum for thousands of student in the central region.
She said it would encourage students to conduct more research, while promising future career orientations after leaving college.
Nguyen Thi Ngoc Linh, a third year student of biology and food technology faculty, said she had learnt a lot from studying the deeper components of turmeric.
She said she enjoyed practical time in the lab working on different spices to produce functional food and cures for deadly diseases including cancer.
Vo Thi Bich Thuy from the Quality Assurance Testing Centre in Da Nang said the project would be applied for mass production.
She said tests revealed that 100 grammes of turmeric starch contained 1.39 per cent of curcumin.
She said turmeric was used as a positive cure for burn patients or scars.
Da Nang, in co-operation with Danapha Pharmaceutical JSC, had launched a farm that met the World Health Organisation-guided Good Agricultural and Collection Practice (GACP-WHO) standards in Hoa Vang District to provide products to be used in oriental medicine. — VNS
Hanoi's cuisine is known for its delicacy and elegance from the simplest dish. Cha ca (grilled fish), a simple but truly tasty dish, characterizes the essence of the capital city's gastronomy.

As far as the journey from farm to table goes, there are few dishes in Hanoi that clock up as many miles as those on offer at Quán Lươn Xứ Nghệ restaurant.