Understanding the difficulties of the poor, a car mechanic in Kien Giang and a young man in Can Tho have bought ambulances to take patients to the hospital for free.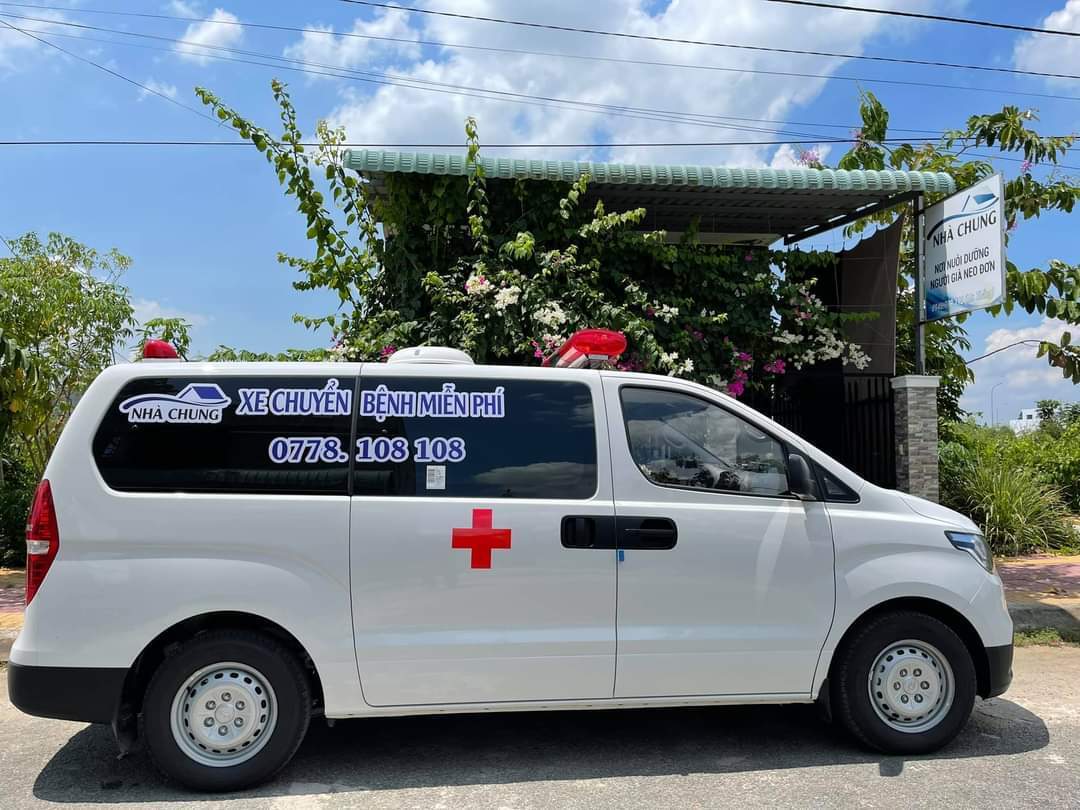 Thang's ambulance car bought with money borrowed from relatives and banks
Ngon Duc Thang, 33, in Can Tho City, owns an ambulance worth VND800 million, made in South Korea, bought with money borrowed from relatives, friends and banks.
Thang is facing difficulties as his income from his job at a logistics company has been affected by Covid-19. However, he still wanted to help the poor.
Asked about bank loan payments, he said: "No worries. I still have income from online sale of goods. I will help people in distress if I can."
Thang has been doing charity for many years, helping disadvantaged people in Can Tho and Mekong Delta provinces.
The words "Xe chuyen benh mien phi. Khong nhan tien voi moi hinh thuc" (Free ambulance. No money accepted under any form) are clearly printed on his car. There is also a mobile phone number for people to call for help and make suggestions.
Thang is also the founder of Common House, a facility that supports elderly people in need. Every month, Thang gives them VND500,000.
Thang has raised VND200 million during Covid-19 and forwarded the money to lottery ticket sellers and poor people to help them overcome difficulties.
He is also the organizer of the 'Singing for Smiles' shows that bring joy to the unfortunate.
Another ambulance available in Go Quao district in Kien Giang province is run by Nguyen Hoang Giang, 40.
Giang and his wife have two children. They earn their living by repairing and washing cars and motorbikes on land they borrowed from relatives.
Although he is busy, Giang still spends time to help people in his hometown. Giang said 13 years ago, he witnessed local patients dying just because they could not be brought to the hospital during the 'golden hour'. He said he then wanted to buy an ambulance that could carry patients to the hospital for free.
With the money he saved from his job and donations from relatives, Giang bought a car worth VND85 million and then turned it into an ambulance.
As the old car broke down all the time, he decided to sell it after several years and bought a 16-seat vehicle to use as an ambulance.
To be sure that the car could carry patients to hospital safely, Giang sought medical advice from hospitals. The hospitals helped Giang by equipping the car with oxygen machines and necessary medical equipment.
Giang has provided 726 free trips so far. 
Thien Chi

The Director of the National Hospital of Dermatology said that leprosy patients need special care. They cannot survive if we stop caring for them.
A field hospital for Covid-19 patients is being set up in the northern province of Ha Nam as the province has reported some virus transmission cases in the community.