The Vietnam National University, Hanoi (VNU) and the Vietnam National University, Ho Chi Minh City (VNU-HCM) have been listed among the top 1,000 universities in 82 countries in the 2020 QS World rankings.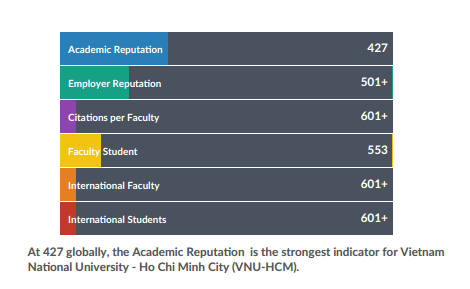 Indicators for Vietnam National University -Ho Chi Minh City (Source: vnuhcm.edu.vn)
The VNU-HCM was among the 701st - 750th group for the second consecutive year, belonging in the 66 percent of the world's best universities. This year, the university's Academic Reputation criteria jumped 70 places to the 427th spot.
Meanwhile, the VNU Hanoi remained in the 801st - 1000th place.
Three US universities – The Massachusetts Institute of Technology, Stanford University, Harvard University, and the UK's University of Oxford held the top positions in the rankings.
In the QS World University Rankings, universities worldwide are evaluated according to the following six metrics of Academic Reputation (40 percent), Employer Reputation (10 percent), Faculty/Student Ratio
(20 percent), Citations per faculty (20 percent), International Faculty Ratio and International Student Ratio (5 percent each).
The QS World University Rankings, first launched in 2004, is an annual publication of university rankings by London-based Quacquarelli Symonds (QS).
Being the only international ranking to have received International Ranking Expert Group (IREG) approval, the QS ranking is viewed as one of the three most widely-read university rankings in the world, along with the Academic Ranking of World Universities and the Times Higher Education World University Rankings.-VNA