HCM City is hopeful of mitigating its manpower shortage, especially in sectors related to Industry 4.0, over the next few years since many local universities plan to launch majors in artificial intelligence and such streams starting in 2020-21.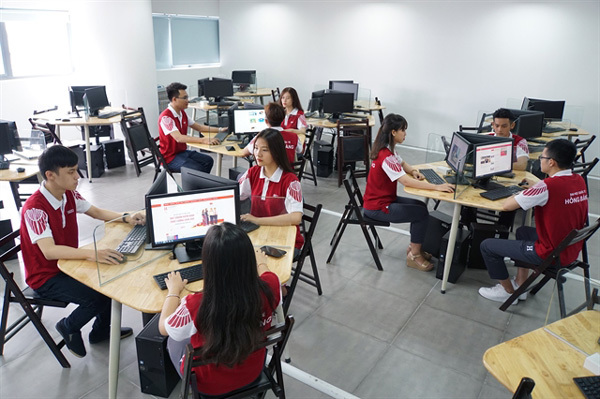 Students have practical lessons at Hong Bang International University in HCM City. —Photo courtesy of the university
The University of Economics and Law under the Vietnam National University-HCM City (VNUHCM) plans to offer a degree in digital business and artificial intelligence.
The VNUHCM's other members such as the University of Science, University of Technology and University of Information Technology plan to launch degrees in data science, applied
mathematics, computer science focused on artificial intelligence, computer engineering focused on embedded systems and the internet of things, and robotics engineering.
The Banking University plans to launch training programmes in data science in business.
Candidates can apply for degrees in Internet of Thing (IoT) and embedded systems at the HCM City University of Technology and Education for the 2020-21 academic year.
Phung Quan, head of information and communication at the University of Science, said: "The data science major is essential to train the workforce for Industry 4.0 because it will be applied in every sphere."
The university's new training programme in applied mathematics would find application in data science and other sectors like finance and banking, he added.
Hong Bang International University will launch several new majors, including AI.
Dr Nguyen Thanh Trung, head of its Information and Technology faculty, said: "AI is one of nine new areas with breakthrough technologies."
The Ministry of Science and Technology regards AI as the first sector that needs to be developed followed by IoT and blockchain.
Trung said the university has the faculty required for teaching AI and would recruit more lecturers specialising in AI.
Assoc Prof Dr Ho Thanh Phong, the university's rector, said further investment would be made in facilities and infrastructure for teaching AI.
"Fifty candidates would be enrolled for the course. The city is seeking to become a smart city and requires many AI applications and workers. That is why the university is launching the AI degree."
The Hanoi University of Technology, FPT University and the HCM City University of Technology and Education have already offered programmes in data science, AI and robotics.
A Ministry of Information and Communications report shows that 149 out of the country's 237 universities offered tech majors such as IT, electronics and telecommunications, and information security in 2019.
A 2018 report by Australia's Commonwealth Scientific and Industrial Research Organisation said Vietnam would need more than one million IT engineers by 2020.
The ministry targets having 1.3 million IT workers by 2025, most of them highly skilled. — VNS
Gia Loc

The quality of Vietnam's workforce and the role of trade unions in protecting workers must be improved to meet the demands of the 4.0 industry era, experts said during a conference on work quality in foreign-direct invested companies.  
A new training programme for first graders in the 2020-2021 academic year faces a shortage of classrooms and teachers, according to the HCM City Department of Education and Training.