International certificates and international programs are a "strong passport" for students to enroll in universities in Vietnam.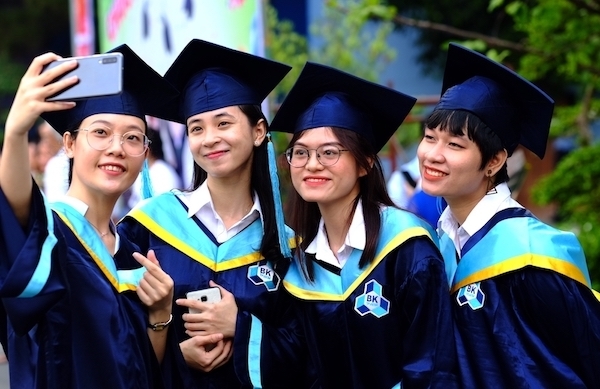 In recent years, the HCMC University of Technology has reserved annual quotas for exceptional students having international certificates or following international training programs (these students don't have to attend entrance exams).
The students who can apply are those taking the ACT for US students, have SAT score from 550 or equivalent, and GPA of 2.5/4 at high school; or an ACT of 8/12 and GPA from 2.5, or IB from 20, or AS/A from CA or BTEC Level 3 Extended Diploma from C-A. .
The school also accepts students following a Canadian high school program (those who have high school exam score from 70 percent, or IB from 20, or AS/A from C-A, or BTEC Level 3 Extended Diploma from C-A); and following the Australian program (ATAR from 85, or OP from 6.0, or IB from 20, or AS/A from C-A, or BTEC Level 3 Extended Diploma from C-A).
The students following high school programs of other countries can apply if they can meet some requirements.
The Medical Faculty of the HCMC National University enrolls students who have international certificates (SAT, ACT, IB, A-level) and received the title of good student in all high school years. They can major in high-quality training programs in medicine, pharmacology and odonto stomatology.
When prioritizing enrollment for excellent high-school students, one of three subordinate criteria for consideration is an international certificate in English.
The HCMC Economics University, Ton Duc Thang University, HCMC University of Technology and Education and HCMC University of Medicine and Pharmacy apply similar policies.
Nguyen Hoai Thang, head of the training division of the HCMC University of Technology, said that schools prioritize enrolling students with international certificates because they want to take the initiative in international integration. The longer term allows the student to study in the schooling environment in developed countries.
"This is diversification in enrollment. Schools are seeking other enrolment methods rather than relying on high school finals," he said.
However, Thang admitted that the number of students enrolling in the school under this method remains low.
According to Pham Thai Son from the HCMC Food Industry University, the students following international programs and with international certificates have good understanding about careers, job opportunities and training programs.
As they are familiar with tertiary education programs when they are at high school, they can read documents, communicate, and have better integration opportunities.
Nguyen Tuan Kiet from the Medical Faculty of the HCMC National University said these students have good English skills and can quickly adapt. 
Le Huyen

As more and more top Vietnamese universities consider prospective students' English language ability for admission, concerns have been raised about inequality for students in rural areas.

HCM City is facing a severe shortage of English teachers in primary schools, partly because of stricter quality criteria required under a new recruitment programme.