After seeing several advertisements in Thailand, a woman from HCM City's District 2 began looking for information about health centres that offer genetic tests that predict the likelihood of cancer.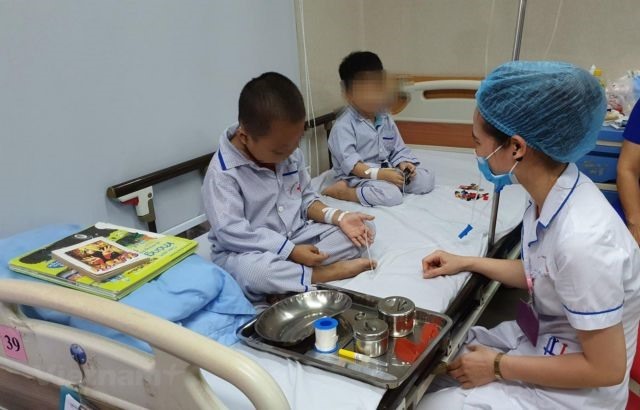 Only people whose families have a high incidence of cancer or those who have cancers caused by inherited genetic mutations should pay for DNA genetic tests.
"I wanted to test my genes to know whether I have a high cancer risk. I didn't know which places can be trusted, so I thought about going to Thailand for the test," the 34-year-old said.
However, Dr Giang Hoa, deputy director of Medical Genetics Institute, said that only people whose families have a high incidence of cancer or those who have cancers caused by inherited genetic mutation should use the DNA tests.  
The chances of getting cancer for women who have the breast cancer susceptibility gene 1 rises to 81 per cent by age 80, Hoa said, adding these women should get periodic cancer screening. 
The survival rate after five years of treatment can be up to 90 per cent if the breast cancer is treated in the early stages.
He said that one family in the northern province of Bắc Ninh in the Red River Delta has had nine siblings diagnosed with various cancers.
Samples of their DNA were sent to his centre for genetic sequencing to discover the cause of these cancers. The other members of the family are at high risk, so these tests are vital.  
Cancer screening can help to increase survival rates, he said.
Dr Nguyễn Thị Quỳnh Thơ of the institute said: "Genetic tests help detect diseases that are related to genes, including cancers. The tests show genetic mutations that can prevent genes from functioning properly and completely. Patients can then adjust their lifestyle to reduce the cancer risks."
Wrong uses
Besides DNA tests for screening diseases, several genetic centres in HCM City are advertising their services for nutrition, IQ and EQ levels, and aptitude assessments of children, but experts warn that parents should be cautious about these because they could affect children's development.
Professor Trương Đình Kiệt, head of the Medical Genetics Institute and former vice rector of the HCM City University of Medicine and Pharmacy, said that DNA testing services were booming in the city. "But genetic centre quality is not verified and prices vary substantially. The Ministry of Health should strictly supervise these services."
According to Kiệt, DNA tests to identify possible IQ level or natural talent are fairly common in the US and other countries.
"These tests could be correct in the cases of children with learning disabilities. But parents should not base their judgement on these test results. The living environment and education are also very important for children to develop their talents," Kiệt added.  
Dr Giang Hoa, the institute's deputy head, said that several centres have worked with counterparts in other countries to test DNA samples, but he warned that this method leads to missing data about Vietnamese genes for databases.
The exact results of DNA tests are also dependent on technologies which labs use, he said, adding that quality and standards of many labs in HCM City are not adequate.
Genetic tests can be done by providing a sample of blood, hair, skin, amniotic fluid (fluid that surrounds a fetus during pregnancy), or other tissue.
Doctors can also use a small brush or cotton swab to collect a sample of cells from the inside surface of the cheek for genetic test, Hoa said, adding that this procedure is easy and the cost is not high.
Doctors recommend that people who need genetic tests should be offered careful counselling before and after the tests. — VNS
Gia Loc