Vietnam has been warned there is no room for complacency as a fifth wave of COVID-19 could strike anytime.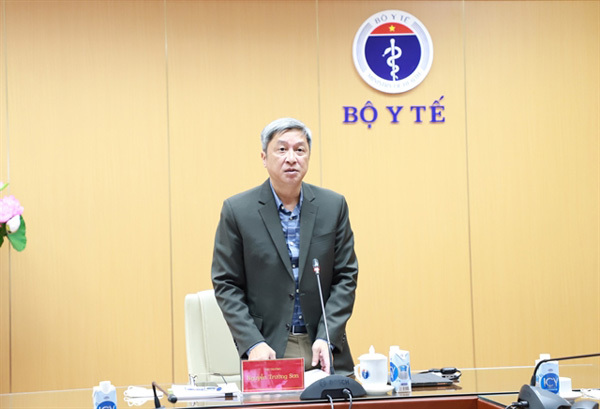 Deputy Minister of Health Nguyen Truong Son speaks at an online meeting to review the treatment of COVID-19 on Thursday morning. — Photo suckhoedoisong.vn
The message was made by Luong Ngoc Khue, Director General of the Medical Examination and Treatment Department under the Ministry of Health, as he addressed an online meeting to recent COVID-19 developments. 
"All of us have to prepare to cope with the fifth wave of the pandemic," said Khue.
He said the developments of the pandemic have been complex all over the world and a new wave may appear bringing with it a new variant.
Medical experts are very concerned with variants of SARS-CoV-2, not only the Delta variant but also Lambda and Delta plus, he said.
"We must not be negligent in the pandemic prevention and control," he said. 
Khue added that to prepare for the situation, localities must set up additional medical facilities to receive and treat COVID-19 patients and ensure enough Intensive Care Unit (ICU) beds as well as medical staff at both private and public health facilities.
Localities are required to improve the technical infrastructure at health facilities at all levels to ensure enough medical oxygen supply in health stations at commune, ward, and town levels.
They have been ordered to prepare the central oxygen system to provide liquid oxygen, compressed air and oxygen tanks at all health facilities at the district level, he said.
The localities need to enhance the medical examination and treatment system, ready to treat both ordinary patients and COVID-19 patients, he said.
Khue also said health facilities must strictly screen suspected cases of COVID-19 to avoid cross-contamination.
And they must conduct tests to detect SARS-CoV-2 for cases with suspected symptoms as well as random tests to detect new infections.
Khue said the localities have to strengthen professional training of basic and advanced emergency resuscitation for doctors and nurses to meet the needs of care and treatment.
It is necessary to invest more resources to effectively improve the capacity of the medical examination and treatment systems to meet the normal demand and the extra workload brought by COVID-19 patients, he said.
Also at the meeting, the ministry said the number of community cases of COVID-19 has been increasing in many localities across the country.
The ministry said many cases are asymptomatic and the source of infection is unknown and is often related to people returning from pandemic-hit areas.
Outbreaks are concentrated in densely populated areas in localities with a large number of the population, the ministry said.
It forecasts that many clusters of infections will be recorded and there is a potential risk of spread in the community, especially in favourable weather conditions for the development and spread of viruses, the ministry said. 
More medicine provided
Speaking at the online meeting, Deputy Minister of Health Nguyen Truong Son said the ministry will allocate 2,000 doses of dual-antibody drugs to localities to treat severe COVID-19 patients.
Local medical facilities will use the dual-antibody drugs to improve the quality of treatment and reduce mortality rates, he said.
The ministry has also scheduled the allocations of a number of other medicines, such as Favipiravir and Avigan, to the localities in the near future, he said.
Son also told the meeting that the ministry has already dispatched nearly 250,000 doses of the anti-viral drug Molnupiravir to the localities to treat asymptomatic COVID-19 patients, who are allowed to self-monitor at home.
The results of the preliminary evaluation are very positive, the rate of COVID-19 patients showed negative after using Molnupiravir after five days is between 72 and 93 per cent, he said.
The rate of mortality is reduced by half compared to the group of COVID-19 patients that did not use the Molnupiravir, he said.
Data from the ministry shows Vietnam has had more than 1.1 million cases of COVID-19, with more than 24,000 deaths. Currently, there are more than 78,000 patients under treatment, including about 4,000 patients requiring oxygen and mechanical ventilation.
The mortality rate for children under 18 years old accounts for 0.3 per cent while the mortality rate for people over 65 years old is 47.5 per cent.
The deaths are mainly in HCM City (nearly 73 per cent), Binh Duong (nearly 11 per cent), Dong Nai (about 3 per cent), Long An (2.4 per cent) and Tien Giang (2 per cent).
Source: Vietnam News

HCM City has given 12 million vaccination shots so far since the first shot in March. This has allowed the city to control the outbreak and reduce the mortality rate.

A senior medical expert has warned that even though social distancing regulations have been greatly eased in Hanoi, the capital city is still at risk of further COVID-19 outbreaks.