Drastic measures are needed to sustain the fight against trade fraud and smuggling of goods into Vietnam from Cambodia, speakers told a conference in HCM City on Thursday.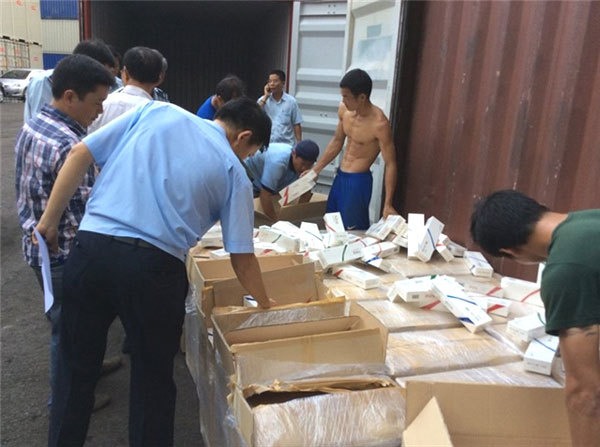 HCM City Customs authorities seize smuggled tobacco. Drastic measures are needed to sustain the fight against trade fraud and smuggling of goods into Vietnam from Cambodia. Photo courtesy of the HCM City Customs Department
HCM City and provincial authorities said smuggling and origin fraud have been contained in border provinces such as Long An, Tay Ninh and Binh Phuoc, but drastic measures should be maintained.
Origin fraud is among the most common violations and involve mainly garments and textile and electronic appliances, which are smuggled in and falsely labelled 'Made in Vietnam'.
Unclear legal provisions and tardy response by authorised agencies have been blamed for this.
The Standing Office of the National Steering Committee has recommended that localities and agencies should strengthen the fight against cross-border smuggling and trade fraud to protect domestic producers and consumers.
Cross-border roads and waterways should be inspected carefully with more checkpoints set up and patrols conducted to prevent smuggling, it said.
Relevant agencies need to have plans in place to crack down on smuggling rings, trade fraud and counterfeits, it said.
Communication campaigns should be run to raise public awareness of the impacts of smuggling, particularly in border areas, it added.
Authorities have discovered 3,654 cases of trade fraud and smuggling from Cambodia in the last eight months.
According to the Department of National Steering Committee against smuggling, legal proceedings have been started against 1,180 violators.
Cigarettes accounted for much of the smuggled goods – there were 412,562 packs – but there were also 64 kilogrammes of synthetic drugs, 500 tonnes of sugar, 40 automobiles and motorbikes, wood, air conditioners, refrigerators, and electronic goods.
In 2019 more than 16,660 cases of trade fraud involving goods worth VND2.6 trillion ($111.9 million) were discovered.
Vietnam and Cambodia have for years focused on co-operating, especially on the border, to fight smuggling and trade fraud. — VNS

The National Steering Committee for Combating Smuggling, Commercial Fraud and Counterfeit Goods has asked the handling of violations related to "made-in-Viet Nam" origin fraud to be enhanced.

Prime Minister Nguyen Xuan Phuc requested that breakthroughs be made in 2020 in the fight against crime, smuggling and trade fraud at a national conference on January 2.

Market surveillance units last year cracked a number of major counterfeit rings countrywide as the fight against trade frauds took place on a scale never seen before, Deputy Prime Minister Truong Hoa Binh said.