Vietnam has worked on clinical trials of a vaccine against African swine fever and gained initial success, the Ministry of Agriculture and Rural Development has said.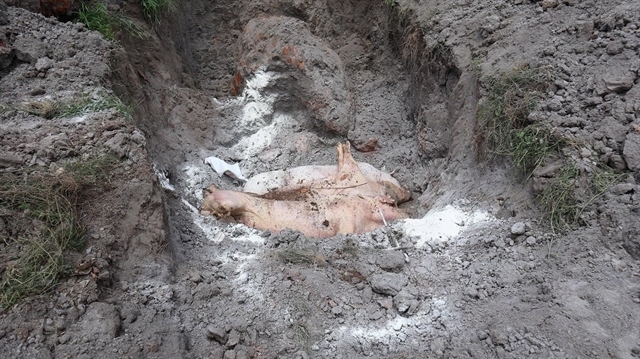 Pigs infected with African swine fever are culled.
The trial process would be accelerated and attempted on a larger scale to ensure its effectiveness before being put into commercial production, it said.
Speaking at a conference on measures to stabilise and promote cattle held on Thursday, Minister of Agriculture and Rural Development Nguyễn Xuân Cường said the Vietnam National University of Agriculture has focused on developing a vaccine against the African swine fever virus.
The vaccine was proved to offer immunity against the disease in the laboratory.
By June 11, African swine fever has wreaked havoc in 55 cities and provinces, leaving 2.5 million pigs culled, or 6.5 per cent of the country's pig population.
This was a huge loss for the livestock industry.
So far, bio-security standards have been applied at pig farms as the most effective method of protecting herds.
Cường said it was necessary to focus on developing poultry and aquaculture to avoid food imbalance.
He noted that the protection of breeding pigs was a vital task. The ministry has proposed the Government to support 240 breeding pig farms to apply secure breeding to protect their pigs from diseases.
The Government has agreed in principle.
Deputy minister Phùng Đức Tiến said the ministry has proposed the Government issue policies on financial support for farmers in preventing the disease.
Those who have infected pigs culled would receive support of between VNĐ25,000-30,000 per kilogramme.
Breeding pig farms would receive support of VNĐ500,000 per pig.
Currently, there are about 120,000 breeding pigs at 240 farms nationwide.
Tiến said that the prevention and control of African swine fever has been neglected in many localities, with substandard slaughterhouses, weak quarantine, failure to declare sick pigs, and substandard disposal of infected pigs.
He asked localities to review and institute solutions for the prevention and control of the epidemic, especially to strengthen the veterinary system at all levels.
In addition, the establishment of teams in charge of disposing of ill pigs was necessary to avoid the spread of the disease and environmental pollution.
Localities were required to set up quarantine spots to control the transport of animals, especially in key localities on the North-South National Highway, he said. VNS