Permanent Representative of Vietnam to the UN Ambassador Dang Dinh Quy has emphasised the need to offer COVID-19 vaccine to peacekeepers, particularly those at high risk.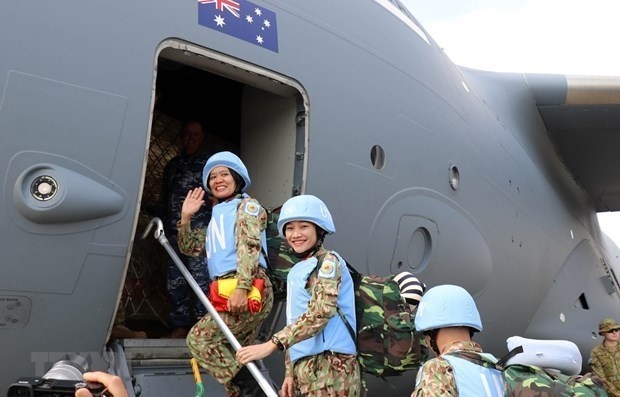 Female medical workers of Vietnam's first level-2 field hospital leave for its mission in South Sudan (October 15, 2018). (Photo: VNA)
He underlined the responsibility and role of host countries as well as the importance of close coordination between UN missions and the host countries in ensuring security and safety for peacekeepers and the COVID-19 vaccination for them during an informal discussion on the Initiative on Action for Peacekeeping (A4P) and COVID-19 vaccine on February 12.
The Ambassador said Vietnam is committed to the United Nations (UN)' peacekeeping operations and efforts towards improving peacekeeping effectiveness.
Quy called on the international community to provide suitable resources to fulfill political commitments, strengthen partnership between the UN and regional and sub-regional organisations, promote women's empowerment and participation, and ensure security and safety for peacekeepers.
The discussion was co-chaired by the Republic of Korea, Ethiopia and Norway with the UN's Under-Secretary-General for Peace Operations Jean-Pierre Lacroix, Under-Secretary-General for Operational Support Atul Khare, Assistant Secretary-General for Human Resources Martha Helena Lopez and more than 50 ambassadors and deputy ambassadors of UN member states in attendance.
The A4P was initiated by UN Secretary-General António Gutteres on March 28, 2018 to strengthen peacekeeping by spurring collective action by all peacekeeping stakeholders and foster political commitments to peacekeeping.
The initiative includes a set of 45 mutually-agreed commitments endorsed by more than 150 member states across eight areas.
VNA

The Vietnam Vaccine Joint Stock Company (VNVC) has announced that it will import 30 million doses of COVID-19 vaccine from the UK in the first half of 2020.