Countries, in order to develop, need elite universities, schools which produce outstanding talent for the society.
Le Mai Lan, vice president of Vingroup, said: "Every country wants to create talents, outstanding individuals who can help change the nation's destiny."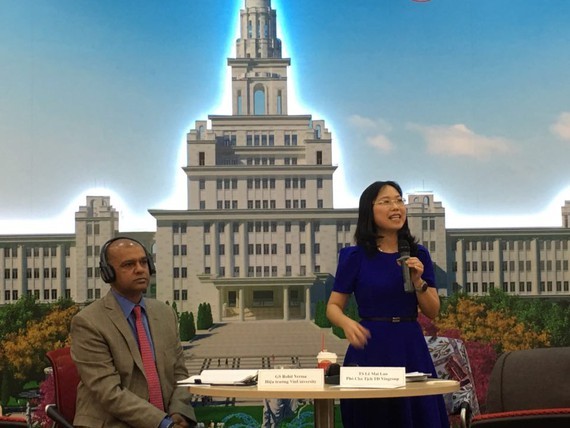 Le Mai Lan (right), vice president of Vingroup

Vingroup and its VinUni want to create generations of talents who can make great contributions to the nation's development.

An elite university must be equipped with modern administration system, excellent facilities and powerful financial capability as well as talented teachers.

Countries, in order to develop, need elite universities, schools which produce outstanding talent for the society.
"The mission of elite university is to produce talent. This is very costly. We do not expect profit. VinUni University will be a non-profit education establishment, which will strive to become a university of international stature," Lan said.

VinUni, which plans to begin enrolling students from 2020, is the result of cooperation between Vingroup and two elite universities in the top 20 best universities in the world – Cornell and Pennsylvania. Prof Rohit Verma, sent by Cornell University to Vietnam to work as Rector of VinUni, said VinUni aims to produce leaders with long term visions, aspirations and capability to lead Vietnam into a prosperous and powerful country based on knowledge and technology.

Can only private investors develop an elite university?

Dr Nguyen Si Dung, former deputy chair of the National Assembly Office, said the wish to build an elite university like Harvard in Vietnam was mentioned more than 10 years ago.

To date, only one university, Fulbright University, bears the figure of such a university.

According to Dung, only private organizations can develop elite universities. This is because the state must take responsibility for the education of all Vietnamese citizens and cannot gather strength to build a university just for a small group of elite people.

Elite universities can produce talented people, but these people can only promote their talents in a certain cultural environment or social organization model.

"Will the students to be trained under the US model be able to promote their talent in the Vietnamese environment?" Dung said.

If talented students do not have any cultural link with the social environment in Vietnam, they may not succeed. And it is the task of universities to create the link.
In related news, two Vietnamese universities have been named in the 2020 Best Global Universities Rankings released recently by the US News & World Report. The Hanoi National University is ranked 1,059th in the list, and the HCM City National University the 1,176th.
Le Ha 

HCM City uses artificial intelligence as a foundation to develop industry 4.0 and become a smart city.

The Ministry of Education and Training and the Francophone University of Association (AUF) signed a framework agreement on education cooperation in Hanoi on November 5.