Amid global concerns over coronavirus, the full recovery of the first two patients who tested positive for the virus in Vietnam affirmed the professional competence of Vietnamese physicians and the Government's efforts to address the epidemic.
"I say thank you to Vietnamese doctors and medical workers," Li Ding, a 66-year-old Chinese national, said as he was discharged from Cho Ray Hospital in HCM City on February 12 after a 21-day treatment and quarantine.
His son was discharged from the hospital on February 4 following 14 days of treatment at the hospital.
"I could not walk and felt exhausted on the day I was hospitalised. Now I feel very good," Li Ding said.
"The heartfelt care and treatment of the Vietnamese medical staff during the last 21 days improved my health conditions day by day. It deeply touched me. I am so grateful to all of the medical officials for their dedication," he said as he hugged his wife.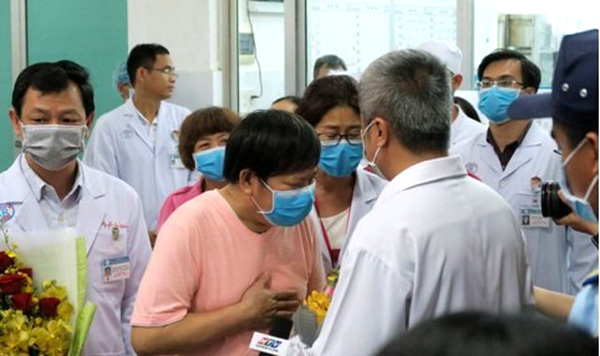 Li Ding, a 66-year-old Chinese national, says thank you to Vietnamese doctors and medical workers as he is discharged from Cho Ray Hospital in HCM City on February 12 after a 21-day treatment and quarantine. VNA/VNS Photo Dinh Hang

The recovery of Li Ding was seen as an amazing achievement because he was critically ill with high-risk factors, including his age as well as underlying health conditions. He had also had a surgical resection due to lung cancer, and suffered from diabetes, hypertension and heart disease, according to doctors.
"My father has various diseases which put him in a complicated situation. Luckily, we are in Vietnam and he had treatment in time. So he was able to recover," said Li Ding's son, Li Zichao.
"We are lucky that we were treated at Cho Ray Hospital. We're grateful for all the doctors and nurses who treated us during this time. They are very professional. They love their job. When we arrived at the hospital, we were quarantined immediately. "Thank you, Vietnamese friends," he added.
Silent sacrifice
Giving up their plans for the holiday break with families during Tet (Lunar New Year festival), a total of 30 health officials at Cho Ray Hospital's Tropical Diseases Department rushed to the hospital after being notified of two suspected cases of COVID-19 from the emergency alert system for infectious diseases on January 22.
They immediately isolated the suspected patients, conducted tests, and mapped out appropriate plans for quarantine and treatment.
Doctors and nurses at Cho Ray Hospital in HCM City wear protective suits as they treat a patient from China infected with COVID-19. — Photo courtesy of Cho Ray Hospital

On January 30, the World Health Organisation declared the novel coronavirus outbreak a public health emergency of international concern, and on February 1, Vietnam announced that it was a public health emergency.
"Although medical officials at the department have had rich experiences to fight various epidemic outbreaks such as H1N1 swine flu, SARS, and MERS, the fight against the novel coronavirus was definitely the toughest and most challenging task," said Dr Le Quoc Hung, head of the hospital's Tropical Diseases Department, one of the doctors who treated the patients.
"As the virus spread rapidly and from human to human, and as there is no specific antiviral treatment recommended for the disease, it, of course, worried medical officials, even experienced ones," Hung said.
"The frontline medical staff were not reluctant to work overtime during the Tet holiday and were ready to join the treatment course under any circumstance, despite great psychological pressure and a high risk of infection."
Tran Thi Hai, a 40-year-old nurse who has two children, burst into tears when she discovered that both patients had recovered and had been discharged from the hospital.
"We have to come in contact with infected patients to give them food and drugs in time according to doctors' prescriptions. At first, the virus, which has no specific treatment, worried us, but we overcame the psychological pressure and addressed the challenges to fulfill our duties as medical workers," nurse Hai said.
"We have to wear protective equipment such as suits, surgical masks, goggles and disposable gloves, which make it hard to breathe and work comfortably.
"The language barrier was also one of the challenges with the father who could not speak English, but we managed to understand each other by using body language and Google translation."
"I am so proud of the wonderful recovery of the older Chinese patient. The hospital staff were very happy about the fight against the coronavirus," Hai, who has worked at the hospital for 15 years, added.
There were three teams of doctors and nurses taking shifts to offer treatment and take care of the patients round-the-clock every day.
Dr Nguyen Ngoc Sang said the father at first refused to cooperate with the doctors and nurses when he was hospitalised as he thought he was not infected with the virus.
As a foreigner was kept in the isolation area, the father was under stress. Doctors conducted psychological therapy and carefully explained to him about the disease so that he could trust the Vietnamese doctors, Dr Sang said.
On-duty doctors and nurses were willing to forget about Tet celebrations and focused on the treatment of infected patients, he added.
Government appraisal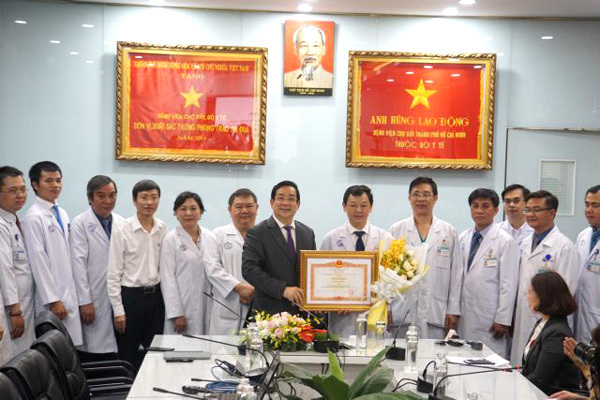 Leaders of Cho Ray Hospital receive a certificate of merit from Prime Minister Nguyen Xuan Phuc commending the doctors and nurses for their timely emergency response and successful treatment of the first two patients infected with COVID-19 in Vietnam. Photo Quang Chau

On January 29, Prime Minister Nguyen Xuan Phuc commended the doctors and nurses at Cho Ray Hospital for their timely emergency response and successful treatment of the first two patients infected with COVID-19.
Dr Nguyen Tri Thuc, director of the hospital, emphasised the importance of the cooperative spirit and responsiveness of medical workers in offering supportive care and treatment to infected patients.
For severe cases like the father from China, medications and care were provided to support vital organ functions, Thuc said.
Deputy Minister of Health Nguyen Truong Son praised the hospital for making joint efforts to respond in time to infections and prevent the virus from spreading to medical staff and the public.
"The successful treatment of the patient who was critically ill was a big achievement for the Vietnamese health sector in the fight against COVID-19," Son said.

COVID-19 treatment in Viet Nam fact file
Li Ding, a visitor from China's Wuhan City, the epicentre of the novel coronavirus outbreak, and his 28-year-old son Li Zichao, on January 22 were the first two patients confirmed to be infected with COVID-19 in Vietnam.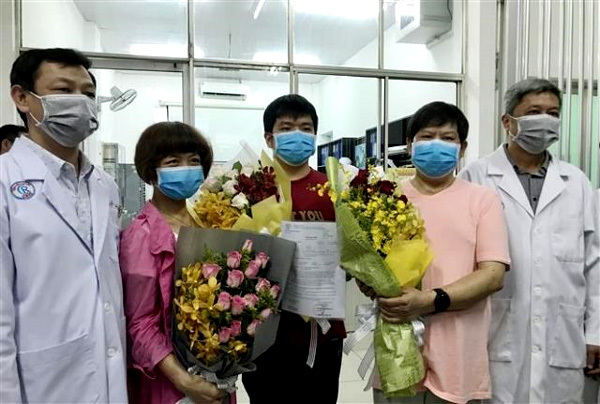 Deputy Minister of Health Nguyen Truong Son (far right) presents bouquets to patients after their discharge from Cho Ray Hospital on February 12. VNS Photo Thu Hang

On November 13 last year, Li Ding and his wife travelled to Hanoi from Wuhan. The couple and their son Li Zichao, who was working in Vietnam, flew to Nha Trang City on January 17 before travelling to Long An Province. On that day, Li Ding developed a fever, and four days later, his son did as well.
On January 22, they visited Binh Chanh District Hospital in HCM City for treatment and were transferred to Cho Ray Hospital because their condition had worsened. They tested positive for COVID-19 on the same day. The wife, who was quarantined for 14 days, tested negative.
Cho Ray Hospital is one of the premier hospitals in Vietnam under the Ministry of Health, and the largest health care facility in the south. Established in 1900, It was originally named Hôpital Municipal de Cholon as one of the very first medical units France established in Vietnam. It took the name Cho Ray in 1957.
The hospital offers medical check-ups and treatment for nearly 10,000 patients from 23 southern cities and provinces every day, many of whom are critically ill. Experienced medical professionals at the hospital perform high-quality health checkups and treatment, taking advantage of state-of-the-art medical equipment.
The hospital has been a pioneer in fighting various epidemic outbreaks such as H1N1 swine flu, SARS and MERS.
As of February 20, 15 out of 16 COVID-19 patients in Vietnam had been successfully treated, with the remaining patient expected to get the all-clear on February 21. — VNS
Thu Hang

Directly contacting with nCoV patients, physicians and nurses at Emergency Department of the National Hospital of Tropical Diseases are under pressure from not only the disease but also their surrounding people.

As many as 30 medical equipment manufacturers were fined nearly 65 million VND (2,800 USD) for violations in trading medical supplies serving the fight against the novel coronoavirus disease (COVID-19) on February 15.