Experts have warned that Covid-19 may worsen in winter when the weather conditions are more favorable for the virus to spread.
The number of coronavirus infections has risen worldwide in the last two weeks with 600,000 new infections reported on some days and over 10,000 deaths.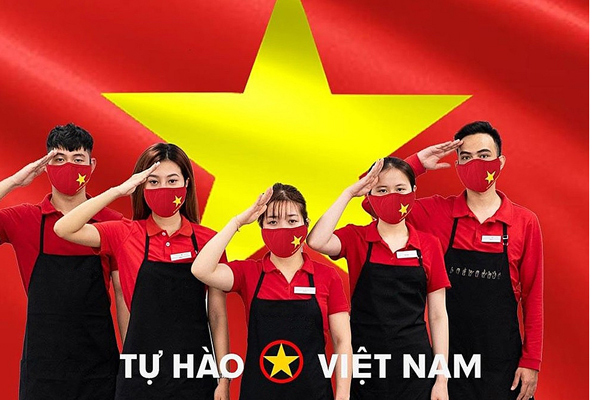 Deputy PM Vu Duc Dam suggested designing cloth protective masks with red flag and yellow star like the national flag
The pandemic has recurred in the US and Europe, which has forced some countries to re-impose lockdowns, which hinder socio-economic development.
In Vietnam, the Ministry of Health (MOH) said the Covid-19 risk still exists, especially as more and more flights are bringing Vietnamese citizens home regularly.
Local authorities have been requested to "more strongly and more strictly" tighten measures to prevent and fight Covid-19. Experts have advised people not to neglect to protect themselves, warning of a 'fierce winter', especially during the 2021 Tet holiday, when the situation may get worse.
No new community transmitted cases have been reported in Vietnam in over two months.
Nguyen Huy Nga, former director of the Preventive Medicine Agency, said that this was a great achievement of the entire political system and all Vietnamese. However, he warned that this could cause people to become complacent about the achievements and ignore preventive measures now.
"This is really dangerous, because the risk of Covid-19 penetrating Vietnam still exists, especially in winter-spring when the weather conditions are favorable for viruses, including coronavirus, to develop," Nga said.
He explained that the temperature in winter helps viruses reproduce, grow and live longer in the environment and on surfaces. Some countries have witnessed a third outbreak.
Meanwhile, the number of returnees from overseas is increasing. Vietnam plans to resume international commercial flights in the time to come, which means that the number of infected people to enter Vietnam will be higher.
According to Nga, Vietnam has been controlling the entry well and placing returnees traveling by air into quarantine. However, there are risks from illegal entries.
In the first outbreak, Vietnam successfully was free of community trasmitted cases for 99 days. However, the epidemic recurred because of the neglect of people and healthcare units. As a result, it took Vietnam nearly two months to stop the second outbreak.
Therefore, in the new normal, Vietnamese have been advised to apply measures to protect themselves and others, including wearing protective masks when going out and disinfecting their hands regularly.

Nga warned that in winter-spring, hospitals receive high numbers of people who suffer from influenza and other respiratory diseases. If they cannot screen them thoroughly, coronavirus patients will be missed out.
Deputy PM Vu Duc Dam, who attended the meeting of the Steering Committee for Covid-19 Prevention and Control several days ago, suggested designing cloth protective masks with red flag and yellow star like the national flag, which would show the Vietnamese determination and pride to defeat the pandemic. 
Hong Nga
The Vietnam film industry has been seriously affected by COVID-19 in recent months. Film producers had to stop filming or postpone releases of their movies.

Vietnam has gone through 67 straight days without locally-infected cases of COVID-19 as of 6am on November 8, with no new infections found from 6pm November 7, according to the National Steering Committee for COVID-19 Prevention and Control.