More than 16 years have passed since Tran Thi Chuan, a mother of three from the southern Long An province, got the horrible news.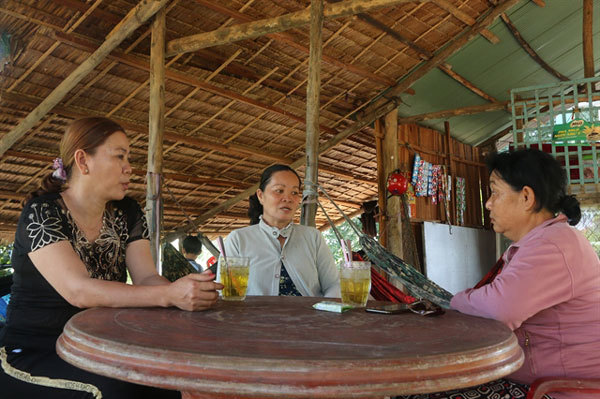 SPREADING AWARENESS: Tran Thi Chuan (left) speaks with local women about the effectiveness of ARV treatment.
Doctors told her that she had been infected with HIV.
Chuan couldn't believe how unlucky she and her family had been, as her beloved husband had died of HIV/AIDS not long before she knew she got the virus from him.
Chuan, now 48, from Vinh Thuan Commune, Vinh Hung District, still remembers the chaos of her life at that time.
Back then, she didn't dare dream about surviving this long and raising her children.
It wouldn't have been possible if she didn't go to HCM City for treatment.
SIMPLE JOYS: Chuan says having meals with her children brings her some of her happiest moments. VNA/VNS Photos Thanh Binh

"HIV/AIDS killed my husband in 2004 when my youngest son was just one year old. I was informed I was infected with the virus not long after. When I heard the bad news, my life fell apart completely. Everything stopped. There was no way ahead," the woman said.
Losing her husband also meant losing the family's main source of income, all while Chuan faced the deadly disease.
"For parents, it is really a hardship to raise three children. It was even worse for me because I was alone and sick with HIV at the same time and had to struggle to survive. At first I didn't know what to do and just wanted to die really," Chuan recalled the hardest time of life.
HIV/AIDS was a much worse disease at that time because there were few treatment options.
Chuan said that at the time, antiretroviral (ARV) drugs, which slow the disease from replicating, weren't widely available and all HIV-infected people were expected to die quickly.
HIV carriers at that time also faced greater social discrimination and isolation than today, particularly from those who did not understand the disease, according to Chuan.
However, the greater the challenges, the more Chuan was determined to continue to live for the children.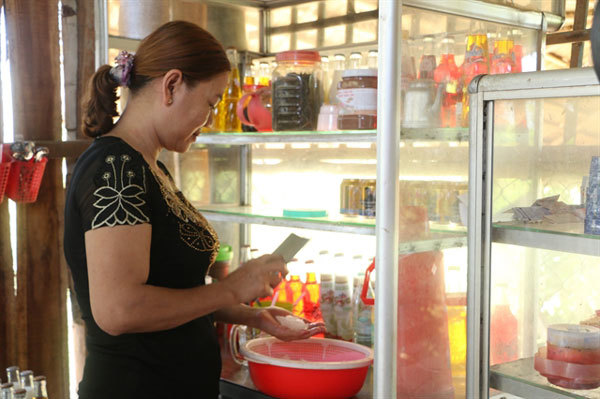 GETTING BY: Chuan prepares drinks for customers. She has a food and drink shop at her house which is her family's main income.

She tried to be always optimistic and approached all types of treatment for HIV.
With the encouragement of relatives and consulting from local authority officials, Chuan decided to go to HCM City Hospital for ARV treatment.
In 2008, Long An Province General Hospital was expanded to provide ARV treatment, so Chuan returned home and continued home-based treatment.
She was thrilled to find the ARV was effective, so much so that she decided to help others in the ARV national programme.
Optimism and determination to follow the treatment course have helped her live a healthy life for 16 years with HIV concentration in her blood reduced to below the threatening level.
Chuan strictly adheres to safety principles, saying that was one of the most important things to prevent the virus spreading to others.
She participates in activities promoting HIV/AIDS prevention and treatment by discussing the effectiveness of the ARV programme, particularly among female HIV carriers and their families.
Chuan tells people with HIV to approach the programme as a way to survive and live confidently.
"Proper ARV treatment will absolutely help slow down the progression of AIDS for many years and reduce the risk of transmission and increase the quality of life of people living with HIV/AIDS," said Chuan.
Nguyen Van Ria, head of Kinh Moi Hamlet where Chuan lives, and an official of Vinh Thuan Commune, praised Chuan as a good example of the local programme against HIV/AIDS.
"Despite her difficulties in life, Chuan has been participating in the local HIV/AIDS prevention programme. She has made a great contribution to the programme by getting along well with people with HIV and women in the same circumstances. She is always ready to try her best to help them," Ria said.
Chuan said she chose a positive lifestyle and was ready to face HIV/AIDS as a way to help change society's views of the disease.
"It is really a positive action to work together with the community to prevent and reduce the risk of HIV/AIDS transmission and help people living with HIV/AIDS live well and be useful for society," said the official.
Vietnam records nearly 10,000 new HIV cases and between 2,000 and 3,000 AIDS-related deaths annually, according to a report from the Ministry of Health's Department of HIV/AIDS Prevention and Fight.
The year 2019 was the 11th straight year the epidemic has been kept under control in the country, with decreases in the numbers of new infections, people entering the AIDS phase and AIDS-related deaths.
Vietnam is also one of the few countries that have had HIV/AIDS treatment, including ARV therapy, covered by health insurance.
Speaking at a ceremony held recently in the northern province of Bac Giang in response to the National Action Month against HIV/AIDS and the WorldAIDS Day (December 1), Deputy Prime Minister Vu Duc Dam, head of the National Committee for AIDS, Drugs and Prostitution Prevention and Control, stressed the necessity of co-operation and appealed for efforts by all-level authorities, a stable financial system, a system of timely diagnosis and treatment, and HIV carriers' privacy in the combat against HIV/AIDS.
"To achieve the 90 – 90 – 90 targets (90 per cent of people living with HIV know their status; of whom 90 per cent are under treatment; of whom 90 per cent in viral suppression) in 2020, Vietnam needs to have detailed plans and focus on prevention and treatment. Relevant agencies should step up communications and take measures to ensure HIV patients' privacy and interests," he noted.
He expressed his hope that through these actions, the country would realise its commitments to UN organisations and become one of the countries taking the lead in ending this pandemic. VNS

Vietnam is being evaluated to have the highest HIV inhibition rate in the world.

More than 42,000 HIV/AIDS patients in Vietnam had received antiretroviral (ARV) drugs covered by the health insurance fund as of the end of October.