The wind whistles through Lau Thi Xinh's hair as she drives her motorbike down the mountain.
It was an early winter afternoon in Toa Tinh Commune, Dien Bien Province. After light rain, the road was quite muddy.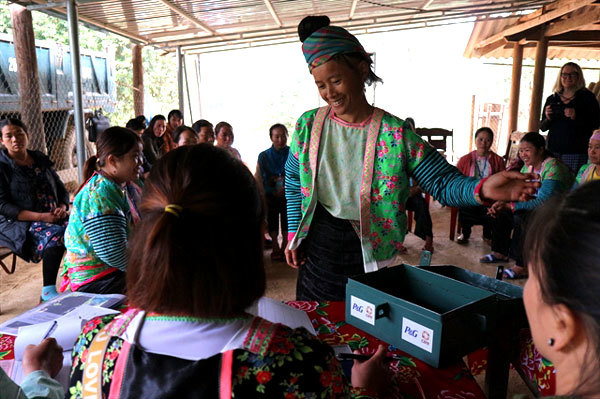 A member looks excited as she finally receives five shares, the maximum quota for each session. — VNS Photos Khoa Thu

Clutching the throttle, she skillfully guided her motorbike through the quagmire.
It is quite rare for a 27-year-old H'mông ethnic minority woman like Xinh to operate a vehicle on her own as tradition dictates that they rely on their husbands after marriage.
Freedom of mobility was the first thing Xinh enjoyed after purchasing a motorbike, using money from the local village savings and loan association (VSLA).
It takes Xinh half an hour to ride from her tiny house on the legendary Pha Din Pass down to a nearby valley, where 18 other members of the VSLA group gather for a fortnightly meeting.
The group, which was established in September 2018 under the umbrella "Reach to Excel" project implemented by NGO Care International in Vietnam, Dien Bien Province Women's Union and the Dien Bien Centre for Community Development, offers a savings incentive for members to pool their money by buying shares and then loaning to each other.
In single a session, one member can purchase up to five shares for VND20,000 (US$0.86) each. The limitation has been set to avoid speculation, while maintaining the group's sustainability.
"Please give me five," said Xinh confidently, as her family had just harvested their rice crop.
Receiving the VND100,000 ($4.31), Giang Thi Mai, one of the group's treasurer, used a small stamp carved from an eraser to ink Xinh's savings book.
Mai is one of three treasurers who each hold a separate key to the group's safe – a simple way to ensure transparency.
At the beginning of a meeting, they open the safe and count the money together.
Besides buying shares, each member contributes VND2,000 ($0.086) to a mutual assistance fund which is used to support sick members who need hospital treatment.
"We are all healthy so far, so we may spend the fund on a year-end party," said Mai, cheerfully.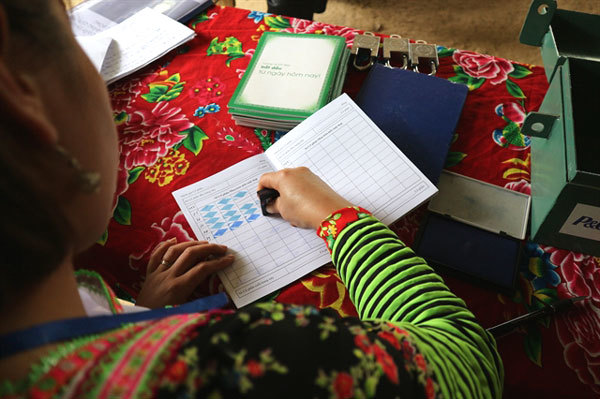 Giang Thi Mai stamps a member's savings book, marking the number of share the book's owner has bought.

Saving tool
In the mountainous commune of Toa Tinh, 98 per cent of the population belong to the H'mông ethnic minority group, who live scattered among the rocky mountains relying on agriculture for their livelihoods.
The harsh conditions have pushed them below the poverty line, with average income per capita per year of just VND8 million ($345).
Compared to other ethnic minority groups living at lower altitudes, H'mông people have less demand for money.
However, the impacts of climate change has hit productivity of traditional upland rice and maize plantations, forcing them to excessively cut spending and save even more.
The VSLA was formed to address their needs, while at the same time, creating a space for local women to share their common concerns over children, health and other family affairs.
"Since we live far from each other, it is fun when we get the chance to gather and talk," said Giang Thi Mai.
"We can also borrow money to pay for our children's school fees, farming utensils and healthcare," she added.
Since the group's establishment, eight members have been given loans of VND500,000-10 million ($21.55-431).
Despite the small amounts, the fund has empowered them to overcome difficult situations.
Sung Thi Ly borrowed VND2.5 million ($108) to pay for her children's stationery.
"The middle school tuition fees are just VND9,000 ($0.39) per month, but we simply cannot afford notebooks, pens and other essentials," she said.
Ly paid it off after several months.
"The procedure is simple and transparent. We do not need to sign any contracts, and we do not need to commit to any deadline because everyone in the group knows we will work hard to repay the loans as soon as possible," said Ly.
Among her fellows, Hoang Thi Manh seems to be the most enterprise-driven.
With a VND10 million loan from the group, she started her own traditional attire business.
"I borrowed money from my sisters and relatives as well," Manh said.
The small experiment proved profitable enough for her to expand.
"Nervous? Yes! It was the first time I'd decided to do "something big" without my husband's involvement," she added.
"However, he was very supportive, seeing how much I had changed after joining the group."
Thanks to the financial solution, loan sharks have no place in the area.
According to project manager Le Xuan Hieu, VSLA provides more than an economic leverage, it is a tool to accelerate social cohesion.
"The loans offered by VSLA are small, under VND10 million, but enough to address the daily demands which no finance organisation can satisfy," said Hieu.
"Members can take out a loan and repay it at any time without being screened or punished for late payment. It is a flexible mechanism in which women can practise their rights," he said.
"Empowering individual female members is the ultimate goal of VSLA. Once they know and perform their own rights, they will be able to access business opportunities, secure their livelihoods and build happy families," he added.
Social concerns
Every night, some 120 coaches depart from Tuan Giao District to transport local people down south on the hunt for work.
After the upland rice harvest season, there is nothing much to do in the northern highlands. And as Tết (Vietnamese Lunar New Year) is approaching, they need to earn money to prepare for the holiday.
According to Vua Dao My, deputy head of Dien Bien Province's Women's Union, the province used to have 50 VSLA groups with 1020 members.
The numbers now has dropped to 43 groups with 937 members.
"It is not because the incentive is inefficient, it's the financial demands that force them to leave," she said.
"On the bright side, I can see local women becoming more independent and making decisions. They can choose to follow their husbands to big cities as they look for work rather than staying at home waiting," My added.
Sharing the opinion, Hieu said it was difficult to hold back a person when they want a better income.
"Migration is good for the economy but I wonder whether anyone has raised the question about its impacts on social affairs and cultural identity," he said.
"I have not seen any reports about divorce rates among couples who had to separate due to difficult economic conditions. Migration has to be viewed as a bigger picture rather than focusing solely on income," Hieu added.
Care International has put an expansion plan for the VSLA on the table to discuss with the Vietnam Women's Union.
If approved, the model will be implemented in other provinces from January 2020 along with training courses for trainers and developing documentation procedures.
"Localities will then be able to allocate resources to duplicate the model, which acts as an efficient micro-finance solution, helping people improve their lives in their hometowns," Hiếu said. - VNS
Khoa Thu

Meticulously wrapping a white linen scarf around her head, adjusting a silver necklace, Ly Thi Mai made the final touches before joining her friends.

According to Solidiance Consultancy, transactions on Vietnam's fintech market could nearly double to US$7.8 billion in 2020 from $4.4 billion last year.