New Zealand Ambassador to Vietnam Wendy Matthews today presented the first prize worth VND8 million to Ho Tu Anh as the winner of logo competition to celebrate the 45th anniversary of New Zealand-Vietnam diplomatic relations.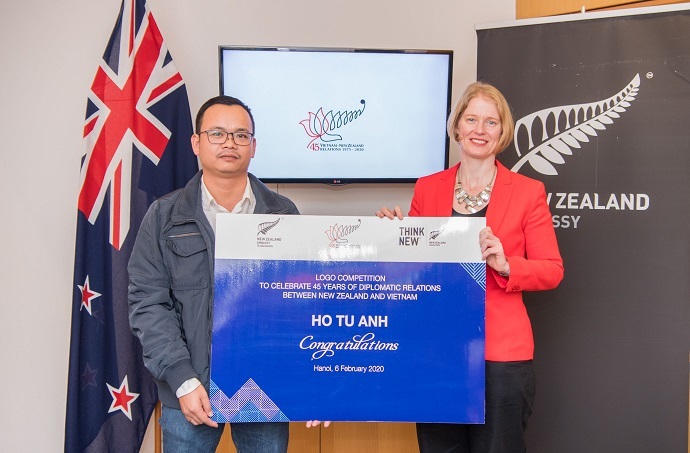 The winner Ho Tu Anh (left) receives the award at a ceremony held by the New Zealand Embassy in Hanoi on February 6.
"I have never been to New Zealand but friends I've spoken that have visited told me that it is a country "beyond expectations". I put a lot of effort in to coming up with my logo, hoping to be lucky enough to win this competition. I am so happy that I won!" Tu Anh explained.
The logo competition asked entrants to design a creative logo that showcases the strong and growing partnership between New Zealand and Vietnam and to commemorate the 45th anniversary of diplomatic relations. Nearly 120 submissions were received.
Ambassador Matthews said: "We really wanted to get from the Vietnamese public their ideas on how to they interpret our close partnership. The winning logo captured the "essence" of New Zealand and Viet Nam. It has two iconic images: New Zealand's silver fern and Vietnam's lotus. It is also a fresh modern design that demonstrates New Zealand and Viet Nam's strong past cooperation and our bright future ahead."
The winner of the most engagements (likes, shares and comments) on social media was a 19 year old student Pham Gia Thien. His entry also showcased New Zealand and Vietnam cultures coming together, with a kiwi bird wearing the iconic Vietnam conical hat. He was awarded with a Tiki voucher for a Kindle.
Other winners of "Runner up", "Most fun logo" and "Youth Award" were awarded with fresh and tasty New Zealand apples by the Ambassador.
Mai Lan