Fake news, which has been spreading on social media, and measures for coping with this issue will be brought up for discussion at a workshop on June 19 in HCMC's District 1.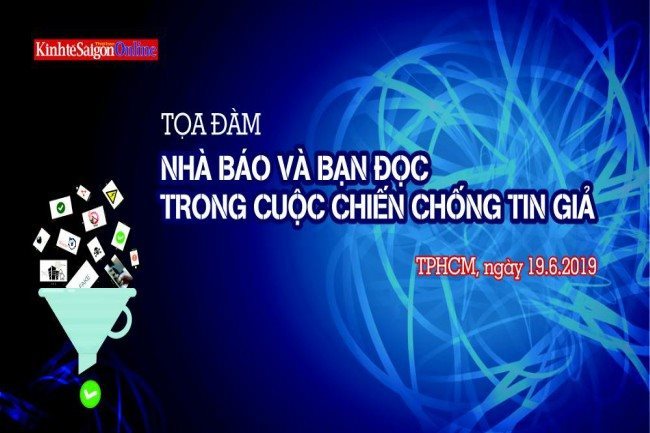 The backdrop of a workshop on fake news, scheduled for June 19
The workshop, held by the Saigon Times Group on the occasion of Vietnam Journalism Day (June 21), will be attended by journalists and readers.
Participants will get an overview of global and local regulations related to the fight against fake news. This section will be presented by lawyer Dinh Thi Thanh Nga.
Psychologist Le Thi Linh Trang will talk about the negative impact and mental crisis triggered by fake news among individuals and the community, while the roles played by journalists and readers will be discussed by journalist Le Thanh Phong.
Fake news is one of the drawbacks of the impressive emergence of the internet and social media platforms in particular. These information channels allow people to stay updated on the latest local and world events.
As defined by UNESCO, fake news and disinformation are distinct from news released by authentic news organizations that have to strictly follow professional standards and ethics. Disinformation and lies are rampant on social media in the digital transformation process.
Also, multiple countries have found that the negative effects of fake news have been escalating, according to UNESCO, which has urged nations, especially their news outlets, to quickly take action to curb the rise of fake news and disinformation.
Fake news may cause readers to doubt all sources of information, including verified news released by authentic newspapers.
The workshop is scheduled to start at 8:30 a.m. on Wednesday (June 19) in the Saigon Times Group meeting hall, 35 Nam Ky Khoi Nghia, District 1, HCMC.
Interested people can contact Hai Ly by email at nguyenhaily@thesaigontimes.vn or by phone on 0968 392 753 prior to June 18.
The event offers free admission and has limited seats, so early reservations are encouraged. SGT
Truc Nhu