Police of Song Ma District in the northern mountainous province of Son La have fined two young people who performed a hair washing show on a motorbike.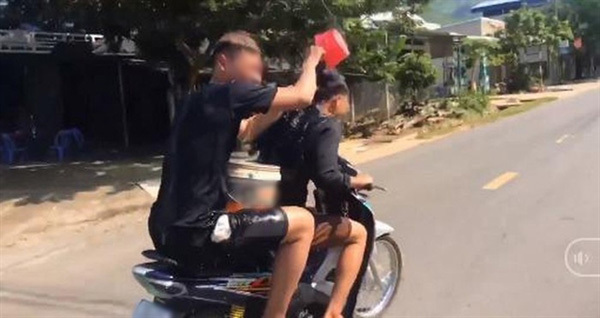 Now, this is a hair-raising tale.
Recently, a video spread on Facebook of two young people washing their hair while driving a motorbike.
The incident occurred on Highway 4G in the area of ​​Huoi Mot Commune, Song Ma District, Son La Province.
Local people didn't split hairs about the matter and expressed their outrage.
The two were identified Lo Trung Nguyen, 17, residing in Huoi Mot Commune and Luong Van Tung, 18, living in Na Nghiu Commune.
The two were fined a total of VND1.5 million (US$64) for their performance, so in retrospect, a trip to the salon may have been cheaper.
They probably feel so embarrassed they could curl up and dye.  VNS

Video clips with unhealthy content and 'trash videos' are rampant on the internet. But YouTube still has not set tight control over the toxic clips because it can 'get more than it can lose', according to observers.