Willingness to stay in jungles
Colonel Ho Quyet Thang, Deputy Commander and Chief of Staff of Nghe An Province's Border Guard, said that 212 officers and soldiers submitted a request to be on duty in jungle instead of returning home for the 2021 Tet (lunar New Year) holiday.
Nghe An, located in the key North-Central region, has Vietnam's longest land border of 468.281 km. The geography is complicated and diverse with different entrances and trails. Being aware of the Covid-19 pandemic, the Border Guard quickly carried out dual duty – protect border security and national sovereignty on one hand and effectively prevent the pandemic on the other hand.
The Provincial Border Guard set up one front command division, 56 fixed units, and 11 patrol units with 545 officers and soldiers. They are the "human" fence along the border.
Captain Ngo Quang Hieu, Commissar, and Deputy Chief of Border Post at Nam Can international border checkpoint, said that six posts were set up, each with five people always available at border crossing points. Among those, two drivers and two military healthcare workers have not been home since the start of covid-19 pandemic.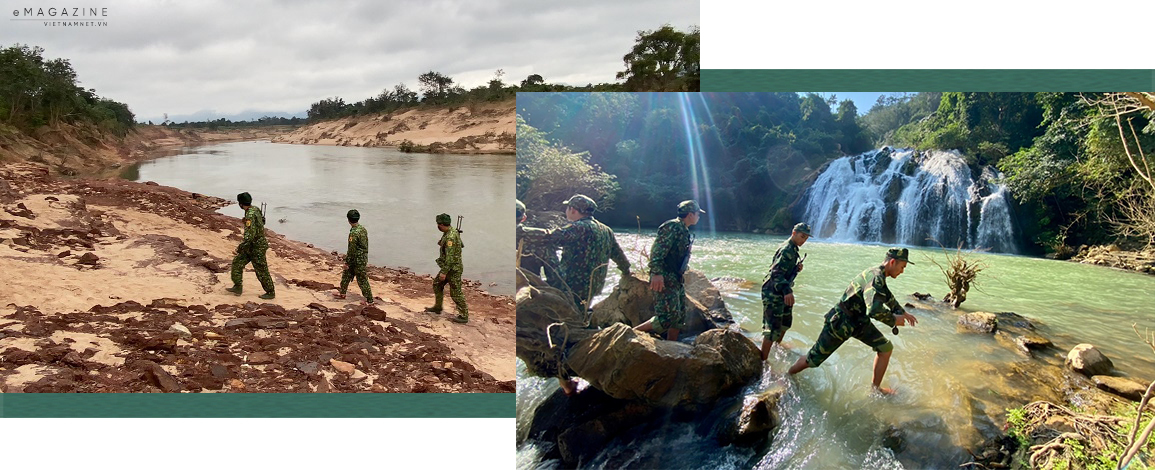 Soldiers are always responsible and stay on alert even in cold and rainy nights in the mountainous terrain of the border area with Laos.
"However difficult it is in the jungle, we are determined to be ready to cope with any risk to protect the border," said captain Hieu.
One night, at the border area with Laos, it was rainy, windy, and cold; captain Hieu led us to visit the officers and soldiers guarding at the post number 4. According to the post head, captain Nguyen Canh Thao, the weather changes unpredictably while the mountainous terrain causes a lot of troubles for patrolling and controlling.
All solders were unwavering to "fight the pandemic as an enemy", thus having raised their responsibilities and combat readiness. Since March 2020, Capital Thao has visited home only twice to see his wife and new born baby. "My wife often calls to encourage me to perform my assigned works well," said Thao.
Political commissar has Tet far from home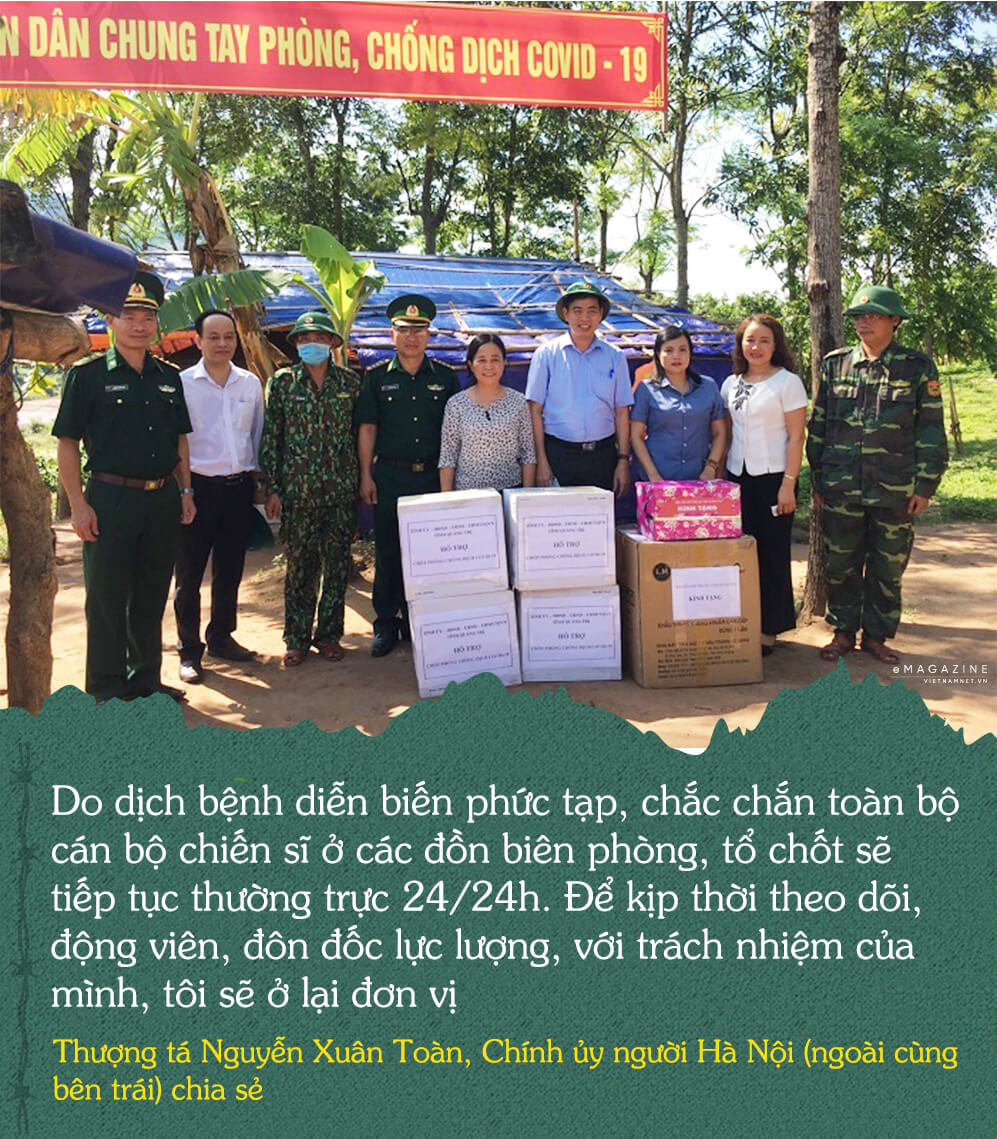 "Due to the complicated development of the pandemic, all officers and soldiers continue to stay on duty for 24/7. To timely monitor, motivate, and push up the force, I decided to stay," said Colonel Nguyen Xuan Toan (first from left).
In Quang Tri province where the river runs 70 km out of 180 km boundary with Laos, during the dry season, the people can cross the river on foot, notwithstanding other trails and open passages to Vietnam.
Colonel Nguyen Xuan Toan, the Political Commissar of the Quang Tri Provincial Border Guard, shared that since late November 2020, there have been more Vietnamese people returning home. Many people have not legally entered via border checking points to avoid quarantine.
Quang Tri Border Guard deployed 85 fixed posts with 268 officers and soldiers and 15 patrol units to control and prevent illegal border crossings. There are 467 people on duty 24/7.
Nevertheless, many individuals continue to contact brokers and make the most of their relationship with local people to organize illegal border crossings into the country.
From November 2020, the Provincial Border Guard has arrested and tackled nearly 250 illegal border crossings from Laos. In November, the Border Guard set up the peak season plan to tackle pre, during, and after Tet crimes.
"We have strengthened the mobilization of anti-drug trafficking task force and special force and coordinated with police, custom, market management, etc to further control border crossing points, trails, and passages at every moment. Due to the complication of the pandemic, officers and soldiers at border posts continue to stay on duty for 24/7. To timely monitor, motivate, and push up the force, and under my responsibility, I decide to stay and go to each post to encourage them to be on duty to ensure security during Tet," said the Hanoian Political Commissar about his Tet away from home.
Warmhearted civil-military relations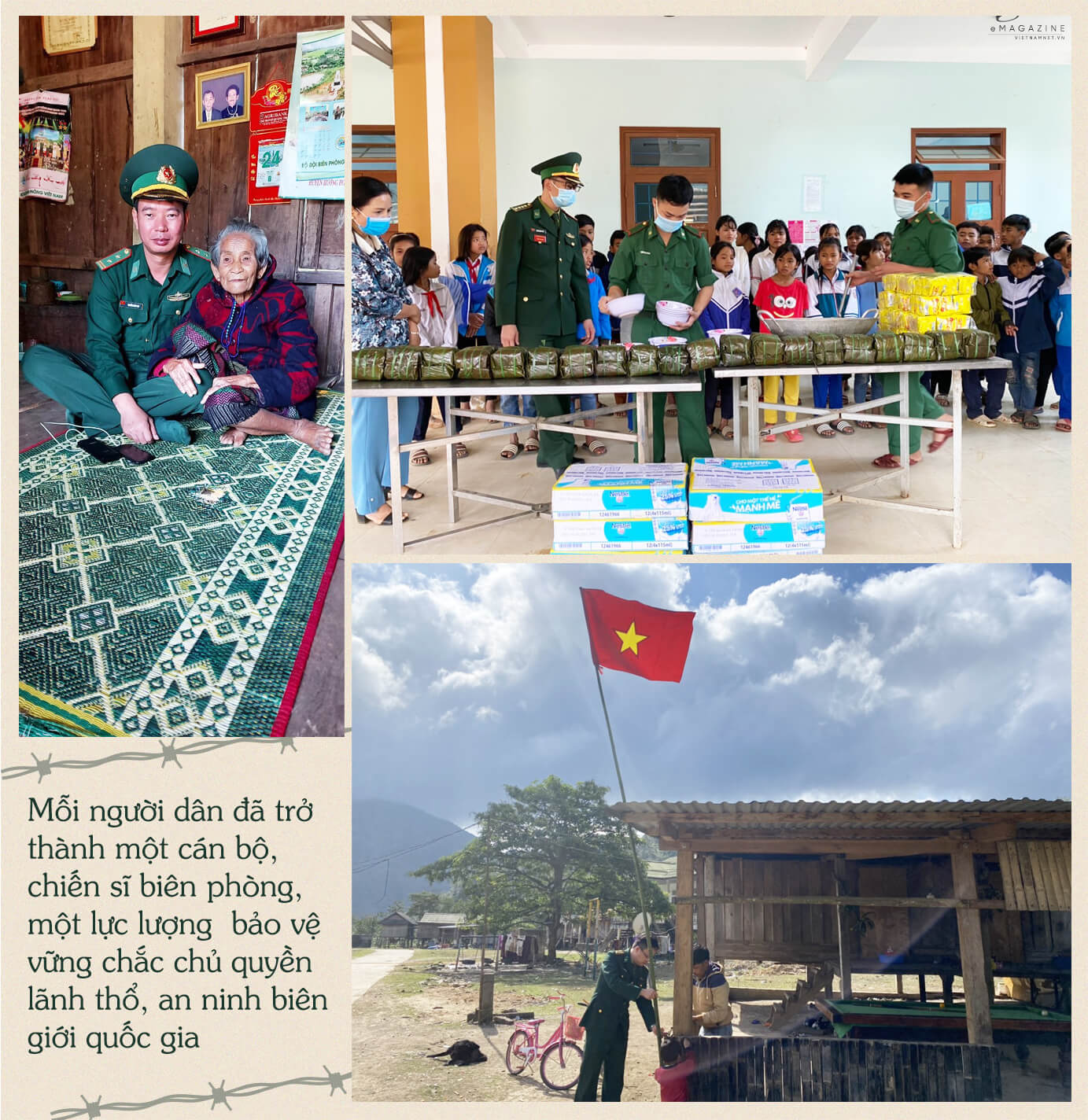 Each person becomes a border officer, soldier, and special force to strictly protect the national sovereignty and border security.
In the last days of the lunar year, Huong Lap border post (Huong Hoa district, Quang Tri) appealed to organizations, companies, and individuals to fund and assist the poor during Tet. The households of ethnic minorities in two communes of Huong Viet and Huong Lap were gifted with 150 packages with the value of 350,000 dong each. Furthermore, the border post coordinated with Love Connection Group to hand over 250 national flags for the two communes. "By conducting activities to assist the people's social security, the cordial civil – military relationship has been increased, hence strengthening the people's front and the public security in the boundary area," said Lieutenant Colonel Nguyen Cong Trinh, the Chief of Staff.
Mr. Ha Sy Dong - the Standing Vice Chairman of Quang Tri People's Committee and Head of Border Steering Committee – said that the border force has implemented flexible, practical, and effective plans directly related to the people to raise their awareness about crime prevention and to create trust among people for border security.
"There are tremendous challenges in the national sovereignty protection, crime prevention, anti-illegal border crossings, and cross-border trade frauds in land border and sea border regions. Thanks to the border post's efficient work at grass-root level, they have been assisted by local people. Each person became an officer, a soldier, and a force to strictly protect the national sovereignty and border security."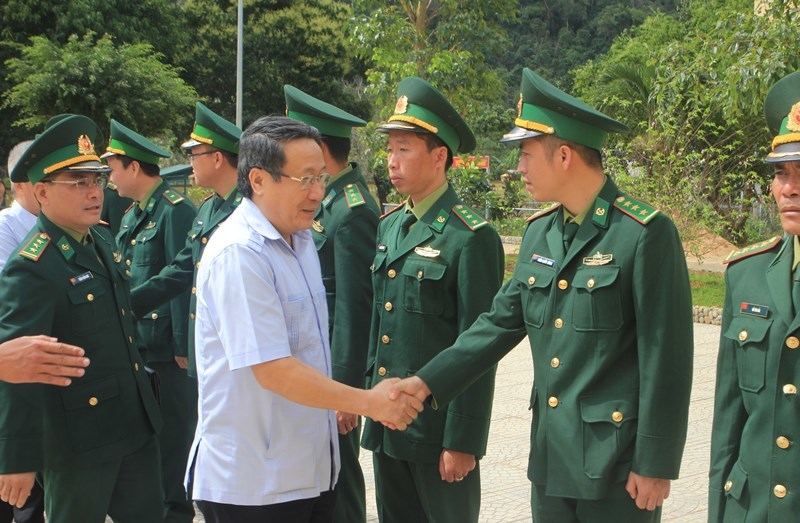 Mr. Ha Sy Dong (White shirt), Standing Vice Chairman of Quang Tri People's Committee and Head of Border Steering Committee, during his visit to border soldiers as Tet approached.
For the soldiers, Tet celebration in the border region is a cozy moment in civil-military relationship. Whenever Tet comes, local mothers and sisters carry vegetables, squashes, leaves… to offer the soldiers. These images remain deep in the heart of Border Guard officers and soldiers, easing their homesickness.
Tet, for the Border Guard officers and soldiers, is the chance for spring celebration with their peers and the ethnic people while staying alert to any potential risks. The command from their hearts is: "Stay awake for the people's sleep. Protect the people's spring celebrations."
Thai An - Quoc Huy - Hien Anh

As illegal entry and exit is a threat to the prevention and control of the COVID-19 pandemic, border soldiers across the country are making efforts to prevent illegal entrance, especially before the Tet (Lunar New Year) holiday.