Solutions urged after repeated downtime at congested Ho Chi Minh Stock Exchange
This month's adoption of new infrastructure is expected to disentangle technical congestion in the Ho Chi Minh Stock Exchange – a dragging conundrum for both institutional and mom-and-pop investors.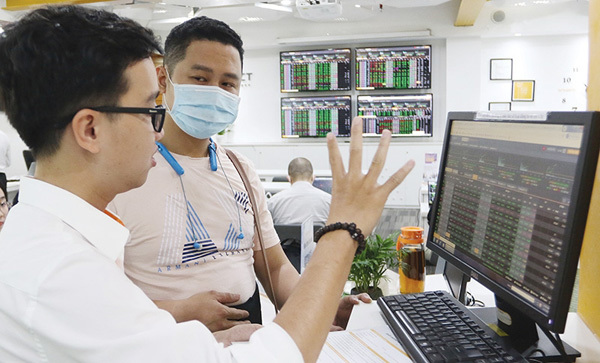 The system used for the Ho Chi Minh Stock Exchange has been in dire need of a revamp for some time. 
In the past few days, attention was focused on the Ho Chi Minh Stock Exchange's (HSX) trading overload and its temporary shutdown as a result. The bourse explained that its platform was paralysed after sudden excessive liquidity, leaving thousands of investors unable to trade.
In order to reduce trading congestion, a handful of securities companies have announced their temporary solutions in response.
Last week, KIS Securities Vietnam confirmed they had to temporarily suspend the cancelling order on its trading platforms from June 3 until further notice.
Likewise, Yuanta Securities also notified customers its suspension to change orders on all online trading platforms. At the same time, Yuanta also recommended their customers to limit use of the order cancellation function to ensure stable operation and limit order congestion on HSX's trading system.
Other groups such as Vietcombank Securities, FPT Securities, Thien Viet Securities, and MBS among others also made similar announcements on suspending order cancellations and changes to minimise system congestion.
The HSX explained that its platform was paralysed due to excessive trading value. CEO Le Hai Tra stated, "The active cooperation of securities companies and investors in limiting orders has helped the rate of order correction and cancellation decrease from 33.5 per cent on average to below 18 per cent in the trading session of June 3. This has significantly boosted the daily trading value on the bourse, ranked second in ASEAN, surpassing Singapore even though the HSX's total market capitalisation is less than one-third that of the Singapore Stock Exchange."
Overloading issues have been subject of controversy for much of the year, with the blame being attributed to poor management and an age-old technology.
In March, FPT was assigned to develop an alternative system to host the HSX. After a narrow testing phase, the HSX and FPT are implementing a broader phase on the whole market until June 25. It includes over 70 foreign and local securities companies, Vietnam Securities Depository Centre, the Hanoi Stock Exchange, and other entities in charge of market data.
Tra noted that the HSX is preparing for fresh adoption of FPT in June or early July, which could iron out technical issues as soon as possible.
"The system that the HSX and FPT are building is expected to completely solve the current trading bottleneck. After that, the HSX will report to the competent authorities to soon put this system into operation," he said. "Preparing for long-awaiting Korean Exchange implementation is underway according to our schedule. However, the latest COVID-19 outbreaks have exerted more pressure to relevant parties, particularly for South Korean experts who could not come to Vietnam. We always perceive of its utmost importance, and prioritise the implementation of a new system for the entire Vietnamese stock market as soon as possible," Tra added.
According to Ismael Pili, head of Research at VinaCapital, liquidity in a stock market should be an important feature to any investor, be it local or from overseas.
"The recent technical overload and trading congestion may not deter local investors on the HSX market, given the fear of missing out.
Furthermore, current lockdowns may be conducive to higher trading activities. Retail investors who are confined to their homes can focus on trading," he said. On the flip side, Pili told VIR, "For foreign institutional investors, the ability to get in and get out of a stock is always a key consideration. As such, the early stoppage of trading due to capacity constraints will generally be an overhang to Vietnamese equities."
As for the foreign net selling in Vietnam, Pili added, this is not an isolated situation for this country, as most emerging and frontier markets have seen net foreign outflows.
A possible reason for this includes the stronger earnings momentum in the US on the back of accelerating reopening, including early optimism on the prospect of 'back to normal' conditions and/or the threat of higher inflation that raises risk aversion to the detriment of riskier asset classes such as international equities.
Petri Deryung, portfolio manager at PYN Elite, said, "We share the consensus forecast that the Vietnamese stock market can continue to perform well this year due to the solid earnings growth as well the bright outlook for years to come. In the first quarter, foreign investors have been net sellers in the Vietnamese stock market, but we assume the tide must turn as the year goes along."
Pili of VinaCapital added that, as emerging and frontier countries increase their vaccination rates to pave the way for resumption of economic activity, stronger corporate earnings will draw foreign investor attention. "As we think clarity on the inflation picture will emerge around October and November, when we expect inflation will remain low, the ensuing higher risk appetite will benefit international equities. Our expectations of a weaker USD should also draw foreign investors back to Vietnam and other emerging or frontier markets."
VIR

However, despite the vast potential of the equity market, the ongoing technical outages at the HSX have lowered investors' appetite, as their buy and sell orders rarely match up.  
The stock market is still an attractive investment channel for investors in the near future. However, it also poses many challenges for regulators and market members, said experts.