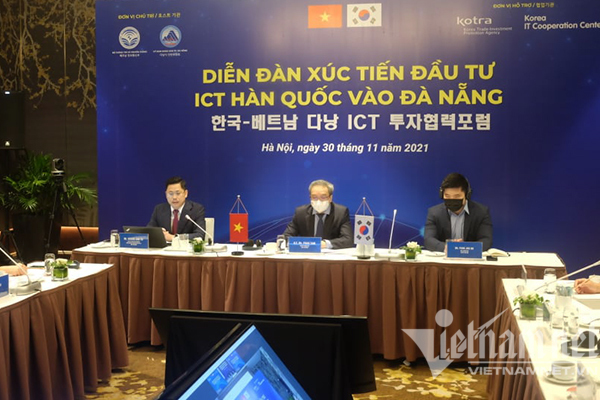 The Ministry of Information and Communications (MIC) and Da Nang authorities on November 30 organized a forum on promoting South Korea investments in ICT in Da Nang.
South Korea is the biggest foreign investor in Vietnam with over 9,000 valid projects, capitalized at $71.5 billion in total. Of these, there are 500 projects in the ICT sector, including ones developed with the world's leading technology groups such as Samsung, LG and KT.
South Korea is an important investment, trade and tourism partner in Da Nang. Before the Covid-19 outbreak, 19 air routes with the frequency of 214 flights a week connected South Korea and Da Nang. About 50 percent of foreign travelers to the city every year, 1.5 million, were from South Korea.
As of November 2021, South Korea was in the fifth position in terms of investment capital in Da Nang (230 projects, $378 million in investment).
The Republic of Korea's Consul General in Da Nang Ahn Min-sik said that ICT is the sector that can connect Vietnamese and South Korean businesses. Da Nang and South Korea are closely cooperating to promote the investment of South Korean businesses in the sector.
In 2007, the Vietnam-Korea Friendship Information Technology College was established, which was later upgraded into a university (4-year training).
Tran Phuoc Son, Da Nang's Vice Mayor, said Da Nang is leading the country in ICT with total ICT revenue of over $1.3 billon, and software export turnover of $90 million.
Da Nang considers South Korea as one of its most important partners, with powerful financial and technological capability. The city wants to receive more South Korean investment in the ICT sector.
"The municipal authorities have pledged to create favorable conditions for South Korean firms to come to learn about investment environment, design and implement projects," Son said.
Deputy Minister of Information and Communications Phan Tam said Vietnam is perfecting the legal framework to pave the way for a breakthrough development in IT zones and hi-tech zones throughout the country, especially in Da Nang, which has emerged as a Southeast Asian Silicon Valley.
Vietnam now has 58,000 ICT firms and is striving to have 100,000 by 2025. It is the among the top 10 countries in electronics exports, the second in mobile phone exports and the ninth in software outsourcing. The country is following a strategy on switching from outsourcing and assembling to creating, designing and producing products in Vietnam under the "Make in Vietnam" program. 
Trong Dat

A cooperation agreement was signed on the investment of a data centre worth about 100 million USD in the central city of Da Nang, during a virtual ceremony held on November 23.

Businesses from the Republic of Korea (RoK) poured over 2.43 billion USD into Vietnam in the first eight months of 2021, ranking third in terms of total registered capital after Singapore and Japan.