VietNamNet Bridge – The fairs in Ha Giang are not only a place to barter and sell goods but also sites where visitors can experience the colorful culture of many ethnic groups. Visitors can participate in the upland fair in the districts Yen Minh, Dong Van and Meo Vac.
1. Khau Vai love market, Meo Vac district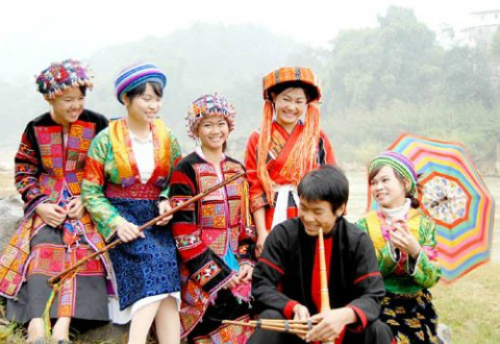 Held annually in late March on the lunar calendar, Khau Vai love market is always attractive to tourists. This is a unique fair in the Plateau of Ha Giang, held in a broad and flat valley in Khau Vai commune, more than 20 km from Meo Vac Town.
During the two-day fair, hundreds of ex-lovers from various hill tribes like Nung, Tay, San Chi, Lo Lo, Dzao, Giay and Hmong are reunited. They trek in from various mountainous districts nearby to be able to spend two days with the ones they could not spend their lives with.
The market has been a part of tradition for centuries, originating from a local legend. An ethnic Giay girl from Ha Giang had fallen for a Nung boy from Cao Bang but she is said to have been so beautiful that her tribe did not want her to marry a man from another community. What followed was a bloody war between the two tribes.
As the lovers witnessed the tragedy that surrounded their lives, they decided to part ways in the greater interest of peace. But their love did not die there. A secret pact was made between the lovers to meet each other once a year in Khau Vai– on the 27th day of the third Lunar month. The tradition is still being carried out today. On the designated days of the festival, local artists decked up in colorful clothes reenact this tale of forbidden love.
Some might dismiss the lovers' rendezvous that happen in Khau Vai as short flings, but in reality things are very different. The villagers view it as a time to go down memory lane, cherishing happier moments of their past.
The Khau Vai love market is now so popular that it has become a tourist attraction for domestic and foreign visitors. Some of the other activities at the festival are a trade-tourism fair and a performance of the ritual of rain-worship of the ethnic Lo Lo people. There is also a ceremony to receive certificates recognizing the festival as an 'Intangible Cultural Heritage.'
Folk games such as shuttlecocks, Ferris wheels, see-saws and cock-fighting are a part of the love market as well. Local cuisine and the beautiful highland girls in their traditional costumes are an added attraction.
2. Du Gia fair, Yen Minh District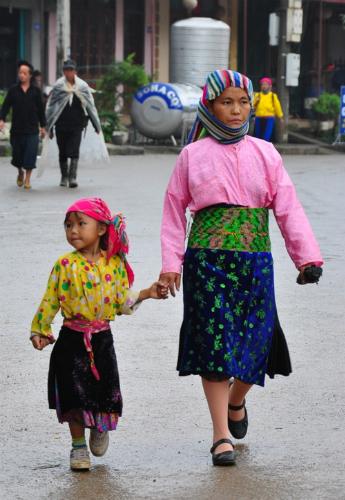 Located 60 km from Yen Minh town, the fair takes place every Friday, from early morning until noon. The fair opens right in the town center, on a flat terrain. This is a pretty primitive fair, with bold ethnic culture of the highlands.
During the fair, visitors can see cultural activities of locals. They can hear the melodies of the flute or enjoy taste the traditional dishes of the locals such as thang co (processed from horse meat), corn liquor, and buy brocade products.
3. Pho Cao fair, Dong Van district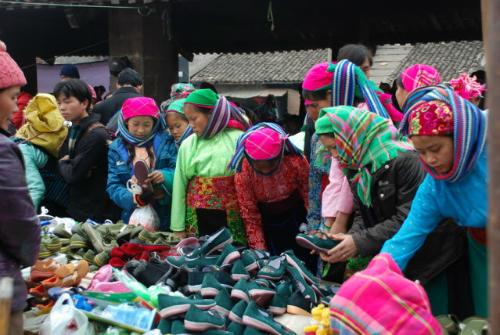 Located 25 km from Dong Van town, this fair is famous because it is located in Dong Van stone plateau, which attracts many tourists. The fair opens every 6 days, usually lasting from early morning until noon.
The fair is not only where local goods and produce are sold but also a place of cultural exchange activities among the 17 ethnic groups in the province.
4. Lung Phin fair, Dong Van district
Lung Phin market is 15 km from Meo Vac, Ha Giang, this is one of the most typical hill tribe markets is Vietnam where tens of thousands of people from Hmong, Dzao and Chinese flock every week.
Located in a deep mountain valley, the market is held every six days on the lunar calendar (days of the Monkey and the Tiger). Throngs of people with cows, pics and dogs can be seen on their way to market. Here, various hill tribes from highland villages converge every week to trade.
Local products for sale or barter are carried on horseback or buffaloes. There are blacksmiths, saddlers, traditional medicines, clothing and food. At the market, a lot of people can be seen eating "Thang Co", a popular dish of the Hmong people. The market is really a must-see for all tourists to Ha Giang.
5. Central market of Meo Vac district
The market is located right in the center of Meo Vac town, near the stadium, and takes place on Sunday. People often go to the market the night before and stay here the following day. This is the largest market in Ha Giang. It is also special because the fair provides cows and beef to locals.
Compiled by Pha Le