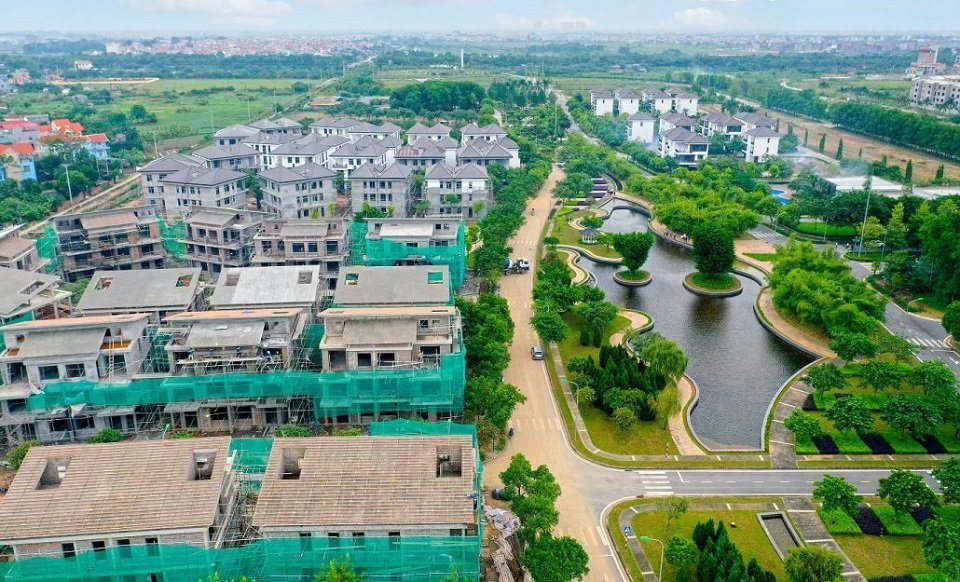 Reviewing the 2020 real estate market, MOC said the prices of separate houses and land continued the upward trend from 2019. However, the increases varied in different localities and areas in the same localities.
The average price increase in provinces, cities and districts was just 3-5 percent. However, some market analysis units reported sharp price increases in some projects.
In Hanoi, a series of projects in the last 10 years in the western part, including Ha Do Charm Villas (An Thuong, Hoai Duc), and An Lac Symphony (Van Canh, Hoai Duc), have resumed sales with prices 2-3 times higher than prices in previous sale campaigns and the secondary market.
Market analysis firms report that land in Son Tay, Hoa Lac, Thach That and Hoai Duc is priced at VND25-30 million per square meter, up by 50 percent from 2019. Meanwhile, the areas of Dong Anh, Gia Lam and Long Bien have seen prices increase by 20-30 percent.
In HCM City, according to MOC, land prices surged after the news about the merger of districts 2, 9 and Thu Duc to form Thu Duc City.
On Nguyen Xien, Nguyen Phuoc Thien, Hoang Huu Nam and Nguyen Van Tang streets in district 9, the street-front land price has hit VND100 million per square meter.
In Truong Tho ward in Thu Duc district, land prices have risen from VND40-50 million per square meter to VND70-90 million, or 40 percent compared with 2019.
In Dong Nai province, which is contiguous to the eastern part of HCM City and has Long Thanh International Airport under construction, the land price has increased from VND12-14 million per square meter in 2019 to VND22 million. In Long Thanh Town, the land price is quoted at VND100 million per square meter in some areas.
In Can Tho, projects near the city's central area and big roads have an average price of VND40-60 million per square meter, while projects near small roads are VND20-30 million, or 7 percent higher than 2019.
However, MOC's report pointed out that sharp price increases in some areas were mostly seen in transactions among speculators.
In general, the land price will increase in the areas where infrastructure items are being developed or about to be developed. However, infrastructure development has been exploited by speculators to push prices up to seek illicit profits.
Experts say the price hikes only bring benefits to speculators, not to those who have real demand for accommodations, as prices have exceeded the real value. 
Hong Khanh

Vietnam has more real estate investment opportunities than other more mature Asia-Pacific markets, though certain difficulties remain.

The real estate inventories of listed companies increased significantly in the fourth quarter of 2020 over a year ago because many projects were stagnant due to the impact of the COVID-19 pandemic,