Spirited bidding battle expected in hospitality

Cash flow shortages could put several hospitality developers in Vietnam into financial pressure, forcing them to offer their projects for sale.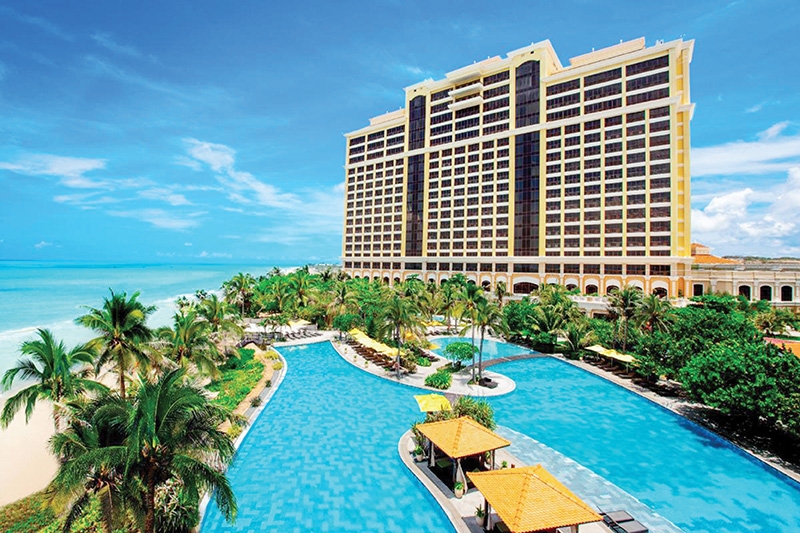 As tourists look for an alternative to destinations like Thailand, hotel investors are delving into the Vietnamese market.
According to Raymond Clement, managing director of Savills Hotels Asia Pacific, while long term investors will not be deterred by short-term hurdles, sellers could face more challenges due to the cash flow being negatively impacted.
"This shortage could put some owners, especially those investing in highly-leveraged projects, under financial pressure which will result in higher incentive for sale of assets or looking for co-partnerships," Clement said.
As a result, Vietnam and its neighbouring countries might witness a larger number of offerings this year, especially in the coastal destinations where the drop in arrivals is more severe, he added.
Clement told VIR that international funds are increasing their interest into the Vietnam hospitality market. Among those are dedicated funds such as Lodgis Hospitality Holdings, KSL Capital Partners, and Gaw Capital.
Apart from that, many domestic investors are also owning large portfolios of hospitality assets such as Vingroup, Sun Group, Thien Minh, and Muong Thanh.
Three state-owned tourism companies – Saigontourist, Ben Thanh Group, and Hanoitourist – are expected to become a prime opportunity for overseas investors as they have many existing luxury hotels and golden land areas in the city centres, which can be ideal for the development of high-end hotels.
Elsewhere, in its APAC Hotel Investment Highlight 2019 report, JLL released from its portfolios that the Regis Bay Hotel Danang was offered for sale.
Despite the COVID-19 impacting several industries and hospitality being among the most vulnerable sectors, long-term investors still remain attracted to the Vietnamese market. Clement's outlook for 2020 is upbeat given positive sentiment and sustainable interest from foreign investors into both emerging and mature markets.
"A strong bidding environment is expected as both overseas and domestic investors look to enter these tightly-held markets, seeking higher yield opportunities across the Asia-Pacific," Clement said.
He added that this optimism may falter if the current outbreak continues, resulting in significant disruption to the tourism industry, especially in markets that heavily rely on Chinese demand.
Seeing events out
Meanwhile Michael Piro, COO of Indochina Capital, explained that he has not yet seen any owners or investors act rashly or decide to put their properties on the market due to COVID-19.
"Although it is still early days, I do not believe that the virus will have this influence on the mass market – if owners are putting their hotels up for sale now, they had been planning to do so for a while," Piro told VIR.
Piro accepted that the virus outbreak has damaged current hotel and resort performance, which in turn will affect the transaction value of these assets.
However, it may be impossible at this point to predict the true impact of the virus, and everyone needs to tread cautiously to wait and see how long the situation will drag on for.
"At Indochina Capital, we continue to push forward with our mergers and acquisitions engagements while taking into account the impact of COVID-19 and employing a strategy that will maximise returns for our clients," he added.
Piro added that as Vietnam has only officially recorded 16 cases of COVID-19 and has been recognised by the World Health Organization and the US Centers for Disease Control and Prevention for its efforts in fighting against the coronavirus outbreak, the current impact on tourism and hospitality has actually been driven mostly by fear and use of precautions.
"We have not observed any significant decline in international interest in Vietnam's hospitality arena, and we are confident that the segment will not be affected in the long term by the current outbreak," he insisted.
As an international hotel company managing diverse brands and hotels in various locations, Christian Pucher, senior director of Asia development at Hilton Worldwide, said that foreign investors remain optimistic about Vietnam as a tourism destination, bolstered by the encouraging numbers in arrivals over the last decade when international arrivals increased three-fold from five million in 2010 to over 15 million in eight years.
"Our presence is set to triple as we grow from our current three hotels in the country to 12 in the coming years, and we are absolutely confident that the market will continue to boom as new destinations emerge and gain their spots on the global tourism map," he said.
Pucher added that investors mostly pay interest in first-hand factors such as benefit growth or project scale, but the sustainability of the venture has been skipped while this factor has been more and more important in modern life when people are more concerned about environmental protection and healthcare.
Limited transactions
Despite being considered attractive for foreign investors, hotel transactions in Vietnam in the past few years have been lower compared to regional peers, due to the lack of assets offered and a number of successful cases not being publicly announced.
In 2019, significant hotel transactions in Vietnam were disclosed, included Warburg Pincus Investment Fund acquiring a majority share of Ho Tram Grand Strip resort, and Malaysia-based Berjaya Group selling 75 per cent of its stake in InterContinental Hanoi Westlake for more than $53 million.
Over the past few years, Vietnam's hospitality industry has experienced tremendous growth as the result of several driving factors including infrastructure, technology, and changing customer behaviour.
Global tourists have started to see Vietnam as a valid alternative to Thailand – the hospitality industry leader in Southeast Asia. As such, both hotel investors and operators have been actively looking at Vietnam as a potential market for investment opportunities.
According to Savills Vietnam's fingues, hospitality properties in Hanoi and Ho Chi Minh City in 2019 was among the top priorities for investment. in the eye of foreign and local investors considering both cities have had stable occupancies in 2019 (81 and 69 per cent, respectively) and rates ($119 and $118, respectively).
Due to the shortage of rooms and limited hotel pipeline with only 26 announced projects coming to market in the next three years, these pivotal cities have been receiving considerable attention from investors.
Unlike coastal destinations where most investors are looking for 5-star or luxury properties, main cities have witnessed rising attention on lower-positioned products, as long as they are competently designed.
According to experts, typically a property must have proper back and front of house, and sufficient facilities, to be attractive to investors. Among all products, an asset in vacant possession is perceived as a highly attractive investment as it allows financiers to rebrand the hotel, adding significantly more value to the products.
The hotel operator selection plays a critical role in hospitality project planning. It is necessary that the developer clarifies the business model and project positioning before involving the operator.
Vietnam needs more brands – local, regional, and international, as well as more quality properties, according to Savills. However, in order to achieve sustainable and extraordinary results, cautious moves together with long-term visions by exploring the real value of Vietnamese abilities are recommended to define the competitive position on the tourism map.
Vietnamese tourism achieved remarkable growth in 2019 with more than 18 million international visitors, up by 16.2 per cent compared to the year before. VIR
Bich Ngoc

The hospitality sector in Vietnam this year will face losses due to the novel coronavirus (nCoV) outbreak, researcher Savills has said.

Merger and acquisition activity is growing across Asia Pacific's real estate market, and in Vietnam there are signs that institutional investors are continuing to increase their allocations in the industry.