VietNamNet Bridge – Central Quang Tri is home to about 80 per cent of the country's physically disabled people, but its sports programme has been a "magical wand" changing the lives of those with disabilities for the better and creating a few champions in the process.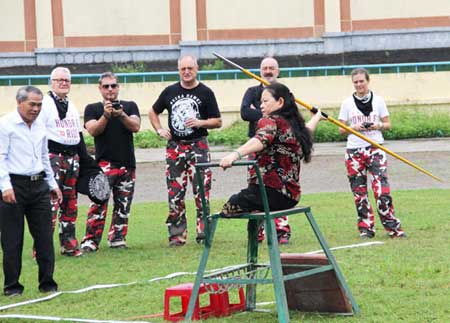 Competition: Athletes vie for medals and glory at a sports event held by the Quang Tri Association of Sports for the Disabled.
Ho Thi Hue won a gold medal for acing a 200m swim at the1988 Paralympics, held in South Korea. Hue lost a leg in a labour accident in 1984 but undaunted, she practiced for glory in a local pond, which was in fact a crater filed with rainwater made by American bombs.
These days there is more than just crater ponds to help Quang Tri's disabled community strive for gold and improve the quality of their lives.
Sports facilities are well developed in the province's municipal township Dong Ha and Phung Xuan Quy, chairman of the province's Association of Sports for the Disabled, said he hopes to reach even more people.
With assistance and funds from the US charity organisation East Meets West he hopes to see more facilities built in the near future.
According to Quy, sport is very popular in the community thanks to positive effects that it brings those with disabilities
Nguyen Dinh Hai, a 20-year-old man with symptoms of cerebral palsy caused by the affects of Orange Agent in his parents' body, has stopped his unruly, out-of-control behaviour after getting involved in sports earlier this year.
Hai asked to join in with the sporting activities after he watched other disabled residents in the province getting training, which he thought looked like fun.
"Sport has cured his symptoms and now he behaves in a normal way," Quy said.
Quy affirmed that sports improved the social attitudes towards the disabled in the province, where many were affected by the genetic effects of Agent Orange or were disabled while tilling crops on their land by standing on buried live-munitions left behind from the American War.
"Sport helps to increase awareness of the disabled in society as well as assisting the disabled to re-gain their citizenship and gain recognition from local authorities," he said.
"Only sport has improved the lives and physical and psychological health of 37,000 disabled people in the province, including 6,100 children," Quy said, calling for more investment from authorities as well as support from charity organisations.
"Sporting activities offer improved health conditions and bring them more happiness in life. But the most important factor is the chance for socialising," he said.
Training in sports, including athletics, swimming, and badminton started eight years ago when local authorities found it was good therapy for the disabled.
"Swimming is the favourite, as it requires little cost to use the facilities and the province has number of lakes and rivers," said Quy.
For Ho Thao, swimming has changed her life. The 20-year-old was born with a severely impaired visual capacity thus she stayed home a lot and failed to follow all classes at a local primary school.
Things changed after Thao won two gold medals for the freestyle 100m and 200m at a national swim meet held in HCM City in November last year, as part of a national competition of sports for the disabled.
"Trips to HCM City and then visiting cool Da Lat City right after the competition made me love traveling and to talking to people," she said.
With cash awards from her success, she bought an electric bike in order to commute to a local massage centre run by blind people, meaning she could embrace a degree of independence and become less reliant on her family, easing the burden on them.
The association plans to have swimming clubs for 60-70 disabled swimmers each in the wards in the outskirts of the township.
Nguyen Luong Quy of Dong Luong Ward, who has a paralysed hand, said swimming improved his mental capacity a great deal.
"People now look at me in a different light after I won a gold medal," he said.
Source: VNS