Cuong falls at first round of AGIPI Masters in France

Viet Nam's Ma Xuan Cuong failed to progress at the AGIPI Billiards Masters after finishing third in Group 2 in the first round of the 3-cushion event in Schiltigheim, France on Sunday.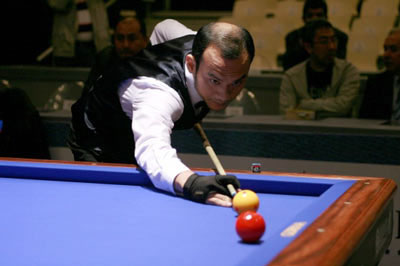 In the round-robin format, Cuong defeated Ferreira Joao-Pedro of Portugal and Jerome Barbeillon of France, but lost to Polychronopoulos Nikos of Egypt and Leppens Eddy of Belgium. Eddy beat Nikos to top Group 2, leaving the Egyptian player behind.
Only the top two players from Group 1 and Group 2 will qualify for the second round in January and February 2013. Along with Eddy and Nikos, Dion Nelin of Denmark and Jean-Christophe Roux of France have booked their berths in the next round.
Shooter fires first gold at national tournament
Military marksman Ha Minh Thanh won his first gold medal in the men's 25m standard pistol event at the 48th National Shooting Championships in Ha Noi on Sunday.
Phan Xuan Chuyen of HCM City came second, and Pham Anh Dat of Ha Noi third.
Hoang Xuan Vinh, who came fourth in men's 50m pistol at the London Olympics, only finished fifth.
In the men's 10m running target, Ngo Huu Vuong of Ha Noi won gold, Do Duc Anh of Military came second, and Tran Hoang Vu of Ha Noi was third.
Vu Khanh Hai of Hai Duong topped the men's 50m rifle prone, followed by Duong Anh Quan and Vu Thanh Hung, both of Ha Noi.
The tournament will conclude tomorrow.
Chess wizards get ready to showcase their moves
Thirty-five athletes from 11 cities and provinces will take part in a national tournament for the country's best chess players in HCM City from tomorrow to December 5.
They will play nine rounds based on the Swiss system. Grandmasters Le Quang Liem and Nguyen Ngoc Truong Son will be absent from the event.
It will be followed by a national tournament for xiangqi (Chinese chess) players in Quang Ninh Province from December 10-18.
VietNamNet/VNS